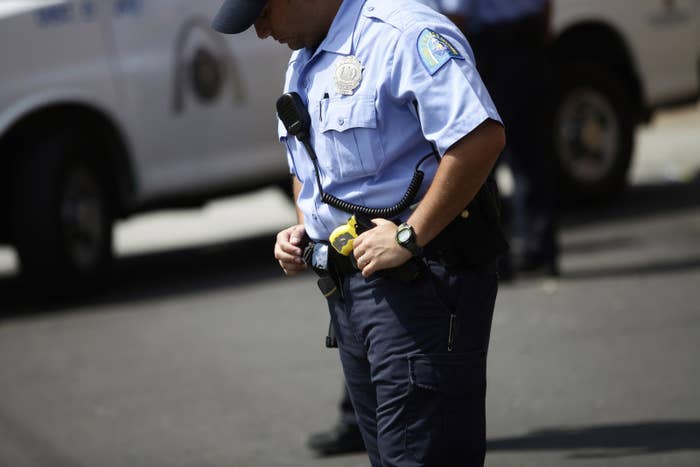 A former St. Louis Metropolitan Police officer was sentenced to more than four years in federal prison for assaulting a man who was handcuffed and shoving a gun into the mouth.
Thomas Carroll, 52, admitted to punching Michael Waller, 41, who was arrested and caught with Carroll's daughter's credit card, which was believed stolen from her car a few days before. Waller denied breaking into the car.
According to evidence presented over two days in court, on July 22, 2014, Carroll confronted Waller, who was already handcuffed in the backseat of another officer's patrol car, and told him he had made a "huge mistake" and had broken into the "wrong girl's car."
At the station, Carroll began to yell and threaten the handcuffed Waller, then picked him up, threw him against the wall, and began punching him. Carroll then shoved his gun into Waller's mouth — chipping his tooth and bloodying his lip — and threatened to shoot.
Waller said that after Carroll left, another officer punched him and gave him a black eye. Other officers threatened to plant a gun or drugs on Waller, and kill him if he told anyone about the incident, he testified.
In April, Carroll pleaded guilty to violating Waller's civil rights, but denied seriously injuring the manor putting his gun in his mouth. However, at sentencing, Judge Henry Autrey said the evidence proved otherwise.
In a related case, Bliss Worrell, 28, a former prosecutor for the St. Louis Circuit Attorney's Office, was sentenced to 18 months of probation after pleading guilty to concealing her knowledge of Carroll's assault. She avoided jail time after agreeing to testify against Carroll.
At Carroll's sentencing hearing, Worrell, said that he bragged about shoving the gun into Waller's mouth. She also admitted filing fake charges of attempted escape against Waller in an attempt to provide cover for the injuries Waller sustained during the assault.
St. Louis Police Chief Sam Dotson told the St. Louis Post-Dispatch on Wednesday that an internal affairs investigation, put on hold during the federal investigation, was impeded by uncooperative officers and former prosecutors, but remains ongoing.
"Hopefully, now they will be more forthcoming," Dotson told the Post-Dispatch.