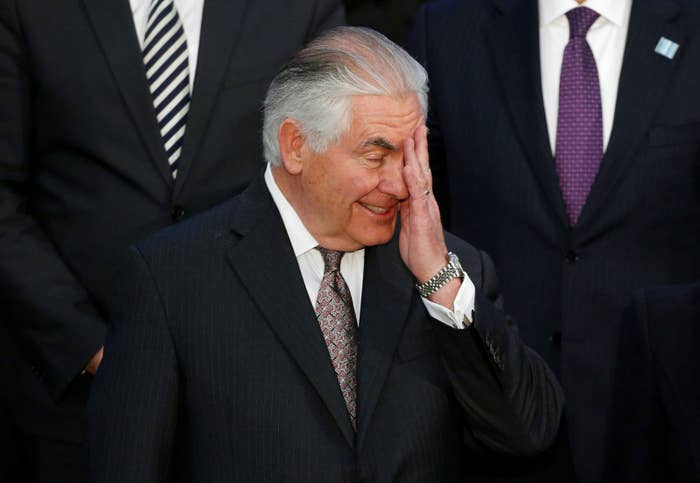 ExxonMobil has admitted that a year's worth of emails from an alias account used by its former chief executive, Secretary of State Rex Tillerson, were lost.
Tillerson and other ExxonMobil executives are under investigation by New York Attorney General Eric Schneiderman for allegedly misleading shareholders about the risks posed by climate change.

ExxonMobil's revelation about the lost emails, made in a letter to the judge presiding over the case, was called a "bombshell" by Assistant State Attorney General John Oleske in New York Supreme Court on Wednesday.
ExxonMobil's March 21 letter states how Tillerson's emails, under the alias "Wayne Tracker," were lost:
The issue that affected the Wayne Tracker account was an isolated occurrence that resulted from the standard configurations of ExxonMobil's Microsoft Exchange email system, the Microsoft "Active Directory" service2 and ExxonMobil's mechanism for suspending the automatic deletion of email (known as a "file sweep").

The Wayne Tracker account was exempted from the suspension of the ordinary course "file sweep" because it was classified as a non-personal account. As a result of this unique issue, emails that might otherwise have been in the Wayne Tracker account between September 5, 2014, and September 16, 2015 were not available for review when the fourth search described above was conducted.

When the January 2016 search was conducted using the broad search terms, however, emails from that time period were available for review except for a far shorter time period between September 5, 2014 and November 28, 2014.

Mr. Tillerson was the only custodian who used a secondary account, and ExxonMobil is aware of no email account, other than the Wayne Tracker account, for which this issue has arisen.
In court Wednesday, ExxonMobil's attorneys reiterated that they believe none of the other executives targeted in the investigation had secondary email aliases.
Judge Barry Ostrager ordered that ExxonMobil produce sworn affidavits from its employees responsible for preserving the "Wayne Tracker" emails, and that the company complete the handover or all relevant documents from management by March 31.
"Sixteen months after our initial subpoena, Exxon was ordered by the court to finally produce all documents from its management committee, and to provide clear answers to the AG's office about any documents – including those from alias accounts — that were lost," Amy Spitalnick, a spokeswoman for Schneiderman, told BuzzFeed News.
A spokesman for ExxonMobil said the company did not expect the ability of complying with court order to be significantly impacted by the alias account because many of those emails were also available from Tillerson's primary account, or from email accounts of other employees he communicated with.