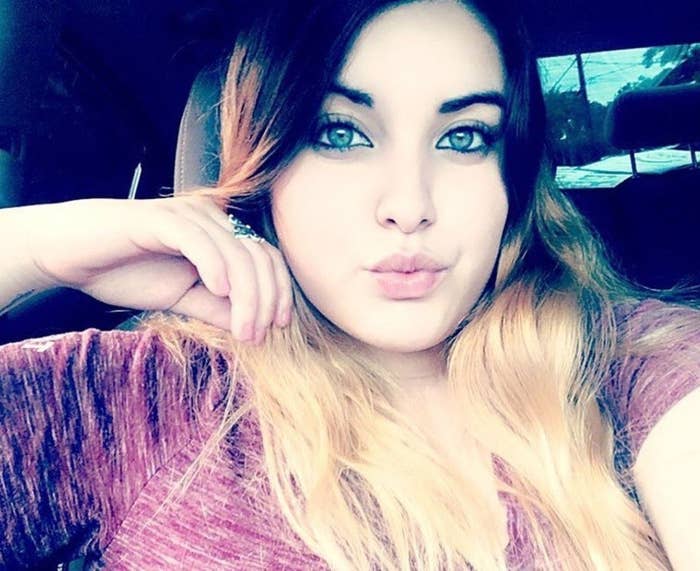 Two people have been arrested and charged in connection with the death of Texas teen Brandy Vela, who killed herself in front of her family in November after relentless cyber bullying, Texas City Police announced Thursday.
Twenty-two-year-old Karinthya Sanchez, who police say is in a relationship with Vela's ex-boyfriend, 21-year-old Andres Arturo Villagomez, is charged with felony stalking and online impersonation and could face up to 10 years in prison if convicted. Villagomez is charged with unlawful disclosure or promotion of intimate visual material, a misdemeanor punishable by up to two years in jail.
"Detectives on this case worked tirelessly to identify two suspects that were behind the harassment," Texas City Police said in a statement in announcing the charges.
On Nov. 29, 2016, members of Brandy Vela's family raced home after receiving urgent messages from the 18-year-old saying that she had decided to kill herself.
Inside the house, Raul Vela found his daughter in her room with a gun to her chest.
"I was almost certain that I could persuade her to put that gun down," Raul Vela told local station KHOU after the shooting. He said Brandy told him to turn around before pulling the trigger.
"I can't do this anymore," Brandy said before taking her life, according to her sister, Jackie Vela. "I'm tired. I've come too far not to do it."
Vela was transported to Clear Lake Regional Medical Center where she was pronounced dead from a self-inflicted gunshot wound to the chest.
After her death, Vela's family told reporters that she had been bullied online for over a year. Jackie Vela told People that in April 2016 "it got real bad."

Her family said that the harassment started from fake Facebook accounts with Brandy's picture and cell phone number listed. On the accounts, her family said, the user posted offers for sex acts.
"They would say, 'I'm a slut and I'm a ho. Anybody hit me up,'" Jackie Vela told the magazine. "It also had her phone number, so she would get text messages and phone calls all the time. It kept her up at night."
Vela's family said that they brought the bullying to the attention of police multiple times but nothing was done. Vela also told teachers at her high school in the days before her death.
"Our deputy investigated it and the app that was being used to send the messages was untraceable. We encouraged her to change her phone number," school district spokeswoman Melissa Tortorici told BuzzFeed News last year. "I am not sure if that was done."
After her death, Vela's family told KHOU the online harassment continued from mysterious fake Facebook accounts.
Raul Vela told KHOU that he continued to see fake Facebook pages appear online with Brandy's name and "pictures of somebody shooting themselves, a picture of a pig with her face on it." When they were flagged and removed, more would pop up in their place, he said.
In announcing the charges on Thursday, police did not disclose any details of the alleged criminal activity.