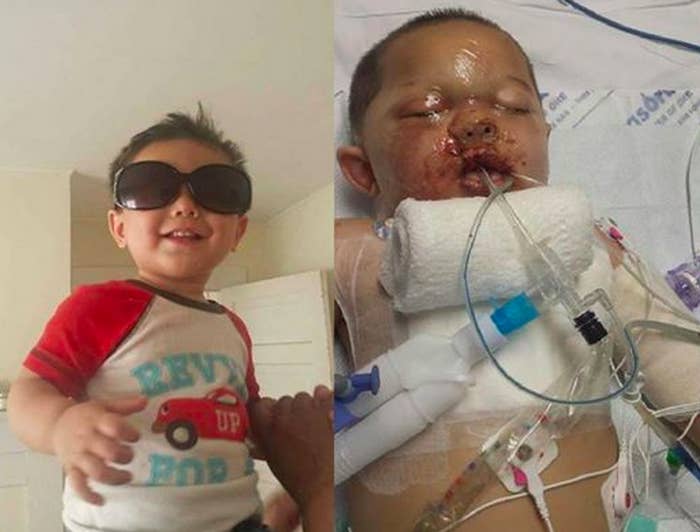 A Georgia senator is seeking to make it harder for law enforcement to obtain the controversial "no-knock" warrants used to burst in on criminal suspects by surprise.
The bill, introduced during Georgia's legislative session on Friday, Jan. 23, by Democratic Sen. Vincent Fort, would require investigators to establish probable cause before obtaining a "no-knock" warrant to raid a residence, the same standard used to secure the warrant in the first place. Currently, an officer seeking permission to execute a no-knock warrant need only have "reasonable suspicion" that a no-knock entry is necessary, the same standard police use to execute a stop-and-frisk.
"For example, reasonable suspicion, you saw one drug deal go on at the house. Probable cause might be where you conduct surveillance over a period of time. You observe a series of drug deals," Fort explained to BuzzFeed News.
Senator Fort is calling his bill "Bou Bou's Law," named after Bou Bou Phonesavanh, the 2-year-old boy who was maimed by a flash-bang grenade explosion when police raided his family's Cornelia, Georgia, residence on May 28, 2014. The explosion left Bou Bou's face and chest badly disfigured and he spent a month and a half in a Georgia hospital fighting for his life. The Phonesavanh family ended up with more than a million dollars in medical expenses because of Bou Bou's injuries.
On the night of the raid, police were attempting to arrest Wanis Thonetheva, the nephew of Bou Bou's father, on drug charges. Thonetheva was apprehended a few hours later at a house down the street without incident — the officers just knocked on the door. When Thonetheva answered, he was taken into custody without a struggle.
Following the incident, a grand jury cleared the officers involved in the botched raid of any and all wrongdoing. The raid is currently under federal investigation by the office of acting U.S. Attorney John Horn.
Habersham County Sheriff's Deputy Nikki Autry, the officer who was responsible for obtaining the no-knock warrant, resigned after it was determined that the information she wrote in the affidavit was false. Autry had claimed that there were armed guards at Bou Bou's residence, weapons inside the home, and that there were no children inside the house. All of those claims proved to be wrong.
Fort says his bill will also include a penalty for officers who lie in order to obtain a warrant.
"In this case, it appears as if the officer who went to the magistrate lied. That is, they said there were armed guards at the location, drug dealing going on, weapons at the house, all of that. All of which was not true," Fort told BuzzFeed News.
The Phonesavanhs' lawyer, Mawuli Davis, says that their investigators have proof that documents used in this case were "fabricated." And they are a holding on to hope that a federal investigation will bring criminal charges against officers responsible for the raid that maimed Bou Bou.
The U.S. Attorney's office said they could not comment at this time because the investigation is ongoing.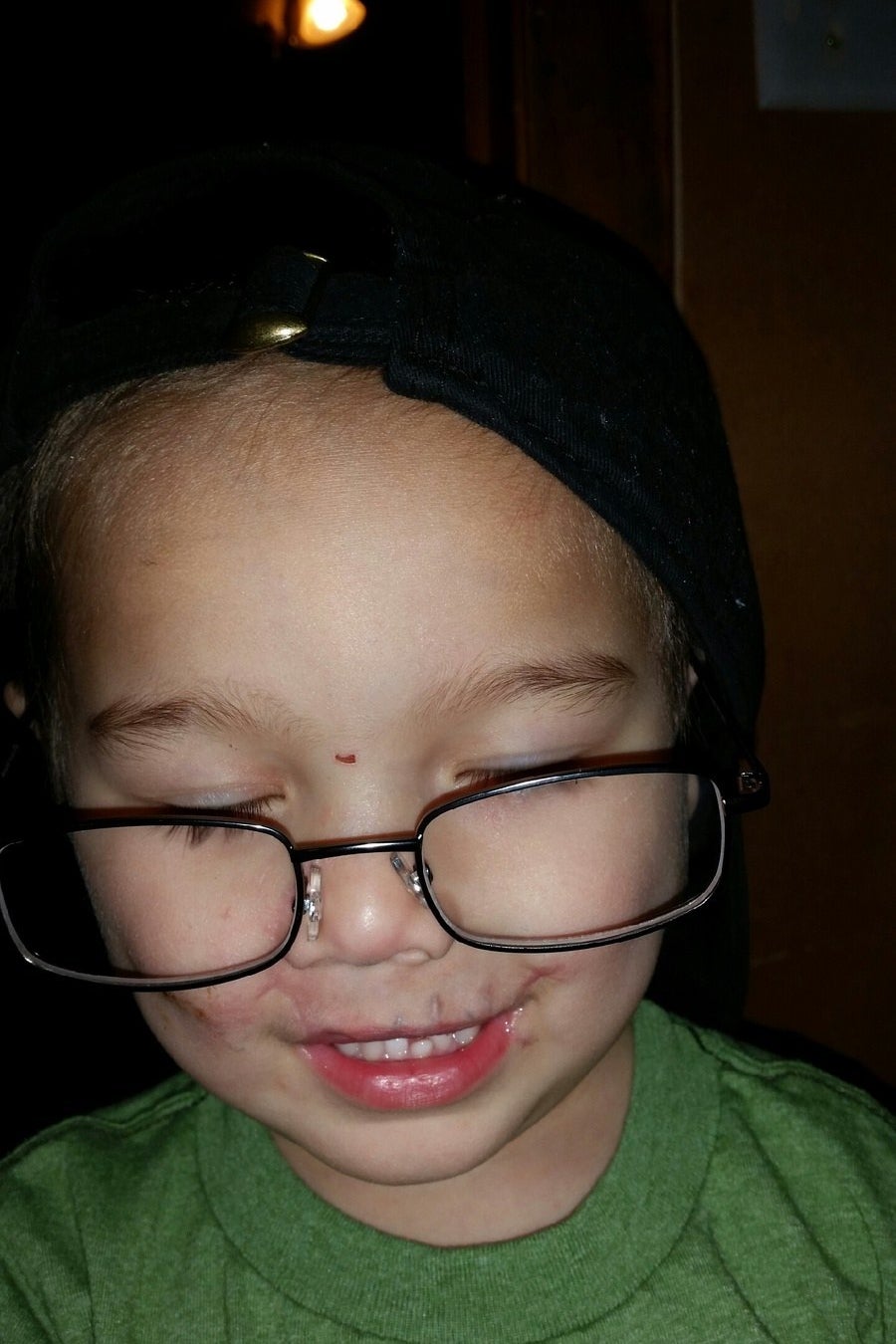 In the months since being hurt by the grenade, Bou Bou has undergone nine surgeries, and his family is still struggling to pay their growing medical expenses.
"[Bou Bou] is going in February for his tenth surgery. It will be to try and fix the left side of his mouth and scrape away the gunpowder," his mother Alecia Phonesavanh told BuzzFeed News. "There's just so much [gunpowder] in his face and his arms and his chest that they can't do it all at once."
Once the immediate damage from the blast is fully addressed, Bou Bou will face one surgery about every two years through his teenage years to help his skin grow normally.
"His nerve endings are dead around his mouth and chest, so they will not be able to properly develop as they are supposed to, so they will have to go in and do stretching and grafts," Alecia said.
After Bou Bou was released from the hospital last summer, the family left Georgia and moved back to Alecia and her husband Bounkham Phonesavanh's native Wisconsin. Alecia, who supported the family as a nurse, had hoped to return to work, but says she has not been able to because caring for Bou Bou is a round-the-clock job. Alecia says Bou Bou has nightmares every night and some nights she sits up with him for hours to try to calm him down.
"Sometimes he'll just wake up screaming. His face is red, he's sweaty, he's pulling at his face," Alecia said. "My husband and I have tried for several months to calm him down. And then hold him for a couple hours until he falls back to sleep. This is every night."
In August, Habersham County informed the family that it would not be helping them pay the exorbitant medical bills. The county attorney said in a statement at the time, "The question before the board was whether it is legally permitted to pay these expenses. After consideration of this question following advice of counsel, the board of commissioners has concluded that it would be in violation of the law for it to do so."
Because both Bounkham and Alecia are both not working, the family has had to live off the generosity of others and from donations obtained through JusticeAndPrayersForBouBou.org. Alecia also established a Change.org petition ("Pay the $1 million medical bill from nearly killing my baby") that has received more than 165,000 signatures in five days at the time of this writing. (Change.org told BuzzFeed News on Wednesday that it was the fastest-growing petition on the site that day.)
Davis told BuzzFeed News that he is still optimistic that they will reach an agreement with Habersham County that could relieve some of the medical debt. "We've been in communication with [Habersham County's] attorneys. There is an open line of communication right now," Davis said.
Habersham County attorney Donnie Hunt told BuzzFeed News he could neither confirm nor deny the negotiations.
"Habersham County ought to be ashamed of themselves for not stepping up to the plate. This family came to Georgia looking for better opportunities," Fort said. "What they got was this tragedy and their child's face blown off."
If Fort can gain bipartisan support for Bou Bou's Law, it will be put up for a vote before Georgia's legislative session ends in March. He says if a new law isn't passed, he's worried that another violent police raid will end in tragedy.
"I'm sure it's going to happen again somewhere else under some kind of horrible circumstances," Fort said. "I've seen Baby Bou Bou. I've seen his parents, his sisters. He is a beautiful little boy and his life has been forever changed."
This post has been updated to clarify the standard for obtaining a no-knock warrant.