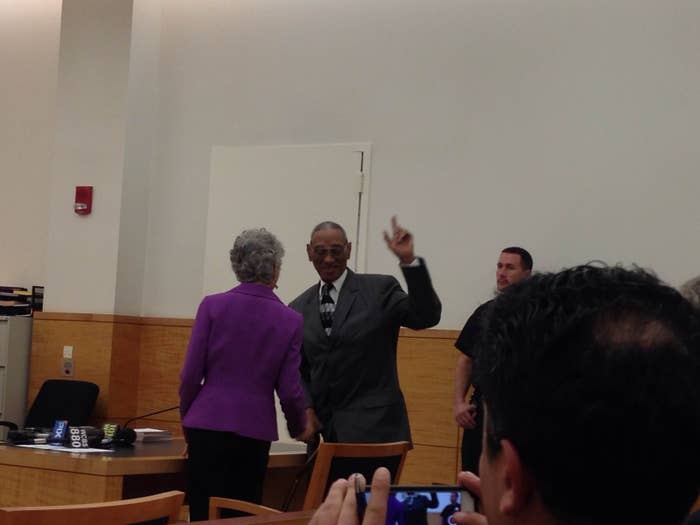 A man wrongfully convicted in the 1963 shooting death of a Brooklyn artist has been exonerated 52 years after he was found guilty.
Paul Gatling, 81, who now resides in Virginia, appeared in a Brooklyn courtroom Monday as Assistant District Attorney Mark Hale called his arrest and conviction among the "worst violations of due process that we have ever seen."
On Oct. 15, 1963, police officers responded to a report of a man having been killed inside his Crown Heights, Brooklyn, home on Bedford Avenue. Inside the apartment, the officers discovered the body of Lawrence Rothbort, a local painter and sculptor, lying in a pool of blood, a gunshot wound to the chest. His pregnant wife, Marlene, and their two children were home at the time and witnessed the grisly killing.
Marlene Rothbort told police that the family had just finished eating dinner when a "Negro" man wielding a shotgun walked into their apartment and demanded money. When her husband refused, he was shot.
She provided a description of the intruder to a police sketch artist and officers combed the neighborhood for a month, but never located any possible suspects or recovered a murder weapon.
Then, on Nov. 15, 1963, a neighbor of the Rothborts and convicted felon Grady Reaves told police that he saw Gatling, 29, in the vicinity on the night of the shooting.
Gatling was questioned by police and put in a lineup. However, Marlene Rothbort did not pick out Gatling, even though, according to Hale's investigation, the detective in the case was urging her to to do so by asking her, "What about the tall one?"
Hale said Marlen Rothbort eventually "capitulated to the pressure"and identified Gatling. At trial, she testified that she initially failed to identify him during the lineup for two reasons. First, she was afraid that if she identified him that he would send someone after her. Secondly, she was adamantly opposed to the death penalty — which she knew that any suspect in the case might face.
After Gatling was charged in the homicide, his lawyers urged him to plead guilty to avoid the death penalty. In 1964, Gatling was sentenced to 30 years to life for murder, but maintained his innocence.
In 1973, on his last day in office, New York Gov. Nelson Rockefeller commuted Gatling's sentence at the urging of the Legal Aid Society, and he was released from prison in 1974. Still, Gatling remained a convicted felon.
In 2014, after learning about the Conviction Integrity Unit, Gatling contacted the Brooklyn District Attorney's Office about his case.
At Monday's hearing, Hale outlined the details of the Conviction Integrity Unit's investigation that led it to the conclusion that Gatling should be exonerated on the charges.
Hale said investigators did not buy Marlene Rothbort's excuses for not initially identifying Gatling. In fact, after the lineup she had offered to look at more photos of possible suspects, suggesting that she was neither afraid for herself nor the fate of anyone she implicated.
Hale said that after she failed to identify him in the lineup, "that should have been the end of Mr. Gatling as a target."
Hale also stated that Marlene Rothbort's version of her husband's killing sounded like "overwrought dialogue of a bad B movie."
Police documents also revealed that the Rothborts had a "tempestuous" relationship that included domestic violence, he added.
It was also revealed during the investigation that Marlene Rothbort had an affair with an black man, and that police may have used this fact to pressure her into identifying Gatling.
At the time of his trial, none of this background information on the Rothborts was turned over to Gatling or his defense team. Hale said that had he been given the chance to present it during his trial, this evidence would have been "significant if not insurmountable" to the jury.
After reviewing the case, the Brooklyn DA's Conviction Integrity Unit determined that Gatling had been denied his right to a fair trial, pointing out that the defense team never received key police reports and was not informed that Reaves had been a cooperating witness in multiple cases and was known to have committed perjury.
In court, Hale moved to have Gatling's murder conviction and indictment thrown out — the 20th time in two years that the Conviction Integrity Unit has cleared defendants in Brooklyn of crimes they did not commit. The unit currently has about 100 cases pending review.
Gatling began to tear up as Hale turned to him to say that on behalf of the district, he "humbly and profoundly apologizes."
When it was Gatling's turn to speak, the judge let him know that he could have as much time as he wanted to address the court. But Gatling took only a moment.
What happened to him should never happen to anyone, he said, noting that he had been kept from exercising his right to vote all these years.
"They don't understand why papa don't vote," he said of his grandchildren.