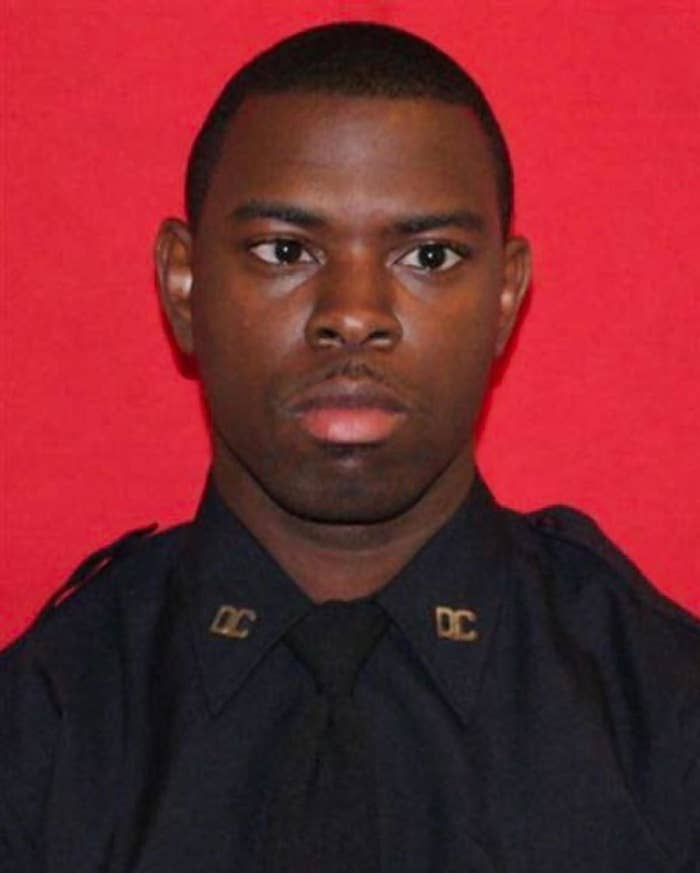 Seventeen people — including two guards and a jail cook — have been indicted in a contraband smuggling conspiracy at the notorious New York City jail Rikers Island, prosecutors announced Thursday.
Bronx District Attorney Darcel Clark said two Rikers guards took thousands of dollars in bribes to bring in scalpels and drugs wrapped around their ankles that they would exchange for money on the inside. She said that one guard charged in the case, Kevin McKoy, made at least $10,000 in bribes for bringing in illegal materials.
The other guard charged in the indictment, 25-year-old Mohammed Suffian, was allegedly recruited to participate in the scheme after Clark's office busted McKoy. Suffian was arrested earlier this year with 62 grams of synthetic marijuana, K2, strapped to his ankles, prosecutors said.
According to the indictment, inmates recruited corrections officers to participate as couriers to bring contraband into the jail. Officials said the inmates involved are connected to dangerous gangs.
The main conspiracy allegedly took place between September and November 2015. According to the indictment, inmates would call family members or friends and instruct them to give contraband and cash to McKoy, whom they referred to as "The Plug," "Ticks-and-Fleas," and other nicknames, and he would contact them to arrange pickup of the items.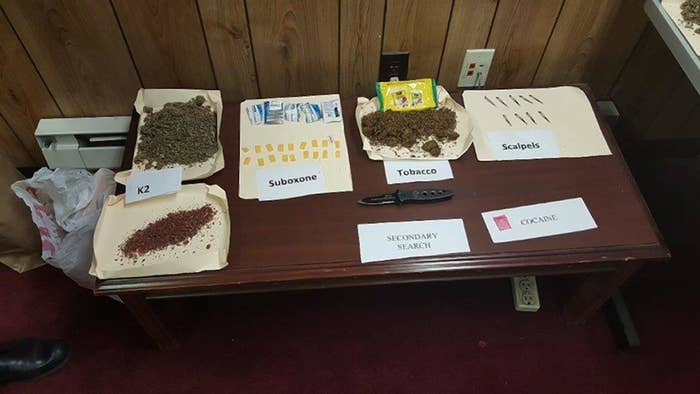 McKoy was arrested Nov. 24 at Rikers with seven scalpels tucked in his long-johns. Nine other scalpels were found in a search at his Brooklyn home, which McKoy admitted were also headed for the jail, prosecutors said. McKoy also allegedly admitted to bringing in contraband to inmates in exchange for money for about a year.

New York City Department of Investigation Commissioner Mark G. Peters said the scheme operated like a "corner drug operation, but more lucrative," with drugs demanding sometimes five-times their street value. Peters said that contraband recovered from one of the officers in the takedown could fetch $17,000 on the street.
The case is the "largest takedown in more than a decade" involving contraband at Rikers, he added.
"This is further evidence of the pervasive culture of corruption at Rikers," said NYCLU Executive Director Donna Lieberman. "And yet another reason why Rikers must be closed down."
Groups like the NYCLU have been at the forefront of arguing for reforms at the troubled jail, which have received some backing from New York City Mayor Bill de Blasio. Last month, de Blasio's office announced $170 million in funding as part of its executive budget for a new facility for teenagers who are currently housed at Rikers.
Lieberman said NYCLU is looking at a number of proposals to decrease the population by creating programs like work release to get some offenders off the island and reforms that would make for speedier trials to cut back on the time that pre-trial detainees spend at Rikers waiting for their day in court.
This year, contraband smuggling ballooned into a huge problem at Rikers. According to the DOC, weapons contraband finds have jumped 48%, to 2780 from 1875, so far this fiscal year compared to 2015. Drug contraband finds are up 32%, to 709 from 536.
In terms of disciplinary charges against staff, the number of cases more than doubled under NYC Department of Corrections Commissioner Joseph Ponte from 93 in 2013 to 190 in 2014.
"We are taking aggressive steps to stem the flow of contraband into our facilities, resulting in a 48% increase in weapon seizures this year. From investing in X-ray machines and expanding K-9 teams to increasing visitor searches and overhauling our officer recruitment and vetting process, we have put comprehensive reforms in place to root out contraband on Rikers Island," Ponte said in statement.
To combat the problem, the DOC on Thursday announced that they are launching a dedicated team to monitor inmate phone calls, adding broader K-9 searches, and expanding Intel sharing from phone monitoring with DOI.
"We have zero tolerance for any illegal behavior in our jails, and we are confident that our ongoing reforms are yielding more capable officers and safer jails," Ponte said.

Clark said that this case revealed a "scale of corruption" happening at Rikers that "extended from inside the jails to beyond its shoreline."

The indictment lists 84 counts against the suspects, with charges including bribery, promoting prison contraband, conspiracy, and official misconduct against the DOC employees. If convicted, McKoy faces up to 28 years in prison, Suffian could receive up to 21 years
Clark, the first black woman to serve as district attorney in New York City, has made reforming Rikers a top priority. In addition to charging corrections officers with smuggling, Clark's office is currently trying a case against 10 Rikers guards charged in the gang beating of an inmate.
Norman Seabrook, Correction Officers' Benevolent Association President, sent BuzzFeed News a statement on the charges against McKoy and Suffian:
"We have no tolerance for anyone who jeopardizes the safety and security of our brother and sister officers and the people we are charged with supervising. We have enough problems maintaining security as it is, we don't condone anyone who makes it worse. What this shows is the power and intimidation tactics of gangs is real and the dangerous environment we work in every single day. The officers are of course innocent until proven guilty and will receive a vigorous defense."