Syrian Rebels Fear They'll Lose Aleppo Before New U.S. Help Arrives
"We don't have months. We have days."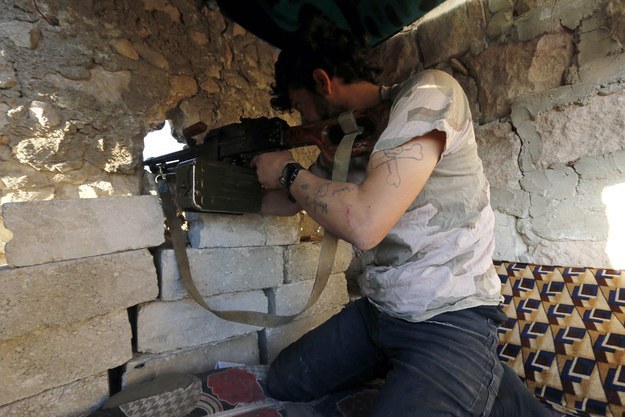 ISTANBUL — A new U.S. program to train and equip Syria's increasingly desperate moderate rebels is scheduled to begin early next year, but some say they can't wait that long. Rebels are facing their greatest challenge yet in Aleppo, the last major city where they hold significant ground. Losing it would deal a massive blow to the rebel war effort — and raise the question of how much of it would remain for the U.S. or anyone to support.
"We don't have months. We have days," said Abdullah Da'as, who commands the rebel Ansar al-Haq battalion in Aleppo. "It's a disaster if we have to wait for months."
Da'as said rebels in the city were facing the same problems they have for two years: a lack of heavy weapons and shortage of ammunition. The regime, meanwhile, was gaining on them steadily. "They're advancing," Da'as said. "If we lose Aleppo, it's like we lost the whole country."
A spokesman for the Free Syrian Army, the U.S.-backed coalition of moderate rebels, also painted a bleak picture. The Syrian regime won back key territory in Aleppo recently, including a strategic industrial zone on its outskirts, and now threatens to complete a siege — surrounding the remaining rebel-held areas and choking off supplies to rebels and residents alike. This same strategy proved devastatingly effective in Damascus and Homs. "The regime has only a few tens of kilometers to go to close the siege," said the spokesman, Hussam al-Marie. "This is a very critical time for the moderate opposition in Syria."
At the same time, the extremist Islamic State of Iraq and Syria (ISIS) is "exploiting" the situation in Aleppo to make its own advances in an internal war against other rebel groups, Marie said — opening a second front.
Marie said that allies of Syrian President Bashar al-Assad, such as Russia and Iran, "are supporting the regime with everything it needs, while we only get some light weapons."
The rebels rocked the regime in July 2012 when they launched an offensive into Aleppo, Syria's commercial capital. But they never took full control of it, and as their uprising stalled, Assad laid waste to the city with the regime's air power. Rebels have worried that they might lose Aleppo — and with it, their credibility as a serious challenge to the regime — for much of the last year.
The new regime offensive there is the biggest threat rebels have seen. "This is as serious as it's been," said a U.S. official involved in Syria policy, speaking on condition of anonymity. "It would be the biggest morale blow of the war if Aleppo fell. It's the place where psychological and tactical importance to the rebellion intersect."
But the official said rebels should be able to hold off the regime in Aleppo, for the near future at least. "There are still fragile corridors into the rebel-held parts of the city. And we think it's going to be tough for the regime to cut them off entirely. They've never encircled an area this big before," the official said. "It's still going to be a game of whack-a-mole up there. It would take three-to-six more months and probably more troops, if they can do it at all."
The official said the U.S. had encouraged its allies to continue providing enough arms and supplies for rebels to persist in Aleppo until the new U.S. program, which would be run by the Department of Defense (DOD), gets underway. "We've been pretty clear with them that it's going to take a long time for any DOD program to get up and running and they're going to have to fill in in the mean time."
The CIA has been covertly training small groups of moderate Syrian rebels in Jordan for over a year, as well as providing rebels with a modest supply of light weapons. But after ISIS surged in Iraq last month — taking major cities and declaring a caliphate extending into parts of Syria — the Obama administration announced plans for a new $500-million DOD program to arm and train rebels, which would be the most significant U.S. assistance to date. The U.S. has consistently declined to provide major military support to the rebels or to allow its allies to send the heavy weapons, such as surface-to-air missiles, that rebels say they need to prevail.
A broad range of rebel groups have taken up arms against ISIS as well as the regime in Syria, including hardline Islamists and even Jabhat al-Nusra, the local affiliate of al-Qaeda. The increase in U.S. support is designed to boost the moderates among them — such as some members of the Free Syrian Army — to provide a bulwark against the rising extremist tide.
Even if the rebels lost Aleppo, the U.S. official said, the new DOD program would likely go ahead as planned: "We would remain committed. We're going to need moderate friends on the ground no matter what. So even if Aleppo falls, we're not going to give up."
There are additional areas across Syria where supporting moderates would serve U.S. interests. ISIS has been advancing on multiple fronts in recent months, weakening rival rebel groups along the way. "Most training would likely take place in Qatar or Jordan, so the fall of Aleppo would not affect training," said Andrew Tabler, a senior fellow at the Washington Institute for Near East Policy. "It would limit their area of operations in western Syria. It wouldn't end the war, however — [and the U.S.] needs moderates in other places as well, especially in eastern Syria, which the regime seems unlikely to take back anytime soon."
Joshua Landis, a Syria expert at Oklahoma University who has advised the U.S. government on the ISIS threat, said that losing Aleppo would be catastrophic to the rebel war effort. "If you don't hold one of the country's major cities, you're still an insurgency but you can't claim to be winning," he said. "This would be devastating for the opposition."
It would also pose a difficult question for the U.S., he said: "Do you really want to fire up the opposition to re-conquer all the Syrian cities?"
"There's a real confusion inside the White House about what caused this ISIS and al-Qaeda threat in Syria," Landis said. "Some people say that Assad is the magnet, and you have to kill him and overthrow his regime. Others say that it's the chaos that's to blame, and there are alternatives out there that are worse than Assad. Obama has chosen to run down the middle by claiming that the opposition can fight ISIS and the U.S. can support them to do that."
The focus of the U.S. program appears to be far more about the fight against ISIS than about helping the rebels to prevail against the regime or to hold major cities like Aleppo. The Wall Street Journal reported on Wednesday that the Pentagon's plans for its new program currently entails training just 2,300 fighters — less than the size of a single battalion, as the report noted — over a period of 18 months. The plan still requires approval by Congress to move ahead.
Some rebels say they'll take whatever help they can get. "Honestly, this is the worst stage of the revolution to date," said Lt. Col. Ahmad Sauod, a defector from the Syrian army officer who leads the Free Syrian Army's 13th division in the country's north. "The problem from the beginning has been the lack of support. But since we're working on not letting terrorist groups take over the country, and keeping our uprising going, I think I'm optimistic."