Shades Of Syria: Fears Maliki Will Follow The Assad Model In Iraq
"This started under the banner of fighting terrorists but changed to attacking the city."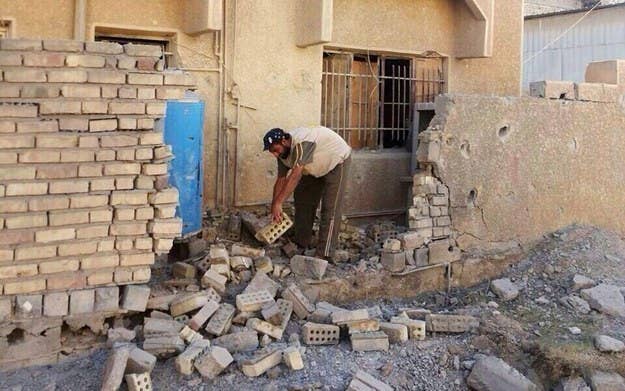 BAGHDAD — Past the blast walls of the Green Zone in central Baghdad, in the lobby of a mostly empty hotel, Liqaa Wardi, an MP from the city of Fallujah, swiped through photos of corpses on her iPad. She got them from the director of Fallujah's main hospital, she said, and they showed the mangled victims of government shelling and air strikes.
"This is one family," she said. "This is a baby. And this is a boy, I think. These are two children. And these are of the city — and how they destroy it."
Fallujah fell to Sunni militants in January, shaking Iraq even before extremists overran its second city of Mosul last month. The Iraqi military has been pounding Fallujah since — hitting insurgents, but also wreaking havoc on residents. "The victims are usually civilians," Wardi said.
U.S. forces paid dearly to secure Fallujah and the surrounding Anbar province during the Iraq War. Their main enemy then was al-Qaeda — and the militants who run the city now include the Islamic State of Iraq and Syria, or ISIS, the al-Qaeda offshoot that led the Mosul offensive and declared an Islamic caliphate on Sunday.
Though it received little global attention, unrest in Fallujah, a primarily Sunni city, began in late 2012 with protests against the hardline policies of Nouri al-Maliki, the Shiite prime minister. Like many residents, Wardi sees the military campaign, which began in January, as retribution. "This started under the banner of fighting terrorists but changed to attacking the city," she said. "It's punishment for the people."
Fallujah is difficult to access, and many accounts of the bloodshed, like the photos in Wardi's iPad, can't be verified. But accounts from Fallujah — from human rights groups, press reports and fleeing residents — paint a picture of a city under siege. They describe government artillery fire raining down on the city, targeting even the hospital, as Human Rights Watch documented in May. Army helicopters have also used barrel bombs — crude and inexact explosives that level surrounding homes along with intended targets when they fall from the sky. "They're completely indiscriminate — if not actively targeting Sunni civilians," Erin Evers, the Human Rights Watch researcher in Iraq, said of the government's military campaign in Fallujah and elsewhere in Anbar, such as the city of Ramadi, which has seen a similar cycle of protests and violence.
All this comes in addition to the violence inflicted by the militants.
There are signs that in Anbar, Maliki has adopted a strategy similar to his ally across the border in Syria, Bashar al-Assad — and that he may apply it to the growing swath of territory under militant control. Like Assad, Maliki has become increasingly sectarian as a Sunni insurgency infused with extremists threatens his regime. He has also turned to Shiite militias to shore up his fading military. And like Assad, he has used airstrikes to pummel areas where the government has lost control.
"I think that the Syrian scenario will repeat in Mosul," said Intisar al-Juburi, an MP from Nineveh province. She said militants were using civilians as human shields. "I heard a lot of talk from Maliki about buying new aircraft and weapons to destroy ISIS. But I didn't hear about any plans to lure ISIS away from civilians first, or a special military strategy to kill just ISIS. There is only a very strong idea to attack in an indiscriminate way — which means civilians will pay the price."
Civilian casualties — and the general brutality — are on a far smaller scale in Iraq than in Syria. But Iraqi Sunnis and independent analysts alike increasingly see shades of Assad in Maliki's war. Wardi cites the barrel bombs as the clearest example; the Syrian regime has also used them to devastating effect. "It's very clear that what happened in Syria is starting to happen in Fallujah," said an official with the hospital in the city, who requested anonymity for safety concerns. He gave the number of casualties from government strikes in the city since January as 1,764 wounded and another 511 killed, including 53 women and 82 children.
The official said casualties would spike as displaced residents returned home, now that Sunni cities where many had taken shelter, such as Samarra and Tikrit, have been consumed by fighting as well. Asked how many of the casualties were militants, he said he didn't know. "The difference between a civilian and a militant is only the mask the militants wear," he said. "Just lift the mask, and you cannot distinguish between the two."
The government says it is fighting terrorists and has accused Anbar residents of harboring ISIS. The ultra-violent militant group indeed poses a grave threat — to Iraq as well as the wider world. But even some Sunni soldiers who were dedicated to fighting ISIS question what they see as an increasingly reckless and sectarian-tinged military campaign.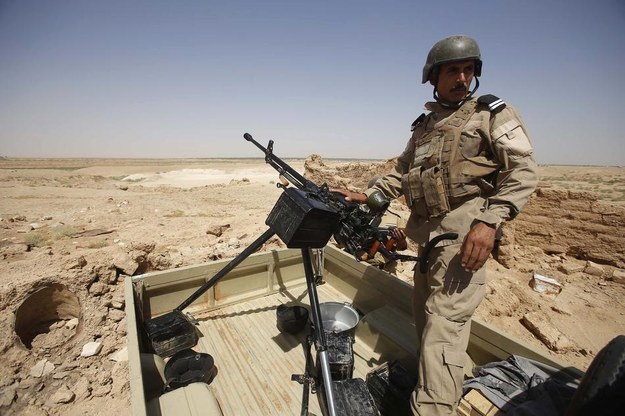 One infantry lieutenant, who also spoke on condition of anonymity, recounted an event in Anbar province in February that shook him to his core. His unit was under attack from about 20 ISIS fighters, so they radioed their commanders for support. It came, he said, in the form of barrel bombs. "They hit the whole area, all the houses, all the farm fields, without distinguishing whether people were ISIS or not," he said. "This gave me a great deal of guilt."
He wanted to fight ISIS — "my principle as an army officer is to fight ISIS; they are bad people" —but, he said, by June the guilt became too much, and he left his post. "I reached my limit." He said other Sunni soldiers and officers were likewise abandoning the military, which had already become increasingly Shiite under Maliki. "To be honest, I think they are targeting Sunni people under the pretext of fighting ISIS," the lieutenant said. "I think this same scenario will happen in the other Sunni provinces."
Reached by phone one evening after breaking the Ramadan fast, a pilot with the armed forces seemed distraught. He had also left the military recently, he said, and was hiding in his home village. "My job is very close to the situation," he said. "And it's a very bad situation — shooting civilians, you can say hundreds of casualties, women and children."
The pilot was vague about his job description, saying only that "my task is not a popular one. My job is a cause for hurting a lot of people."
The pilot said he had never deployed barrel bombs himself, but that the use of them by others had deeply disturbed him. "This is a very bad operation," he said. "I'm with fighting terrorists. But I don't believe in this war. This is a war against Sunnis, you know."
Both soldiers were quick to mention Syria. "The Syrian problem is moving to Iraq," the pilot said.
The Iraqi government has denied using barrel bombs — Maliki's office has painted the allegations as part of a "defamation campaign" by his opponents.
The Iraqi army has a limited air force and has scrambled to gather old fighter planes from Russia and Iran. Its air power consists of helicopters and some Cessna planes rigged to fire Hellfire missiles — the U.S. recently provided more after Iraq used up its small supply. In addition to asking the U.S. to come to his aid with air strikes, Maliki has also urged it to speed the delivery of F-16 fighter jets and Apache helicopters scheduled for September. The delivery of the Apaches was delayed by Congress amid concerns that Maliki would use them to target his political opponents.
Michael Knights, an analyst at the Washington Institute for Near East Policy, spoke with Maliki about the security situation in an interview this spring, as the war in Anbar raged. "He underlined that it was air power that turned the tide for Assad. Rightly or wrongly, that is what he believes," Knights said.
"Precision attacks are well respected in Iraq and they have been doing plenty of them using Hellfires," Knights added. "But they will also be willing to use barrel-bomb devices until they have enough precision weapons and launching platforms. In some Sunni cities and villages, barrel bombs were used specifically to terrorize, and that might continue with these weapons the preference, not just a substitute for precision weapons."
Knights said the threat of Maliki moving toward a Syria strategy should push the Obama administration to boost its support to Maliki sooner rather than later. "The U.S. needs to ramp up F-16 and/or Apache deliveries and other security assistance because the train is leaving and Maliki is intent on working with Iran, Syria and militias to repeat the Assad survival strategy," he said.
But some cite this as a reason for the U.S. to steer clear of the conflict. "This internal Iraqi battle between the Sunnis and the Shiites — I just don't think it's worth it for us," said David Pollock of the Washington Institute.
He added that the war looks likely to get uglier: "Like in Syria, the Iraqi government is starting to think that in large swaths of the country, the people are just their enemies."