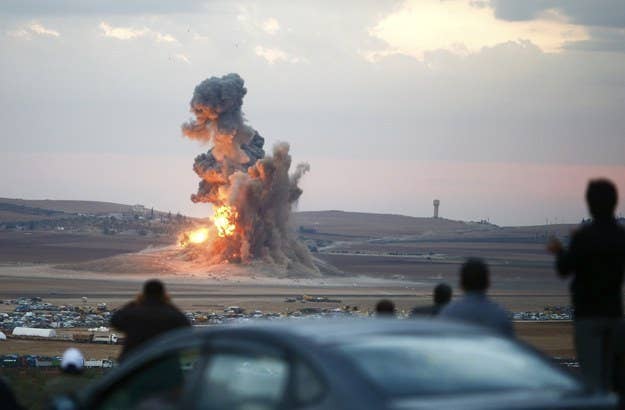 SANLIURFA, Turkey — When al-Qaeda controlled much of Deir Ezzor, an oil-rich province in eastern Syria, one man who helped run its main oil field was known as "the engineer" to his enemies.
Still in his mid-twenties, with a degree in petroleum engineering from a university in Damascus, he was also a rebel fighter with Jabhat al-Nusra, the Syrian branch of al-Qaeda. Fighting with Nusra, he had helped to win the country's largest oil field — al-Omar, which he called "the pearl of all oil sites in Syria" — and others from the Assad regime. Then he helped Nusra run them as the group capitalized on the most valuable prize in the war.
He recalled harrowing scenes as the staff worked to keep al-Omar running amid regime attacks. "We operated in a very chaotic environment, dealing with some of the most dangerous things in life — fire, oil, and gas, in addition to airstrikes," he said in an interview in the Turkish city of Sanliurfa, near the Syrian border. "So if you want you could say we were operating in a smaller version of hell."
As armed groups in Syria competed for scarce resources, the oil eventually brought a force even more extreme than Nusra bearing down on Deir Ezzor: the Islamic State of Iraq and Syria, or ISIS, which used oil money to fund its rapid rise.
This summer, fresh off a surge across the border in Iraq, ISIS zeroed in on Deir Ezzor, beating back the Nusra rebels in bloody clashes.
As ISIS militants closed in on al-Omar, the engineer could overhear them discussing plans to capture him on the radio lines. Sometimes they addressed him directly: "I will behead you, engineer."
When ISIS won the province, the engineer fled to Turkey. Friends who remained in Syria sent word that its fighters had descended immediately on his home.
Then a strange thing happened: ISIS got in touch and asked the engineer to return to al-Omar and get back to work.
"They actually tried to tempt me to go back," the engineer said.
Sitting at a cafe in a polo shirt and jeans, he spoke on condition of anonymity because he feared retribution from ISIS — and also because he hoped to land a job with an international oil company one day.
ISIS made him various offers of weapons, cars and power, he said, but each time he declined: "I refuse to work for ISIS. They only serve their own power."
The efforts to lure him underlined the group's dedication to keeping its oil revenues flowing — and willingness to turn even to its enemies for help. ISIS seems to be learning the lesson that it's one thing to take territory from rival rebel groups and another entirely to try to govern as the so-called Islamic state it has proclaimed.
Analysts tracking the conflict say the engineer's story speaks to a broader push for recruitment as ISIS tries to find professionals to oversee its oil operations, which include an estimated 60% of Syria's oil production capacity and a small amount of Iraq's. These efforts show the group's pragmatism — and may also indicate a desperation for expert help. "I was fighting ISIS with arms and guns," the engineer said, "and yet they came back to me because of my expertise."
This fall, ISIS drew headlines around the world when it reportedly posted a help-wanted ad seeking a manager for its oil fields. The ad promised a salary of $225,000 for an "ideologically suitable" candidate. While its authenticity couldn't be verified, the idea fit with ISIS's efforts to find help building up its self-styled caliphate, as well as its professed "ethos based on being administratively competent," said Firas Abi Ali, the head of Middle East and North Africa forecasting at IHS Country Risk in London.
"Of course this isn't the case across the board, but they're genuinely trying," Abi Ali said.
Whether for its media operations or its oil production, he added, "it seems clear that they're trying to recruit some capable people from the Middle East and also outside the region" — an effort that draws on the caliphate's "revivalist appeal."
"They are definitely interested in having skilled professionals help out with their state-building project," said Aaron Zelin, a specialist on jihadi groups at the Washington Institute for Near East Policy.
Zelin and others pointed to anecdotes of foreign experts said to be helping ISIS in key areas: Sudanese, Tunisian, and Indian nationals believed to be involved in the power sector; the foreigners thought to be part of ISIS's global propaganda productions, which include an English-language digital magazine.
But ISIS's recruitment efforts — both inside Syria and Iraq and beyond — may also betray a weakness in its project to build a hardline state. During its rise in Syria, ISIS sought to develop a reputation as a more competent administrator than rival rebel groups in the areas it controlled. Now that it has big cities to run, it seems to be finding them difficult to maintain. "At this stage they're facing a bit of a challenge," said Torbjorn Soltvedt, an analyst with Verisk Maplecroft, a risk consultancy firm in London. "They've gone from initially, in terms of governance, doing fairly easy tasks like providing rule of law to this second stage of really trying to run a city. And they're facing a lot of problems."
Soltvedt said ISIS is attempting to recruit foreign experts to fill the gaps. "They will try to reach out to people with the necessary skills to run these operations in order to not lose control of these areas and assets," he said.
In some cases, Soltvedt added, ISIS has also turned to coercion, a sign that its recruitment efforts are struggling — seizing the assets of doctors and engineers who have fled their territory in an attempt to force them to return.
Yet ISIS's brutality and extremist ideology are more than enough to keep many local professionals away. Another trained petroleum engineer living in Syria, who likewise spoke on condition of anonymity, said he chose to become a bus driver rather than accept ISIS's offer to help with its oil fields. "I have rules in my life, and I believe in the Syrian revolution," he said. "I won't give up on it to start working with these people."