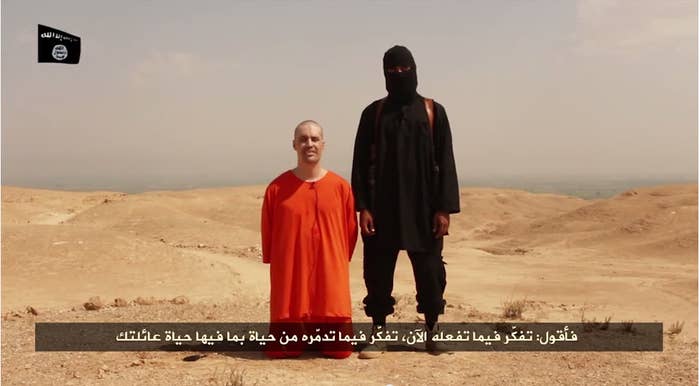 One dark aspect of the video of photojournalist James Foley's murder released today is the way it ends: with the same extremists who beheaded him on camera threatening to repeat the act on another U.S. journalist in their custody.
The Islamic State of Iraq and Syria, or ISIS, is believed to hold multiple Westerners in captivity. Though the true number isn't known, about 20 Western journalists and aid workers have gone missing in Syria, many likely held by different militant groups. Much about the names and locations of these hostages remains unclear or off the public record. Since Foley went missing in Syria almost two years ago, in fact, no evidence had emerged publicly that he was even alive. Now ISIS seems poised to begin publicizing their fates in the grimmest fashion possible.
ISIS surged to international notoriety when it overran the Iraqi city of Mosul in June, then declared a caliphate across parts of Iraq and Syria. But its fight had so far been confined to those two countries. The Foley video may be its official entry into the realm of global terror — or at least into outright efforts to intimidate the United States.
And ISIS's goal, if its history is any record, is intimidation. The group may appear to be baiting the U.S. — trying to draw the Obama administration into greater intervention in Iraq. But the more likely immediate goal is spreading fear — while using the publicity this video is generating to further boost its profile. Regardless of how the Obama administration reacts — and boots on the ground seem no more likely today than yesterday — ISIS has now staked out its position as the group to support if you're against the U.S.
The Foley video called to mind the death of U.S. journalist Daniel Pearl, who was also beheaded on video, by a member of al-Qaeda, in 2002. That was intended to send a message to the U.S., which had just ousted the Taliban in Afghanistan and opened its prison in Guantanamo Bay. At the end of Pearl's video, his captors threaten to commit such acts "again and again."
ISIS sent a similar message in the Foley video, warning the Obama administration to stop bombing them in Iraq, and threatening to repeat the gruesome scene. Yet unlike in Pearl's case, ISIS has a reserve of captives already in its custody.
Any U.S. citizens among them — such as the journalist Steven Sotloff, who is shown at the end of the Foley video — would be in the direst trouble. While European countries have paid handsome ransoms to secure the release of some ISIS captives, American policy is not to pay. As far as ISIS is concerned, any Americans it holds may have the most value in helping them to spread their growing brand of propaganda and fear.