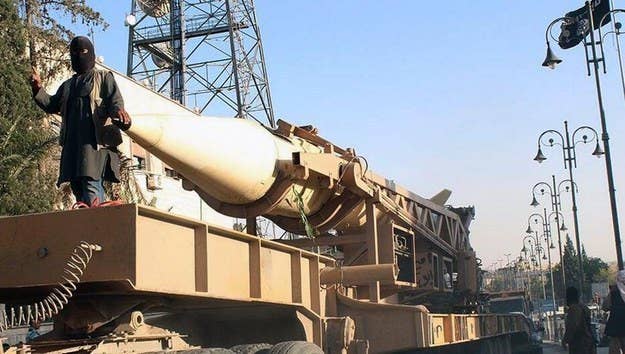 ANTAKYA, Turkey — Middlemen with ties to the Islamic State of Iraq and Syria (ISIS) have turned to a grim new method of trying to secure funds in recent days. With the group having failed to strike deals to ransom the U.S. hostages in its custody — instead beheading three of them since July — its intermediaries are now trying to negotiate the sale of the body of at least one of the men it killed.
Three sources in contact with ISIS or its associates told BuzzFeed News that it wants to sell the remains of James Foley, the U.S. journalist whose August death was the first in a series of high-profile executions of Western hostages by ISIS hands.
They said ISIS wants $1 million for Foley's body, which it would deliver across the border to Turkey, and that the group was willing to provide a DNA sample to facilitate a deal.
If true, the attempted sale would highlight the ruthlessness behind the hostage-taking enterprise that has provided ISIS with deep reservoirs of funds and publicity — as well as the group's cold calculation as it works to raise more cash.
At one point early this year, ISIS held 23 Western hostages in Syria. Fifteen Europeans were freed as governments reportedly paid millions of dollars in ransoms, but the British and American hostages remained. Both governments refuse to negotiate for hostages or to allow families to pay ransoms. In the months since Foley's death, ISIS has released videotaped executions of the U.S. journalist Steven Sotloff, the British aid worker Alan Henning, and the U.S. aid worker Peter Kassig. British journalist John Cantlie and a U.S. woman, a 26-year-old aid worker, remain in ISIS hands.
All three of the sources seeking to act as middlemen in a deal with the secretive extremists have been granted anonymity to protect their safety.
One, a former Syrian rebel fighter, has ties to ISIS commanders dating to the early stages of Syria's civil war. He said he has served as an intermediary in hostage negotiations with Jabhat al-Nusra, the Syrian branch of al-Qaeda, and with ISIS. One day this fall, to prove his bona fides in the murky trade, he opened his iPhone to display unpublished videos of Western hostages in Nusra's custody.
This former rebel said he was approached by an ISIS leader who asked him to find a channel to either the U.S. government or Foley's family. Like the other sources, he noted a price of $1 million and the promise of DNA. "They ask for $1 million, and they will send DNA to Turkey, but they want the money first," he said. "They will not give the DNA without the money."
He claimed his motivation was to help the grieving family find closure, calling his work "a humanity case."
Another intermediary, a businessman who has sought to use his own ISIS connections to facilitate hostage deals in the past, was candid about his goals: "This is business."
The trade in Western hostages has created a shadowy marketplace in which middlemen like these seek to negotiate deals in order to receive commission. They might inflate their connections on one side of proposed negotiations in order to draw interest from the other, so they can make a case for being included in the transaction. The idea of selling Foley's body has drawn attention among some of these middlemen of late, according to a Syrian who was involved with previous negotiations with ISIS over U.S. hostages.
Both the former rebel fighter and the businessman said that one point person for the negotiations would be a senior official in the Free Syrian Army (FSA), the U.S.-backed rebel coalition, who was involved in previous ISIS talks over U.S. hostages as well as deals to free European ones. In an interview in Antakya, this FSA official expressed dismay that word of the attempted sale of Foley's remains had leaked. He urged this reporter not to publish an article on the subject, fearing that the attention could sabotage any potential deal.
Of particular concern, he said, was that the U.S. government might seek to put a stop to it. Having allowed the U.S. hostages to die in ISIS custody, he reasoned, it would look bad if such a deal succeeded now. Foley's parents have said that the U.S. government threatened them with prosecution if they paid a ransom for their son's release. "It will be like a shame for the U.S. government," the FSA official said. "People will ask why you brought the body but you didn't bring him when he was alive."
The FSA official described himself as the "manager" of the proposed negotiations. He was in touch with a middleman representing ISIS, he said, and if a deal progressed would seek to arrange it with someone representing the Foley family.
As before, ISIS seemed intent on making money from its hostage enterprise by any means. "They were trying to negotiate (a ransom deal) for his freedom before they beheaded him, and after beheading him, they are trying to sell his body," the FSA official said.
The Foley family had no comment for this article.
An official with the U.S. State Department said "we are seeking more information" on whether ISIS is trying to sell the remains of U.S. hostages. A senior U.S. diplomat called the idea "disgusting."
With additional reporting by Munzer al-Awad in Turkey.