Iraqi Army Opens New Front: Public Relations
"Have a little class," implores General Maan.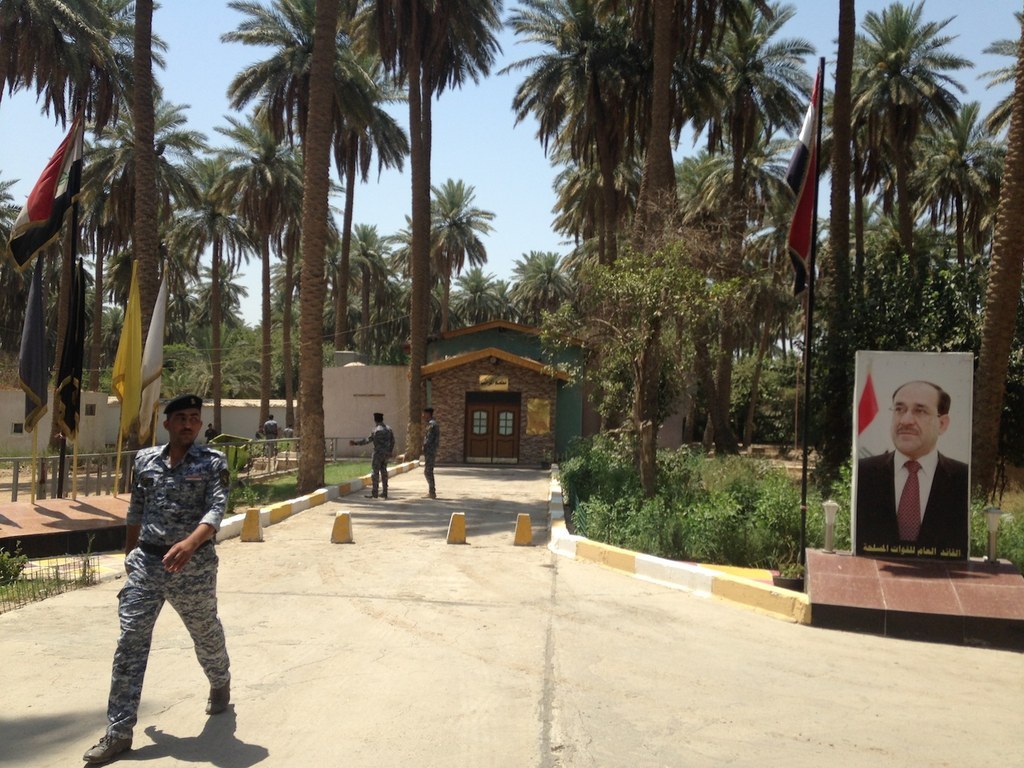 BAGHDAD — At the entrance to a paramilitary police base in Baghdad on Saturday, an officer berated one of the soldiers guarding the gate. The soldier had been hiding behind a barricade instead of standing at attention out front. "You need to stay at the entrance!" the officer said. "What are you, a coward? Are you afraid?"
The soldier argued back, creating a scene.
It is media day at the base, and a detachment of the international press corps filed into the compound as a soldier with a clipboard politely checked their names. Iraq's security forces, which already have their hands full combatting an extremist-led insurgency, have realized that they have another problem: bad press.
International news accounts have portrayed a dichotomy that Iraqi officials find unfair. The security forces — whom the media see on the streets and in interviews each day — come across as bumbling and ineffective. And the extremists — whom journalists never see first-hand — are shown as a relentless, fearsome force. If two extremist fighters descended into an unseemly bout of bickering, there would be no press on hand to witness it.
This negative publicity has created a problem, Brig. Gen. Saad Maan, the highly competent spokesman for the army's Baghdad Operations Command, complained in an interview days earlier. It undermines the security forces, he said, while helping the extremists with their intimidation campaign. It is also inaccurate, he said — the press has gone of its way to make the security forces look bad.
He accused journalists of selecting downtrodden-looking photos of him for publication and cited an internet meme calling him "Sad Man," a childish play on his name. "Have a little class," he said.
More important, they portray the security situation in Baghdad and in Iraq generally as worse than it was, he said. Contrary to many press accounts, he said, Baghdad is secure, the army is ready to start taking back territories it had lost elsewhere, and the extremists — led by the Islamic State of Iraq and Syria (ISIS) — are far less fearsome than their propaganda machine made them seem.
"I'm very sorry to see this kind of media, because it's an attempt to underestimate people," he said. "And in this way they are serving ISIS. We know how ISIS thinks. They depend in all their steps on the media. Terrorists need oxygen, and whether it's intentional or not, the media is helping them to accelerate the war."
Maan said that the security forces are rebounding from the shock of this month's militant surge.
"My friend, this is a war. We can lose one battle. But never say that we have lost the war."
Adnan Hussein, the president of the Iraqi journalism syndicate, said that the security forces also are losing the media narrative at home, where local media likewise have inflated ISIS' prowess as it pushed ahead with what he called a very sophisticated publicity campaign. He put a spin on a proverb: a lie well told is better than a poorly told truth.
Saturday's media event is part of an effort by security forces to remedy the problem — and to accommodate the non-stop press demands for access and ride-alongs. The journalists packed into a conference room as Col. Mohsin Adi Rahim tried to keep them entertained until the commander arrived, pointing a laser pointer at a map. Officers whispered that the commander had overslept — the previous night's work had kept him busy until just a few hours before. While the journalists waited, they peppered Rahim with questions. An ISIS commander had boasted of a secret plan to invade Baghdad, someone said — were the security forces ready for this secret plan?
"We are ready, we are ready," Rahim replied.
When the commander — Brig. Gen. Raisan Gasad Mahdi — arrived, with courteous apologies for the delay, he refuted claims from ISIS that they were challenging security forces in the belt surrounding Baghdad. "This is propaganda by ISIS designed to affect the morale of the fighters," he said. "The belt of Baghdad is 100 percent safe. You will see with your naked eyes."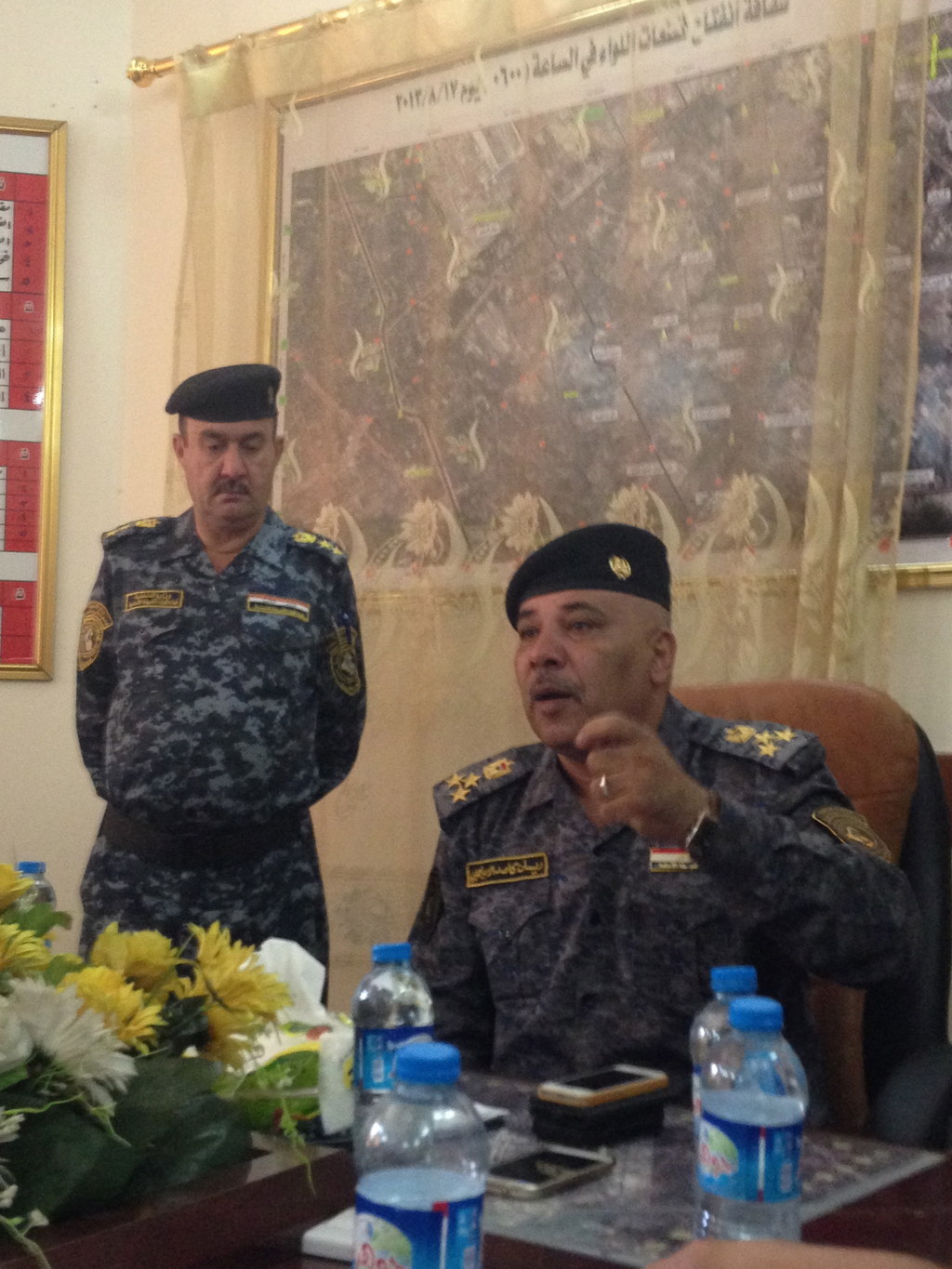 Mahdi and his troops — in a caravan guarded by armored vehicles and pick-up trucks mounted with machine guns — then led a tour of part of the Baghdad belt. It stopped at a checkpoint near the airport — as Mahdi gamely took a turn questioning drivers — and entered a restive area called Radwaniyah, once a bastion of support for Saddam Hussein. Residents stared as the caravan wound through farm fields and past a bombed-out palace, rolling through an endless series of checkpoints along the way. Many of the houses have for-sale signs.
News accounts later in the day would herald a new Iraqi army advance in the city of Tikrit, 100 miles north, and Mahdi tried to sound a triumphant note as the tour reached its end outside the suburb of Abu Ghraib, which one soldier said was where the real danger lied. He gave a press conference in the middle of the highway as his troops re-routed cars.
"We refute the rumors of ISIS or anyone else," he said.