Turkey Says Girlfriend Of Paris Hostage-Taker Has Fled To Syria
The country's foreign minister confirmed that Hayat Boumeddiene entered Syria from Turkey after arriving in Istanbul on Jan. 2. BuzzFeed News' Mike Giglio reports from Istanbul.
Turkey's foreign minister Mevlut Cavusoglu has confirmed that Paris hostage-taker Amedy Coulibaly's girlfriend Hayat Boumeddiene is currently in Syria, having traveled there via Turkey.
On Saturday, a Turkish intelligence official told BuzzFeed News that she had likely entered Syria via Turkey.
Cavusolglu said that Boumeddiene entered Syria on Jan. 8, having traveled to Turkey from Madrid on Jan. 2, the BBC reported.
BuzzFeed News' report from Saturday follows below.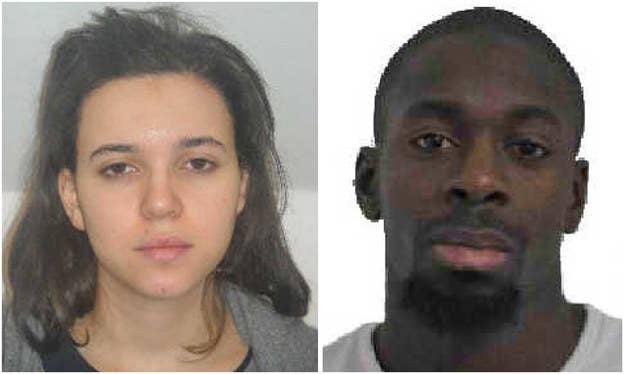 ISTANBUL — An international manhunt is underway for a woman tied to
the Paris attacks, who is now believed to have fled to Syria via Turkey.
A Turkish intelligence official told BuzzFeed News that Hayat Boumeddiene, the girlfriend of a gunman linked to the Paris attacks who killed four hostages in a kosher market on Friday, likely entered Syria after traveling to Turkey en route from France.
Boumeddiene arrived at Istanbul's Sabiha Gokcen airport on Jan. 2 and spent two nights in the city before traveling onward to the Turkish border province of Sanliurfa, the source said. From there, "we lost track of her," the source said, speaking on condition of anonymity because he wasn't authorized to discuss the subject publicly. "We think she is most likely in Syria."
The trip was Boumeddiene's first to Turkey, the source said, suggesting that she had not traveled to Syria previously. He said Turkish authorities were investigating whether Boumeddiene had links to any terror groups in Syria, such as the Islamic State of Iraq and Syria (ISIS) or Jabhat al-Nusra, the local affiliate of al-Qaeda.
Boumeddiene was the girlfriend of Amedy Coulibaly, who killed a French policewoman and four hostages before being killed by French security personnel on Friday. French authorities are seeking information that could link Coulibaly's attack to last week's deadly assault by brothers Said and Cherif Kouachi on the Charlie Hedbo newspaper offices in Paris. They have said that Boumeddiene was in regular contact with Cherif Kouachi's wife.
The Turkish intelligence source added that Boumeddiene was traveling with another man while in Istanbul, who was not Coulibaly, and that the two stayed in the same hotel. He said authorities were looking into whether the man was Boumeddiene's "boyfriend" and that it was unclear if the man was guilty of any crime or connected to any terrorist groups.
Turkish authorities have no proof that Boumeddiene was involved in the attacks in France, the intelligence source added.
An official with the Turkish foreign ministry said earlier on Saturday that authorities had "no information" on Boumeddiene.
While holding hostages in the supermarket, according to reports in the French media, Coulibaly said that he was acting on behalf of ISIS. There has been no confirmation of this from ISIS or from Western officials. The Kouachi brothers, meanwhile, have been linked not to ISIS but to al-Qaeda's affiliate in Yemen.
ISIS and al-Qaeda's local affiliate in Syria, Jabhat al-Nusra, are currently at war with one another in the country, and the two groups are seen as competing for primacy in global jihad.
Sanliurfa, the Turkish border province to which Boumeddiene is believed to have traveled after arriving in Istanbul, has long been a transit point for foreign jihadis seeking to join ISIS in Syria.
All of the border crossings in the province except one enter territory controlled by ISIS. The exception is a crossing into the town of Kobane, which is controlled by Kurdish militants.
The source said Turkish authorities lost track of Boumeddiene in Sanliurfa and believe that she entered Syria soon afterward. If so, it's possible she traveled first to another province, from which she could have crossed to Syria via a border controlled by another armed group.
But if she did cross from Sanliurfa, she would have been entering ISIS land.
One former smuggler who helped foreign fighters cross from Sanliurfa to Syria — as well as a second smuggler who currently works along the border — told BuzzFeed News that it's still common for the jihadis to cross. Many use fake Syrian IDs to help the process, they said, pretending to be refugees on their way home.
The process can be easier for women, the former smuggler said: "If a women is wearing niqab (a veil that hides her face), they will not ask her to show her face, and she can use any Syrian ID."
He added: "A lot of wives come from there to get into Syria to join their jihadi husbands, and a lot of women are coming to join ISIS."
With additional reporting by Munzer al-Awad in Turkey.