Egyptian Journo Who Warned Of Killing Americans Says He Was "Totally Misunderstood"
Mustafa Bakry, a prominent Egyptian journalist and former politician, created a firestorm last week by warning that U.S. citizens would be killed in Egypt's streets. In his first international interview since, he tells BuzzFeed the remarks were misunderstood — but that "Obama's foreign policy is putting the lives of American citizens in danger."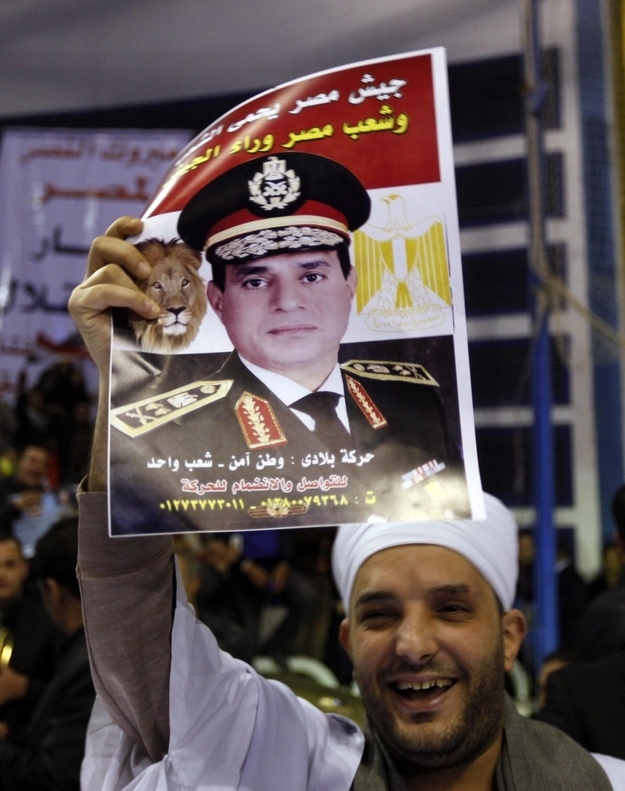 Mostafa Bakry is a prominent Egyptian journalist known for his pro-army views and his time as a parliamentarian under former strongman Hosni Mubarak. But last week, during an appearance on one of Egypt's most-watched evening talk shows, he jumped into the international spotlight as something else: a striking example of the fevered anti-Americanism that has been gripping the country of late.
On the show, Bakry said he was aware of a plot by the U.S. government to assassinate Gen. Abdel Fatah al-Sisi, Egypt's army chief and de facto leader — and warned that Egyptians would respond by killing Americans in the streets.
Directing his comments to U.S. President Barack Obama, whom some Egyptians accuse of failing to support Sisi after he ousted the country's elected president in July, Bakry said, "We will enter their houses, and we will kill them one by one."
Bakry's remarks, picked up by Western media, created a firestorm. Critics charge that the remarks show the depths that many Egyptians — as well as the country's powerful pro-military TV stations — have reached in their push to demonize the United States. Warnings of a U.S. conspiracy have become commonplace in state and pro-military media, which use them to demonize members of the former president's Muslim Brotherhood as the government works to suppress dissent.
"Bakry had the bad luck that his comments were translated into English. Unfortunately this type of thing is expressed all the time and it slips by without America caring because it stays in Arabic," said Mona Sweib, an Egyptian freelance journalist.
Bakry later walked back his remarks in an English-language statement sent to journalists by Egypt's foreign ministry, though he has yet to do the same in Arabic. The statement said that he was opposed to violence and that "we have no enmity with or hostility towards the American people at all."
In his first interview with international media since making the controversial remarks, Bakry told BuzzFeed that he'd been "totally misunderstood." But he reiterated his warnings that U.S. policy in Egypt was putting Americans in the country at risk. "Obama's foreign policy is putting the lives of American citizens in danger," he said.
Bakry's critique of U.S. policy mirrors those advanced since the summer by the government and its allies, who resent the Obama administration's initial hesitance to support Sisi's ousting of Mohamed Morsi, the former president, and its criticisms of the ensuing crackdowns, which have seen tens of thousands jailed and several thousand killed. Sisi and his backers have also painted Morsi's supporters as terrorists — and have demanded that the U.S. government do the same. "Our problem is with the American government that supports the Muslim Brotherhood and supports the terrorists," Bakry said. "It is very strange that America is not considering the Muslim Brotherhood as a terrorist group. It has clear double standards."
While security forces are battling Islamic extremists in Egypt's lawless Sinai region, and increasingly in its cities, the Muslim Brotherhood renounced violence decades ago, and Morsi's supporters have resisted Sisi mainly through marches and sit-ins. Militant groups based in the Sinai Peninsula have claimed responsibility for many bombings initially blamed on the Brotherhood.
"We have information that America is encouraging that terrorism," Bakry said. "Obama has clarified clearly that he is the enemy of the Egyptian people. … Obama is dealing with Sisi as if it's a personal fight between Sisi and Obama, because Sisi toppled Morsi, who is the ally of Obama."
After Egyptian security forces massacred Morsi supporters to clear a sit-in in Cairo this summer, the Obama administration announced that it would withhold parts of its annual $1.55 billion military aid package to Egypt. The U.S. is expected to soon release millions of dollars of the withheld aid, while in November, U.S. Secretary of State John Kerry offered an olive branch to Egypt's new powers by suggesting that the Muslim Brotherhood had "stolen" Egypt's revolution.
But Bakry repeated his claim that the United States was plotting against Sisi, whose potential run for the presidency is the source of frenzied speculation in Egypt. "There is information that there is a conspiracy by America and the Muslim Brotherhood to assassinate Abdel Fatah al-Sisi," Bakry said, adding that his warning about violence against U.S. citizens "was a way of alerting and explaining, not of threatening."
"We are now differentiating between the American administration and the American citizens," he added.
But he warned again: "Now American foreign policy is an ally hand-in-hand with terrorism. And that of course has a negative effect on America, and its reputations and its citizens, too. The most dangerous thing is that Obama puts American citizens at risk abroad."
With reporting by Sheera Frenkel in Cairo.