Dr. Sanjay Gupta ''Doubling Down" On Medical Marijuana
CNN Chief Medical Correspondent, Dr. Sanjay Gupta, released a new op-ed where he again apologized to patients "unable to obtain the legitimate medicine that may have helped them," and said "I am not backing down on medical marijuana -- I am doubling down."
Gupta told Burnett at the start of the segment that he has concluded that it is irresponsible frankly for the medical community not to be looking at this as a viable option: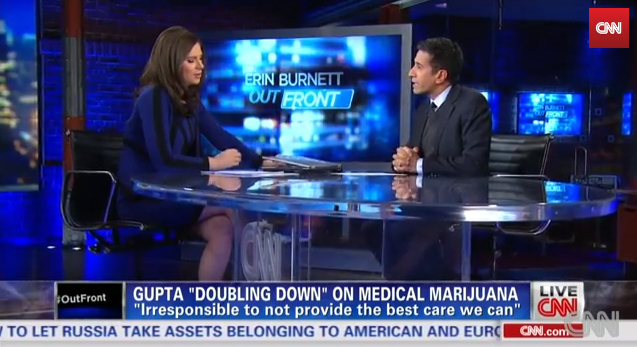 Excerpt from Dr. Sanjay Gupta's new CNN op-ed:
I have met with hundreds of patients, dozens of scientists and the curious majority who simply want a deeper understanding of this ancient plant. I have sat in labs and personally analyzed the molecules in marijuana that have such potential but are also a source of intense controversy. I have seen those molecules turned into medicine that has quelled epilepsy in a child and pain in a grown adult. I've seen it help a woman at the peak of her life to overcome the ravages of multiple sclerosis.

I am more convinced than ever that it is irresponsible to not provide the best care we can, care that often may involve marijuana.

I am not backing down on medical marijuana; I am doubling down.