A lot of people have speculated that "Look What You Made Me Do" is Swift's way of getting in a few digs at celebrities she's had issues with in the past, like Katy Perry and Kanye West, for example.
At the start of the song, Swift sings, "I don't like your little games / Don't like your tilted stage," which seems like it could be a reference to West's recent Saint Pablo tour.
And later on the track, she sings, "You asked me for a place to sleep / Locked me out and threw a feast (what?!)," which some believe is a reference to Katy Perry's single "Bon Appétit," which came out earlier this year.
But that may not be "Look What You Made Me Do"'s only reference to Perry. T. Kyle, the digital and social lead at Bravo's Watch What Happens Live with Andy Cohen, pointed out that the beat of the song sounds a lot like the beat of Peaches' "Operate," which plays in the 2004 movie Mean Girls.
Which is particularly ~interesting~ because, as you may recall, in 2014, Katy Perry tweeted about "the Regina George in sheep's clothing" and people immediately assumed she was referring to Swift.
If you listen to "Look What You Made Me Do" beginning at the one-minute mark, and then play "Operate," the beat of the songs do sound similar. T. Kyle took his findings a step further and matched up the sound waves.
There were others who noticed the beat of Swift's new song sounded similar...
Talk about things that make you go "hmm," right?
More than a few people immediately connected "Look What You Made Me Do" to Mean Girls.
Someone even said Swift was "goin' all Regina George," which may or may not have been whole point of "Look What You Made Me Do."
Others seemed to be sure that Swift's song was definitely, at least in part, a response to Perry.
And you'd probably have a tough time convincing them otherwise.
It does seem like Swift is embracing the less-than-desirable comparisons people have made about her image and is using it in her art.
Which is not totally out of the question when you consider that the lead-up to the reveal of her single and album included a series of videos that prominently featured a snake — a shorthand way that many people have referred to Swift since she was exposed by Kim Kardashian West last year.
But, when looking at the credits for "Look What You Made Me Do," there's no mention of Peaches, whose real name is Merrill Nisker. There is, for comparison, credit to Fred and Richard Fairbrass, the members of Right Said Fred, since the song is an interpolation of their hit "I'm Too Sexy."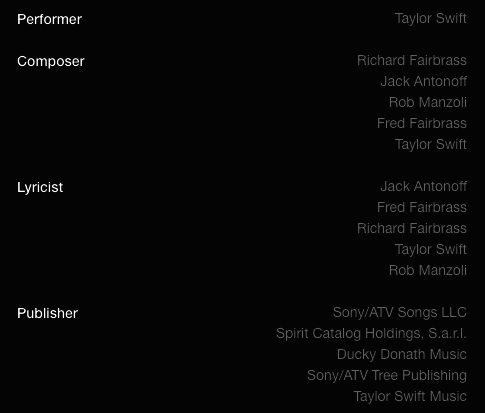 What do you all think? Weigh in below: