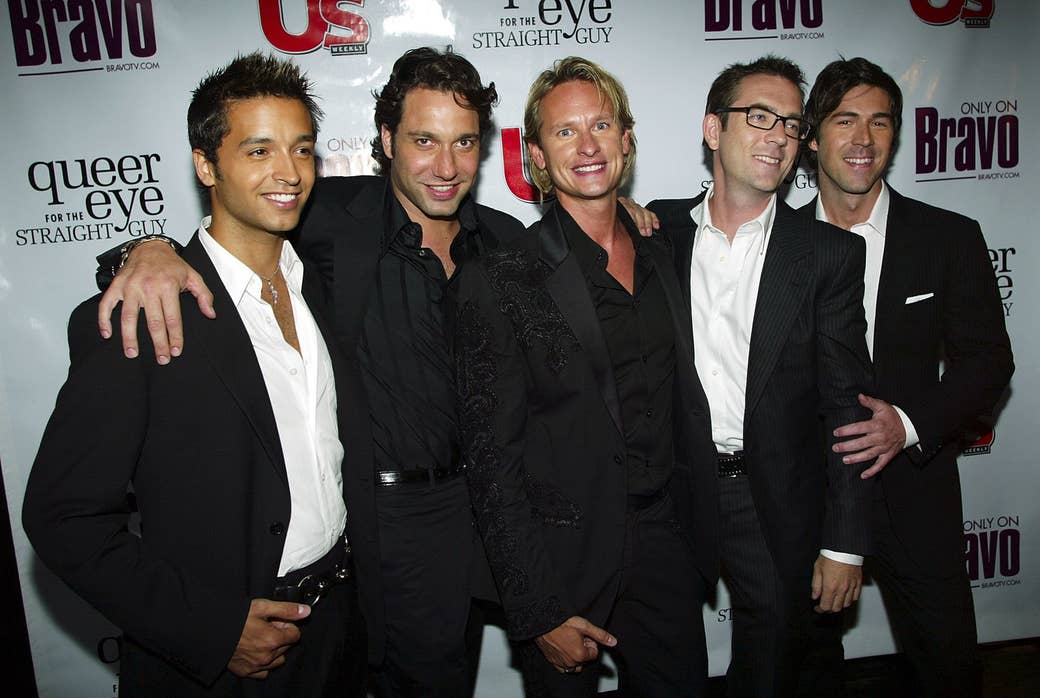 When Jai Rodriguez sat down recently to watch the Netflix reboot of Queer Eye, he was somehow able to totally disconnect from his role as the culture guru of the original Fab Five and just enjoy himself as a fan. "And I fangirled out — hard," he told BuzzFeed News. "I loved it."
For Rodriguez, watching the show also underscored just how much time has passed since the original Queer Eye for the Straight Guy first debuted. "Being out in 2003 was political. You being out was saying something," he said. "Whereas now it's not really as big of a deal."
"We were talking to the guys of the new cast and they were like, 'Were any of you married on the show?' And we were like, 'Are you kidding? We weren't legally allowed!' Such a different time," he said.
When Queer Eye first premiered on Bravo in 2003, it was a bold new reality show featuring a cast of five cosmopolitan, openly gay men who were plucked from total obscurity and transformed into international stars. The show arrived in a United States where 59% of people opposed marriage equality and "don't ask, don't tell" was still the law of the land. The most prominent gay characters on television were in Will & Grace.
And, yet, Queer Eye was a phenomenon.
The show's premise was simple: Five gay men with different skill sets — ranging from cooking, to fashion, to home improvement — were tasked with sprucing up an unsuspecting and usually unkempt straight guy, taking him from drab to fab.
But Rodriguez and his fellow hosts Carson Kressley (fashion), Kyan Douglas (grooming), Thom Filicia (decor), and Ted Allen (cooking) soon became household names, helping to make over what the country understood about gay people and masculinity.
While the show irked some in the LGBT community for its reliance on the stereotype of gay men being experts in fashion and decor, it was an immediate hit for Bravo, earning the cable channel its highest ever ratings. NBC, Bravo's parent company, soon took took notice and aired the show after Will & Grace to millions more viewers.
"Queer Eye may be the talk of the water coolers in America's big cities," the Chicago Tribune soon declared, while Canada's Globe and Mail newspaper said it was "the most talked-about new program of the new TV season." The New York Times credited the show with helping give rise to a "metrosexual moment," while noting it was prominent among the gay-themed shows finding a wider audience.

Soon, the Fab Five were everywhere: They were interviewed on The Tonight Show, making over then-host Jay Leno; they attended the 2003 VMAS, watching Madonna and Britney Spears kiss on stage; Liza Minnelli presented them with the "Biggest Gay Heroes" honor at VH1's "Big in 03" ceremony; and they were even parodied on South Park. The show was soon airing in 170 countries, picking up an Emmy in the process.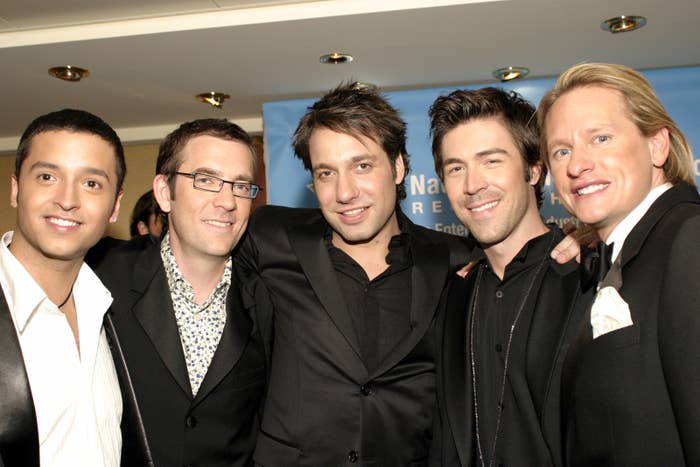 But when word leaked in January 2017 that Netflix was planning on rebooting the reality show almost 10 years after the original ended, many were initially reluctant to embrace it, fearful that too many years had passed and too much LGBT progress had been made to return to an outdated show.
"Netflix is reviving another small-screen relic — and, we fear, all the problematic stereotypes that come along with it," wrote TV Line, asking whether the reboot would set gay rights back a decade. (Fittingly, just months earlier, the same fears were raised when it was announced NBC planned to reboot Will & Grace.)
Yet the Netflix reboot, which premiered last month, has proved immensely popular with fans both old and new — in part because of the changes producers made from the original. "The original show was fighting for tolerance," says fashion expert Tan France in the reboot's opening episode. "Our fight is for acceptance."
With its emphasis on self-care, body positivity, and joy, Queer Eye ("For the Straight Guy," was cut from the title of the reboot, which features an episode with the Fab Five making over a gay man) has been popular with critics and on social media. "Queer Eye manages to combine all the brain-dead fun of the original … with an underlying and rather profound examination of masculinity," wrote Eleanor Margolis for the New Statesman. "On top of that, it has a trait that, in these certifiably Dark Times, we can only appreciate: pure, uncut positivity."
Members of the original cast are also fans of the changes Netflix has made to the series, including its more racially diverse cast (France is a British-Pakistani Muslim, Karamo Brown was the first openly gay black cast member on MTV's The Real World). "I love that the cast is more diverse. I love that the people that they're making over are more diverse," said Douglas, the original grooming expert. "I love them. I think it's a great show."
They also applauded the reboot's attempts to deal with complex subjects such as religion, race relations with police, internalized homophobia, and heteronormative views of LGBT relationships. With excitement, Rodriguez said the Queer Eye reboot is "allowed to tackle issues we were not really allowed to delve into."
The reboot also shifts most of the action from New York to Georgia, the same state where an Augusta station manager once refused to air the original Queer Eye until 2:30 in the morning due to scenes he believed "crossed the line of decency with blunt sexual innuendo."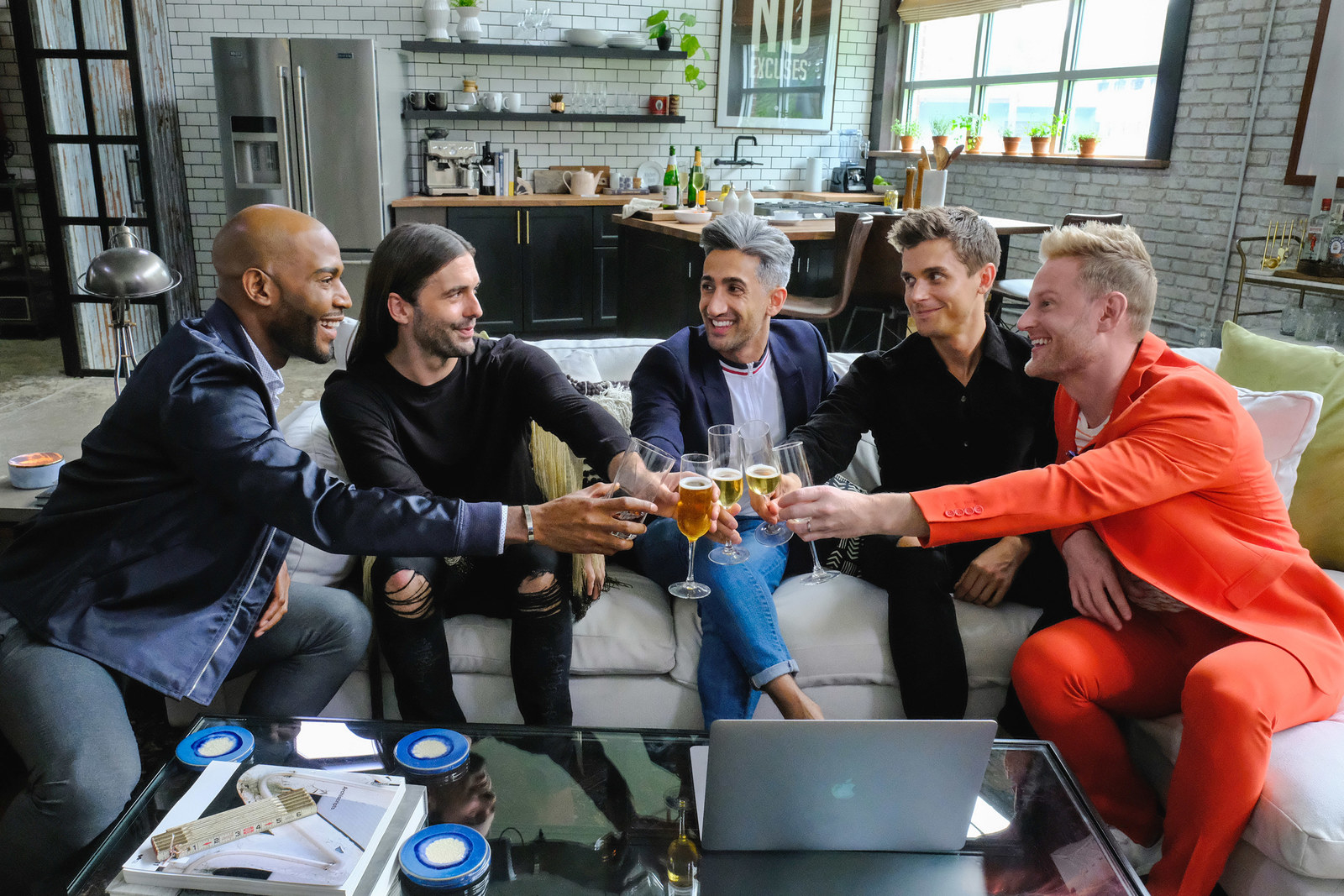 Rodriguez said the new show works because it's more accessible and allows the new Fab Five to be vulnerable, rather than comic book heroes answering a clarion call as depicted in the original's credit sequence.
"We were superheroes who were meant to be perfect. They never showed us flawed; they never showed us making mistakes," Rodriguez said. "This new version isn't like that. Sometimes they're in tank tops and shorts. They're just relatable, they're easy breezy; they're not the gays that are better than you — they're the gays who just want to help."
"Our show, if you remember, everything was designer, high-end," he said. "I had to wear a blazer in every episode."
Both Douglas and Filicia, the original grooming and decor experts, believe the new Queer Eye has been embraced because it's arrived at just the right time.

"It's been a little bleak," Filicia said. "I think there is a strong reaction to the show because it has a great lineage, a great history, and I think that people are ready to feel good about things again."
Douglas described the reboot as an antidote to the "strange, difficult time" the country is going through.

"The underbelly of racism is so clear for anybody who decides to see it and homophobia and transphobia," he said. "This new Queer Eye is the antidote to all that in some ways — it's like, thank god there's still some queer people in your living room."
Allen, the original food expert, said both his version and the reboot help viewers see gay men as real people instead of caricatures.

"I think that when a conservative family sees this group of five happy, successful, accomplished people devoting themselves to helping somebody who's a bit of a mess, it humanizes us," Allen said.
He and Kressley, the original fashion expert, believe that although society has evolved, and important LGBT progress has been made, the new version is just as necessary as ever.
"Even though we have made great strides in our community with marriage equality and many more advances in trans rights, at the end of the day, there is still a lot of homophobia and a lot of people that have not been exposed to gay people," Kressley said.
"It doesn't matter what era we live in — visibility is so important because … little queer kids need to see flamey people like me and Jonathan [Van Ness]," Kressley said. "It's okay to be any kind of person you want to be; it's okay to be who you are. I think that's why it's important that it's back."