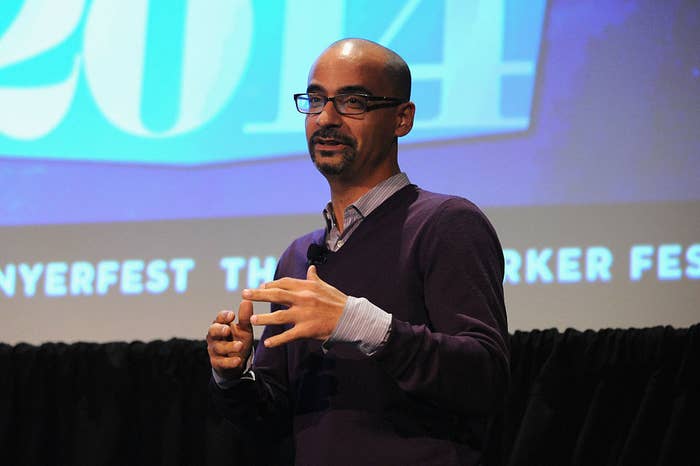 Junot Díaz, the award-winning Dominican American writer behind acclaimed works such as Drown and The Brief Wondrous Life of Oscar Wao, revealed on Monday that he was sexually assaulted as a child in an essay published in the New Yorker.

"I was raped when I was eight years old. By a grownup that I truly trusted," Díaz wrote. "After he raped me, he told me I had to return the next day or I would be 'in trouble.'"
Díaz's piece began with a brief anecdote about a fan — whom he refers to throughout the essay as "X" — who approaches him during a book signing and asks the author, quietly, if he'd ever experienced the abuse he'd alluded to within his writing.

At the time, Díaz admitted that he sidestepped the question with "some evasive bullshit," though the memory of the fan's disappointment with his answer stayed with him. "I know this is years too late, but I'm sorry I didn't answer you," Díaz wrote.

"I'm sorry I didn't tell you the truth. I'm sorry for you, and I'm sorry for me," he continued.

"We both could have used that truth, I'm thinking. It could have saved me (and maybe you) from so much."

From there, Díaz recounted the trauma he endured as an adolescent — including nightmares, being unable to focus in school, and anger, all linked to the assault he'd faced — to his time as an adult, navigating the terrain of romantic relationships and having trouble connecting with others intimately because of the pain he'd suppressed.

The heart-wrenching essay was met with praise from people who called Díaz brave; readers said he was helping save the lives of others who may have experienced a similar ordeal.
At the piece's conclusion, Díaz wrote that he's opened up to family, friends, and his current partner about his rape.

"Toni Morrison wrote, 'Anything dead coming back to life hurts,'" Díaz wrote.

"In Spanish we say that when a child is born it is given the light.

"And that's what it feels like to say the words, X⁠—. Like I'm being given a second chance at the light."

BuzzFeed News has reached out to Díaz for additional comment.