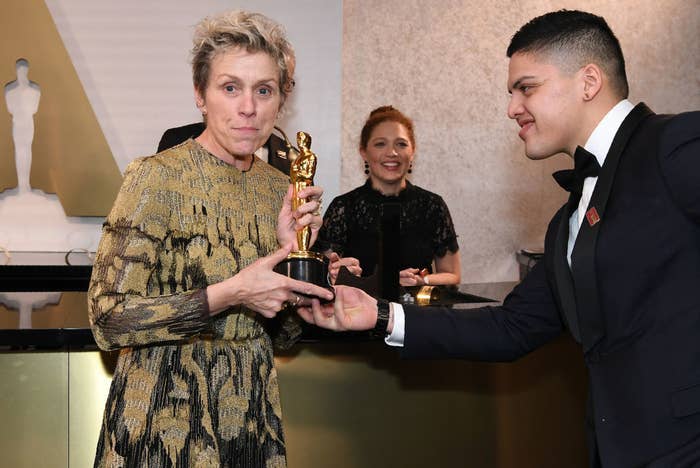 Frances McDormand's Oscar, which she won in the Best Actress category for her role in Three Billboards Outside Ebbing, Missouri, was stolen and then safely returned to the actor after the big ceremony Sunday, police said.

Terry Bryant, 47, was arrested and charged with felony grand theft for allegedly stealing the Oscar from McDormand's table at the Governors Ball, one of the many annual afterparty events of the season.
Three days after the incident, Bryant admitted he had taken the statuette, but pleaded not guilty.
His lawyer, Daniel Brookman, told the Associated Press Bryant plans to "forcefully and aggressively resist" the charges.
"There's a big difference between holding an Oscar and what he's charged with," Brookman said. "I don't think his character matches these charges."

In a Facebook video, Bryant can be seen saying "this is mine" while holding McDormand's golden statue.

"We got it tonight, baby," he adds.

Bryant then proceeds to talk about being at the ball and kisses the Oscar several times in the video.

News of the incident spread online after New York Times culture reporter Cara Buckley tweeted an image of Bryant, saying security at the ball was looking for him.

"I can confirm that, after a brief time apart last night, Frances and her Oscar were happily reunited," McDormand's rep told CNN. "They celebrated their reunion with a double cheeseburger from In-N-Out."
The Academy of Motion Picture Arts and Sciences also issued a statement, saying McDormand and her Oscar were "happily reunited after a brief separation at last night's Governors Ball."
Bryant was charged Tuesday with one felony count of grand theft of property exceeding $950 in value, and faces three years in jail if convicted, prosecutors said.
This isn't Bryant's first brush with awards shows, according to his own social media. In January, he posted a video of himself with a SAG Award statuette captioned with "I proclaim it in Jesus' name. My SAG Award." Bryant's name did not appear on the list of winners, but it is possible he was part of an ensemble cast.
He also posed with an MTV Award popcorn statuette in June 2017. And many of his Instagram posts feature celebrities.
BuzzFeed News has reached out to McDormand's representatives for comment.