Cynthia Nixon, actor, lifelong New Yorker, and now politician, announced Monday afternoon she would be running for governor of her home state.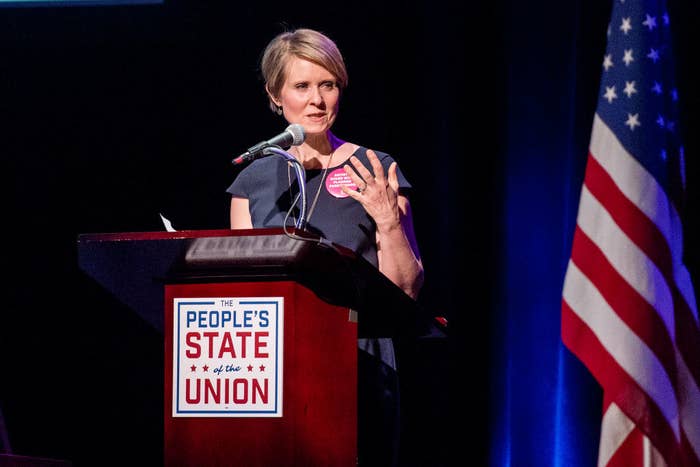 Nixon, who's best known for her work in the long-running late-'90s, early '00s HBO television series, Sex and the City, will now officially challenge Gov. Andrew Cuomo in the September Democratic primary.
"New York is my home," says Nixon in her video declaring her candidacy. "I've never lived anywhere else."
"When I grew up here, it was just my mom and me in a one-bedroom, fifth-floor walk-up," Nixon continues, as the video displays footage of her interacting with her partner, Christine Marinoni, and their children.
Nixon then calls for "our government to work again" before listing problems such as health care, mass incarceration, and the broken New York City subway system.
"We are sick of politicians who care more about headlines and power than they do about us," she said.
BuzzFeed News has reached out to Cuomo's office for comment, as well as Nixon's camp for further comment.
From the start, online reaction to the news was strong and ranged from people being really shocked to people being very enthusiastic.
And folks couldn't help but point out that running for governor is something that her character on SATC totally would've done.
Seriously, as you can imagine, there was no shortage of jokes about the show.
Likeeeee a lot.
I told you there were a bunch.
But there were others who engaged with problems Nixon hopes to mend, like the subway system.
Alexander Kaufman, a reporter at Huffington Post, noted that Nixon highlighted Newburgh, New York, in her candidacy video — a city currently dealing with a clean-water crisis.
And though most people seemed to praise the news of Nixon's candidacy with breathless adoration, there were others who seemed skeptical. "A celebrity with zero policymaking experience running for executive office? What could go wrong!?" one person wrote.
"Run for NYC city council," another said, making it known they were against celebrities running for office without a history of experience as an elected official. "Learn how things work. Show that you can be accountable to the public."