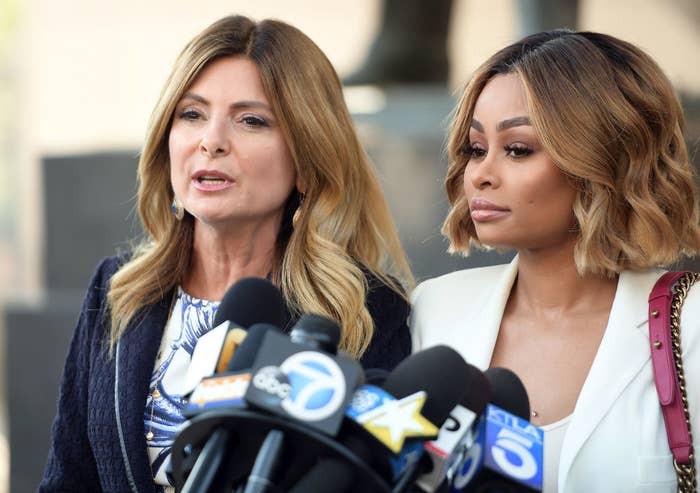 An attorney for Blac Chyna told BuzzFeed News the reality star is reviewing her legal options after a sex tape was leaked online over the holiday weekend.
"We don't know who [leaked the footage]. We have some suspicions, but we don't know," attorney Lisa Bloom said Tuesday during a brief phone call.
The high-profile attorney declined to elaborate on those suspicions, saying, "I don't want to do that because I don't want to point the finger at somebody who might not be the person."
The clip of Chyna and an unidentified man was first posted to Twitter by an anonymous account on Monday, according to TMZ.

Bloom said that she's had "a lot of successes in revenge porn cases in California" and outlined three potential routes she could pursue for Chyna.

"There's the criminal option, because revenge porn is a crime in California," Bloom said. "And a civil option because it's also a civil wrong and you could bring a lawsuit from any damages."

The third option, Bloom said, was pursuing the case as a form of "domestic abuse under domestic abuse laws."

To bolster the domestic abuse claim, Bloom, who defended former O.C. actor Mischa Barton in a similar case, referred to a previous case involving Chyna against former partner Rob Kardashian last summer.

"Rob Kardashian posted naked pictures and a lot of offensive content about her," Bloom said. "We went to court and immediately got a restraining order against him and the judge agreed with us."

"This type of cyberbullying is a form of domestic abuse under our domestic abuse laws," she said.
During that dispute, Kardashian was ordered to stay 100 yards away from Chyna after the restraining order was granted.

In September 2017, the domestic violence case between the two was dropped after privately reaching an agreement.
Bloom also took to Twitter on Monday with a statement about revenge porn. "Girls have killed themselves over revenge porn. It's not a joke," she wrote.
Bloom did not give a definitive answer on the next steps, though she did say she expects an "answer soon as to which option or options we'll be pursuing."