Alice Walker, Author Of "The Color Purple," Is Under Fire For Recommending An Anti-Semitic Novel In A New York Times Interview
The author appeared to endorse conspiracy theorist David Icke's And the Truth Shall Set You Free. She has supported his work since at least 2013.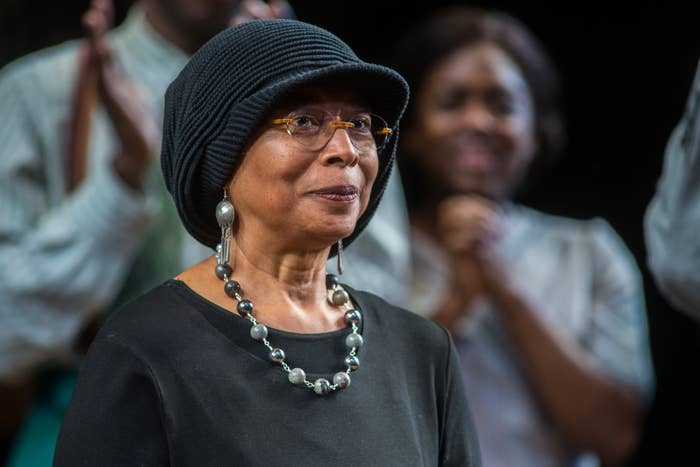 Pulitzer Prize–winning author Alice Walker has come under criticism for recommending a book full of anti-Semitic conspiracy theories in a recent New York Times interview.
In the profile, which focused on book habits, Walker was asked what is currently on her nightstand. She mentioned four books, one of which was And the Truth Shall Set You Free by David Icke, an anti-Semitic conspiracy theorist.
"In Icke's books there is the whole of existence, on this planet and several others, to think about," Walker said. "A curious person's dream come true."
Tablet Magazine, one of the first news outlets to point out the author's suggestion, wrote an article about some of the troubling details in Icke's book.
Tablet noted that Icke is one of Britain's most well-known anti-Semites. The outlet also wrote about the content in the book, like suggesting that one of the world's oldest Jewish organizations — B'nai Brith — was somehow responsible for the slave trade in addition to operating the Ku Klux Klan. He's also simultaneously and falsely claims both that Jewish people funded Adolf Hitler, and he casts doubt that the Holocaust occurred.
Icke is also a prominent proponent of the false conspiracy theory that lizards, posing as people, have taken over the highest echelons of government and society.
Some expressed concern that the newspaper didn't push back on Walker sanctioning the book.

In a statement to BuzzFeed News, a Times spokesperson said, "By the Book is an interview and portrait of a public person through the lens of books; it is not a list of recommendations from our editors. The subject's answers are a reflection on that person's personal tastes, opinions and judgments. As with any interview, the subject's answers do not imply an endorsement by Times editors."

"Moreover, our editors do not offer background or weigh in on the books named in the By the Book column, whether the subject issues a positive or negative judgment on those books," the statement continued. "Many people recommend books Times editors dislike, disdain or even abhor in the column."
Representatives for Walker did not immediately respond to BuzzFeed News' request for comment.

In a statement sent to BuzzFeed News on Tuesday morning, Jonathan A. Greenblatt, CEO of the Anti-Defamation League, an organization dedicated to fighting anti-Semitism, said the company was "deeply disappointed" in the Times' decision to run Walker's "unqualified endorsement" of Icke's book.

"He even casts doubt on the Holocaust and condemns the Nuremberg Trials," Greenblatt said. "He has a long history of scapegoating Jews and Times readers should be aware of this before considering his work."
Walker has praised Icke's work as far back as 2013.
Walker received the Pulitzer Prize in fiction for her novel The Color Purple in 1983, the first woman of color to achieve the honor.
The book was later adapted into a 1985 film of the same name, directed by Steven Spielberg and starring Oprah Winfrey and Whoopi Goldberg.
A spokesperson for the Pulitzer Prizes said the committee does not comment on past winners outside their prize-winning work.