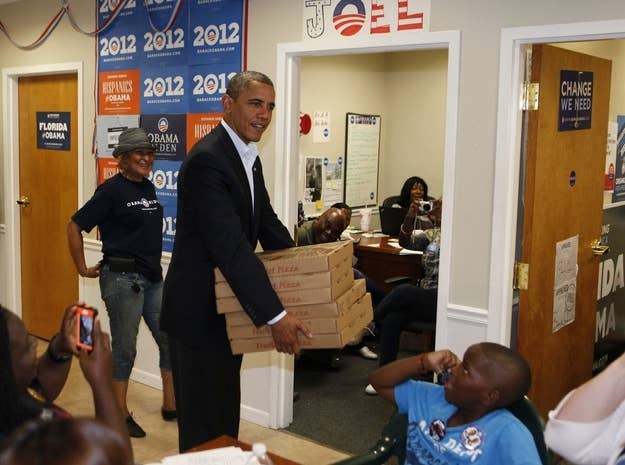 ORLANDO, Fla. — President Obama arrived in Orlando Sunday evening with plans to rally with Bill Clinton at 10 am on Monday morning.
The plan did not survive contact with Hurricane Sandy.
The White House cancelled the Florida event today, setting up a situation where Obama may have to suspend even more campaign events in the campaign's final eight days, depending on the severity of the weather.
"Due to Hurricane Sandy, President Obama will not attend today's campaign event in Florida," the campaign said in a statement released at 7:38 am. "The event will move forward with President Bill Clinton at 10:00 AM EDT."
Obama did, however, manage to make an unscheduled stop to speak with volunteers and deliver pizza to staffers on Sunday night in what journalist Hans Nichols described on Twitter as "the most expensive" pizza delivery in history, referencing the high costs it took to fly down to Florida, stay for just over 12 hours, and not accomplish the purpose of the trip.
The cancellation in Orlando means that Obama has only attended one campaign rally in the last four days, while the original schedule had called for multiple events in swing states over the next forty eight hours.
While Obama heads back to Washington to show his commander-in-chiefness, other members of Team Obama aren't letting the storm slow them down.
Besides Clinton's Orlando stop, Vice President Biden is heading to Ohio today; Michelle Obama is in Iowa; and Dr. Jill Biden has events in Colorado.
UPDATE: The White House has also now cancelled Obama's campaign event in Green Bay, Wisconsin, which was scheduled for Tuesday. That will bring the tally of holding only one rally in fives days.
Meanwhile, the White House press traveling press corps, which followed the president down to Florida late Sunday night on the campaign charter plane, is stuck in Orlando overnight.