Finally Fired Up?
Early voting, Boca Raton, and Bruce Springsteen. "We have 20 days after tonight to get our voters out and persuade the undecided," says campaign manager Messina.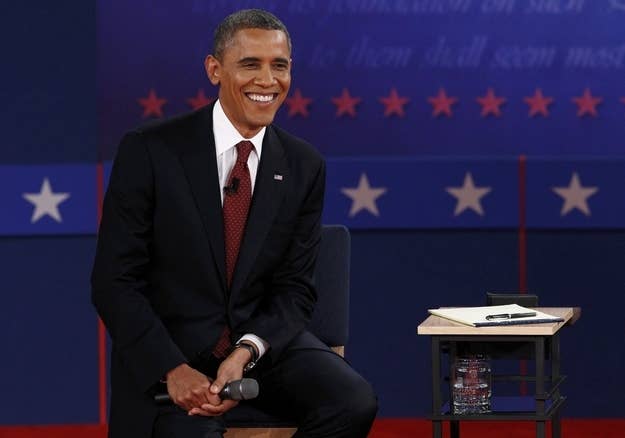 HEMPSTEAD, NY — President Barack Obama appeared at Hofstra University tonight to meet his Republican challenger Mitt Romney face to face in the second presidential debate, delivering what campaign officials described as a "dominant" victory — and one they hope will translate instantly into early votes in crucial states.
"We built the best grass roots ground operation in American political history for this moment," Obama campaign manager Jim Messina said. "We have 20 days after tonight to get our voters out and persuade the undecided…Tonight gives us the energy, the focus, the clear difference between the two candidates to go out there and make this case."
The campaign feels particularly confident about the numbers they are seeing in early voting as well, saying they have a commanding lead in both Iowa and Ohio.
"People are already voting in Iowa, folks are voting in Ohio, [the numbers] in both states demonstrate very clearly our infrastructure is to the president's benefit," Gaspard said. "We have many more Democrats participating than Republicans at this point, and every one of the other states that allow for early vote we are moving aggressively to turn out that vote and to build awareness in our activist base."
In Iowa, for instance, the campaign has announced #campustakeover week
with satellite voting sites set up across the state, and a targeted effort at college campuses. This includes an appearance by Bruce Springsteen on Thursday at Iowa State University.
Tuesday's debate, following Vice President's Biden strong performance last week in Kentucky, and has imbued the campaign with a new sense of confidence that had been badly shaken. Partly, the strong showing tonight was because the Obama campaign completely reversed their strategy this time around, throwing out the entire playbook they had used in Denver.
Before Denver, campaign officials refused to give out even the most basic details about the president's preparation. This time, they provided all sorts of nuggets that political reporters love —who was playing Candy Crowley (Anita Dunn); the meals Obama ate during the day (pasta with chicken for lunch; steak and potatoes with Michelle for dinner); that he worked out in the morning, then had a 45 minute review session; who was helping him to mellow out before the he took the stage, long time friends Marty Nesbitt and Mike Ramos.
And, rather than predict how poorly Obama was going to do, they instead beat a more optimistic drum, with the president himself saying "It's going great." Even before the debate started, a hefty number of surrogates — John Kerry, Howard Dean, Martin O'Malley, Messina, and Cutter" — entertained reporters in the spin room. Online, the campaign provided a "Town Hall Cheat Sheet: What Romney Says Versus What Romney Means," to pre-emptively strike against what they saw as the former governor's etch-a-sketching his way through Denver.
"President Obama looked at the tapes from the last debate, he was fired up to come here tonight, " said campaign spokesperson Jen Psaki, referring to Obama's poor debate performance two weeks ago in Denver that shook up the race. "He gave a strong, decisive performance, and delivered on the energetic performance that we all promised."
"We just had a dominant performance by the president," added Patrick Gaspard, executive director of the Democratic National Committee. "You saw a very energetic and very clear Barack Obama."
Obama had been neither clear nor very energetic on his first outing against Romney, turning in much maligned showing at his first debate in four years. This time, however, campaign officials said the preparation went better—and he knew what was coming at him.
"The only thing different is he had one [debate] under his belt," explained Psaki. "He knew what Mitt Romney to expect tonight Mitt Romney was hiding from his own plans."
Now campaign officials say we can expect a repeat at the final debate in Florida, which will focus on national security.
"He'll be spending a few days studying before the next debate as well," Psaki said.