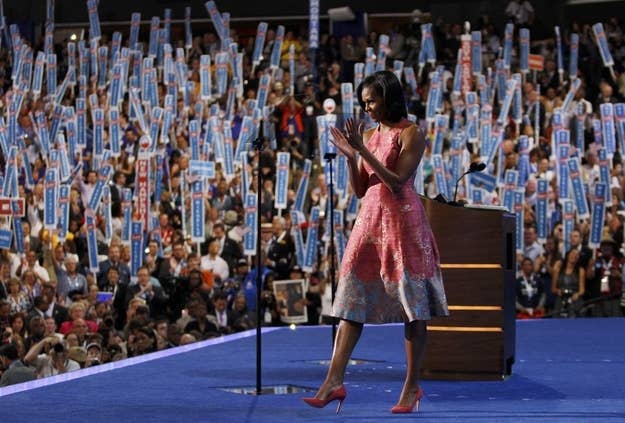 After a blockbuster prime time speech last night, Michelle Obama spent day two of the Democratic National Convention targeting the constituencies crucial to her husband's re-election.
"So how about that opening night, huh?" she said to a packed audience at the Democratic Black Caucus this morning. "Don't know about you, but the energy, the enthusiasm that we saw last night made it clear that folks are pretty fired up."
Her talk to the African American party faithful was followed up later in the day by speeches to the Hispanic Caucus and a lunch recognizing out LGBT elected officials.
Obama emphasized the same message to the three different groups in almost identical language: how important it would be for their communities to come out in full force, citing the election four year ago in Florida and the close race in North Carolina.
"Back then we won Florida by 236,000 votes," she told Hispanic Caucus. "We've done those numbers, because it's important to understand just how crucial every little bit means -- 36 votes. You can picture that -- 36 votes. And if you think that's close, don't forget that we won North Carolina by just 14,000 votes."
(Some 95 percent of blacks voted for Obama in 2008, including 300,000 new voters in North Carolina; 67 percent of Hispanics voted for him as well, according to Pew Research; and 70 percent of gay, lesbian and bisexual voters chose Obama.)
In her speech to the Hispanic Caucus, she also mentioned the Dream Act, and said
Latinos had a "critical role" to play in the election.
In her talk to the LGBT groups, the Human Rights Campaign and the Gay & Lesbian Victory Fund, she gave a shout out to Rep. Tammy Baldwin—an who would be the first out LGBT U.S. senator if she wins her race in November.
"Tammy, where are you? " she said. "Yes, Tammy! That's my girl. We got to hang out at one of our rallies in Wisconsin."
The first lady then dove into a pitch, telling the LGBT community that an Obama administration was "speaking out for the rights of all Americans to be able to do what Barack and I did and marry the love of our lives."
She then listed the White House record on LGBT issues —including repealing don't ask don't tell, passing hate crimes legislation, and opposing the Defense of Marriage Act.
Campaign officials and surrogates were thrilled by her performance last night and today—and by what they see as her galvanizing role at the convention to juice the campaign's grass roots effort.
"I was so proud of the first lady, " Valerie Jarrett, a senior advisor to the White House, said at the morning event. "Was she amazing or what?"
"How about that speech last night," her brother, Craig Robinson told the audience. "I got to tell you I could not been prouder of my little sister. She tried to make a brother cry, she tried."
"Michelle Obama made me feel everything is going to be all right," said Donna Brazile, a top DNC official. "Mrs. Obama got us on feet and we need to remain standing. "
"This is what we needed," one Obama official told me. "It reinvigorates the party, and reminds everyone why we're here."
Another Obama aide called the speech "moving," suggesting it couldn't have gone any better.
A third staffer praised the first lady's ability to act as the strongest surrogate the campaign had.
But a delegate who saw Michelle Obama for the first time summed up the widespread feeling at the convention best.
"O-M-G, O-M-G, oh my god," a thirty-something woman said after freeing herself from a scrum of delegates and media along the rope line. "I just touched the first lady's skin."