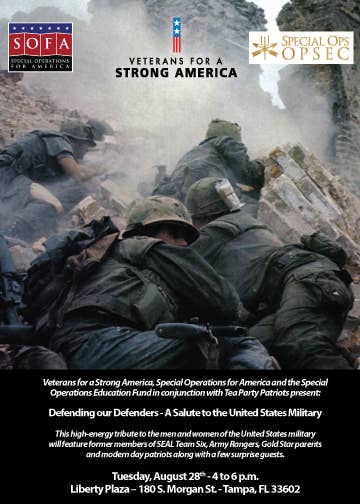 The controversy surrounding conservative veterans groups criticizing President Obama over the killing of Osma Bin Laden is heading to Tampa next week, with three organizations planning to hold an event at Liberty Plaza on Tuesday.
The event, called "Defending the Defenders," is being hosted by three political action committees whose goal has been to raise questions about the White House's handling of the Bin Laden raid, as well as the alleged leaking of national security information.
"This high-energy tribute to the ment women of the United States military will feature former members of SEAL Team Six, Army Rangers, Gold Star parents and modern day patriots with a few surprise guests," reads the flyer obtained by BuzzFeed.
U.S. Senators, a few conservative Hollywood celebrities, and a roster of about half dozen former Special Forces operators are planning to speak, according to one of the event's organizers, Joel Arends.
"The thinking is very simple, we want to eductate delegates to the RNC convention on two different issues," says Arends, who is also head of Veterans for a Strong America. The first issue, he says, are the "national security leaks have come out this White House are damaging the troops on the battlefield." The second issue is sequestration and planned cuts in the defense budget.
The groups involved — OPSEC, Special Operations for America, and Veterans for a Strong America — have been the targets of intense criticism in recent days from the White House and its allies.
"If someone uses the uniform, whatever uniform, for partisan politics, I am disappointed because I think it does erode that bond of trust we have with the American people," Chairman of the Joint Chiefs of Staff, Gen. Martin Dempsey, told Fox News earlier this week.
With the announcement of the soon to be released book account of the Bin Laden mission, and the controversy surrounding the disclosure of the name of the author, the event is now likely to get even more attention.
The news of the event of was originally reported yesterday by Politico in a round up of activities for convention goers.