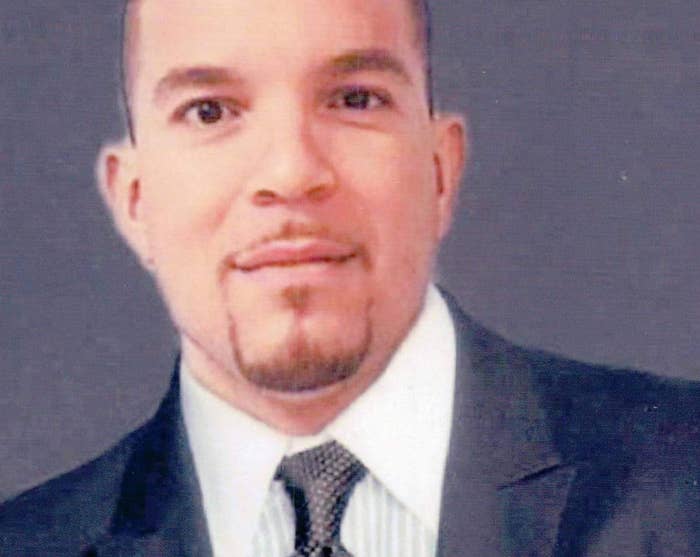 CHICAGO—The Cook County State's Attorney's office announced Wednesday that it would free a man who claims he was wrongfully framed for a 1994 double murder by retired Chicago Police Detective Reynaldo Guevara.
The decision to release Roberto Almodovar, and drop all charges against him, comes eight days after a BuzzFeed News investigation into Almodovar's case and the former detective who got him locked away for more than two decades. The investigation found that at least 51 people have accused Guevara of framing them for murder and that Chicago authorities had ample warnings about the long series of allegations against him.
"Proceeding with this case is no longer in the best interests of justice," State's Attorney Kim Foxx said in a statement.
Almodovar is expected to be freed Friday following a hearing before Judge James B. Linn, who was overseeing his request for a new trial. His co-defendant, William Negron, is awaiting a motion for resentencing in another, unrelated case. It is unclear when Negron will be released.
Almodovar, a young father working long hours and attending night school when he was arrested, had no previous convictions. He was 20 when he was convicted, and is 41 now. His daughter Jasmyn, who was six months old at the time, is now 23. She has attended many of his hearings.
"I'm pleased the State's Attorney's Office recognized that there's an injustice that happened and took steps to rectify it," Almodovar's attorney, Jennifer Bonjean said.
Almodovar and Negron have each served 23 years for murder in the 1994 shooting deaths of two teens, Amy Merkes and Jorge Rodriguez, who were sitting on an apartment stoop when they were killed in a driveby shooting.
Five people swear Almodovar was with them at the time of the shooting.
One of two surviving eyewitness claimed that Guevara, the lead detective, showed him pictures of Almodovar and Negron before the police lineup and then lied about it—a clear violation of police protocols.
In written responses to questions in Almodovar's quest for a new trial, Guevara asserted his Fifth Amendment rights against self-incrimination 159 times. In 2009, Guevara's attorney claimed the allegations against him were part of a gang conspiracy, telling the Chicago Tribune: "We strongly believe there is an orchestrated effort by gang members that witnesses were told to recant."
A prosecutor from the State's Attorney's office made a similar argument in court earlier this week, before prosecutors suddenly did an about-face Wednesday and said they would no longer oppose Almodovar and Negron's efforts to reverse their convictions.
The State's Attorney's office did not immediately respond to request for a comment, but the statement said that "after a thorough and deliberate review" prosecutors had determined that the evidence against Almodovar and Negron was "insufficient to support a retrial of this case."
In addition to Almodovar and Negron, there are 27 other people in prison who have alleged that Guevara framed them. Many of them have appeals pending.
Almodovar's family said they were ecstatic that he was finally coming home. His aunts, Mary, Gladys and Iris, were key members of a support group that, over the past two decades, painstakingly pieced together what they claim is a clear pattern of misconduct by Guevara across dozens of cases. For decades the support group tried alerting the Chicago Police Department, the state's attorney's office and federal authorities to what they claimed was a raft of witness tampering and abuse by the detective.
In most cases, their pleas fell on deaf ears. In five cases, however, Guevara defendants were exonerated, and some have won large civil judgements against the city of Chicago.
Almodovar's aunt Mary Almodovar Rodriguez said she was "running through so many emotions."
She learned her nephew's conviction would likely be reversed late Tuesday in a call from his lawyer, Bonjean. When her nephew called her from prison later that evening, she did not tell him that he would likely be free. She feared prosecutors would change their minds.
"He kept asking me, 'What's wrong? What's wrong?", she said between tears.
It's unclear if Almodovar was even aware, late Wednesday, of his own impending release.
Almodovar Rodriguez was on her way to tell her 92-year-old father, Sergio, that his grandson was coming home.
"I was just hoping he wouldn't pass away before it happened," she said.
The family is now scrambling to purchase a cake, and find clothing for Roberto to wear and a room for him to sleep in when he gets out.
Still, she added, her joy was tempered by sadness for the families of the murder victims, who would never get to welcome their loved ones home.
"This is a wakeup call that every victim of Det. Reynaldo Guevara should have a new hearing to determine their innocence," said Negron's attorney, Russell Ainsworth. "We're thrilled that two innocent men are having their convictions reversed but the delay in justice has taken a toll."

Outside Your Bubble is a BuzzFeed News effort to bring you a diversity of thought and opinion from around the internet. If you don't see your viewpoint represented, contact the curator at bubble@buzzfeed.com. Click here for more on Outside Your Bubble.