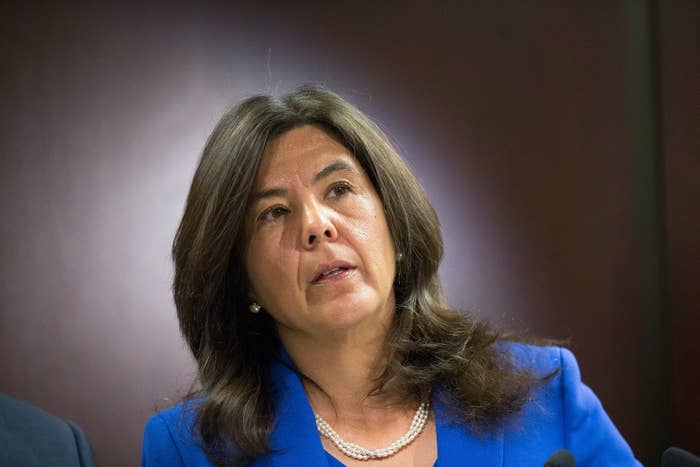 Four men who were convicted of murder but who maintained they had been framed by a Chicago police detective are all probably innocent, an official investigation has found. The investigation, which was commissioned by Mayor Rahm Emanuel and obtained by BuzzFeed News, has not been made public.
Despite its findings, the Cook County State's Attorney's Office will not reopen any of the men's cases. In a written statement to BuzzFeed News, Sally Daly, the director of communications, said that the report "made credibility determinations that are contrary to the opinions of the Office of the State's Attorney, contrary to those made by the triers of fact in each of these cases, and contrary to those made by the Judges that have presided over these cases for decades." She continued, "[W]e have no new credible evidence or information to suggest that these convictions should be vacated."
The city's investigation — currently under a court-ordered seal — says that Roberto Almodovar, 40, Robert Bouto, 39, Jose Montanez, 48, and Armando Serrano, 43, were most likely innocent. Almodovar received a life sentence, while Bouto, Montanez, and Serrano are serving 45 years. All four men are still appealing their convictions.
Cook County prosecutors are slated to return to court on Tuesday to fight Almodovar's appeal. In previous hearings they have argued that the contents of the investigation should be kept secret.
The inquiry, led by a former U.S. attorney, centered on a retired police detective named Reynaldo Guevara.
For more than three decades, residents of Chicago's predominantly Latino Humboldt Park neighborhood have alleged that Guevara manipulated lineups and witnesses, beat suspects, coerced confessions, and purposely mistranslated statements from witnesses and suspects in order to frame at least 40 people. Lawyers for Guevara were not immediately available for comment.
In the case of one man, who was arrested 21 years ago, the report concludes, "[I]t is more likely than not that he is in fact innocent of the murders for which he was convicted."
In the case of Almodovar, who was 19 when, 21 years ago, police arrested him for the fatal shooting of two people, the report concludes, "[I]t is more likely than not that he is in fact innocent of the murders for which he was convicted." Investigators note that no physical evidence links Almodovar to the shooting and that one eyewitness identification critical to his conviction was made under "undisputedly challenging circumstances."
The investigators cited Almodovar's alibi evidence as "compelling": At the time of the murders, multiple witnesses say, Almodovar and his girlfriend were at his aunt's house fighting loudly. His aunt said she was sure of the date because she was worried the fighting would keep her son awake on the night before his first day of school. Investigators also noted the lack of physical evidence linking Almodovar to the shooting and the "undisputedly challenging circumstances" surrounding one eyewitness. That witness recanted his testimony after the trial, saying Det. Guevara had coached him to identify Almodovar in a lineup. (He said he had also been coached to identify Almodovar's co-defendant, whom the investigation report does not discuss.)
Investigators in the case of Serrano and Montanez ended their 58-page summary of findings by writing, "Looking at all the evidence, we conclude that Montanez and Serrano are more likely than not actually innocent."
Serrano and Montanez were convicted of killing a 27-year-old man on Feb. 5, 1993. The case went cold for four months, until Francisco Vicente, a drug addict who was in jail for armed robberies, told police he had heard the two confess. His testimony served as the linchpin in their conviction.
Shortly thereafter, Vicente told police he had also heard the confession of Robert Bouto, who was accused of killing a 15-year-old boy outside his high school.
The report notes the "improbability" that Vicente received so many confessions within weeks of each other.
Vicente has since admitted to fabricating these accounts in hopes of a reduced sentence in his armed robbery cases. He faced as many as 30 years, but at the prosecution's request, Vicente received a nine-year sentence; he served three years.
For more than three decades, people have complained that the police officer in these cases manipulated lineups and witnesses, beat suspects, and coerced confessions.
In their 44-page analysis of the Bouto case, investigators write, "[W]e find it more likely than not that someone other than Robert Bouto shot and killed Salvador Ruvalcaba."
While the reports are clear about the likelihood of innocence in the men's cases, they are much more restrained in their findings regarding Guevara's alleged misconduct. In the Montanez and Serrano report, the investigators write, "[W]e cannot conclude whether or not there was misconduct by the police regarding the alleged confessions. There are too many possibilities, too many inconsistent facts, and a lack of credible witnesses."
In 2009, a federal jury awarded Juan Johnson a then-record $21 million after concluding that Guevara bullied witnesses into identifying Johnson in a 1989 murder outside of a nightclub. Johnson spent 11 years in prison before being acquitted in a retrial. The jury stipulated that Guevara himself had to pay $15,000 for his role in the case.
Jennifer Bonjean, an attorney representing Almodovar, Bouto, and Serrano, filed a motion asking the courts to remove the protective order on the reports. "Any effort to further conceal them amounts to nothing short of a conspiracy to subvert justice and truth," she told BuzzFeed News. Her clients "have to sit there and wait for the system to see reason," she said. "It's a constant reminder that they're seen as less than human."
The decision not to reopen any of the Guevara cases comes at a delicate time for State's Attorney Anita Alvarez, who faces criticism that her tough-on-crime approach is too rigid for the current political moment. The two-time incumbent did not garner the backing of her fellow Democrats last month, meaning she will have to run in a March primary race.
Almodovar's aunt, Mary Rodriguez, says her family is frustrated by the state's attorney's refusal to reconsider her nephew's case.
"It's not about justice," Rodriguez says. "How could you not see the pattern with Guevara? How could they ignore it? It's wrong to give them guys just a little light at the end of the tunnel and then it just closes shut."