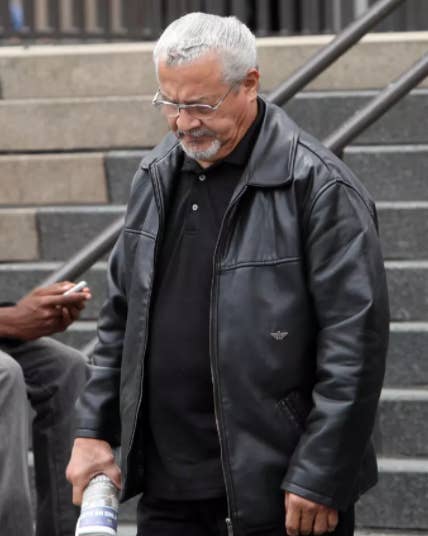 A retired Chicago detective accused of framing at least 51 people for murder testified today for only the second time in eight years, expanding on a brief appearance two weeks ago for the appeal of a grisly double homicide case he oversaw in 2000. Accused of beating the two defendants into confessing, he told the court that he had no recollection of the incident and declined to review the evidence he was presented with.
A Cook County State's Attorney asked the detective, Reynaldo Guevara, 74, to review police reports and testimony he'd previously given in the case. Guevara refused, quickly flipping the pages and then handing them back.
"Are you refusing to even look at" the report, Assistant State's Attorney James Papa asked.
"I don't remember," the detective answered.
Seated in the courtroom gallery were family members of 11 people who say Guevara framed them, and four more people whom Guevara helped put in prison but whose convictions have since been overturned.
Many said they hoped that Guevara's testimony would be a moment of reckoning.
"This morning I prayed that maybe God would touch his heart and he would tell the truth," said Esther Hernandez, the mother of two sons who claim Guevara framed them in a 1997 murder.
Instead several family members, angered the detective refused to review the paperwork prosecutors presented, called his testimony a charade.
"That's an acute case of amnesia," said Jose Montanez, who was exonerated last year of a 1993 murder after spending 23 years in prison. Guevara was one of the lead detectives on his case.
Since 2009, when a federal jury issued a record $21 million to a man whom Guevara was found to have framed, the retired detective has repeatedly invoked the Fifth Amendment and refused to testify.
But earlier this year Cook County State's Attorney Kim Foxx offered Guevara immunity in exchange for his testimony. His lawyers argued he would still be vulnerable to perjury charges.
Today's hearing was part of an appeal by two defendants, Gabriel Solache and Arturo Reyes, who say that Guevara beat confessions out of them. Prosecutors called Guevara to the stand to rebut that claim. Since he testified he didn't remember the case, prosecutors asked the court to allow Guevara's previous testimony from two court appearance in 2000.
"I hope people know how fucked up that is," said Jennifer Bonjean, an attorney representing other Guevara clients. "It's pretty mindblowing that the state is literally vouching for the prior testimony when Guevara won't himself."
An attorney for Solache, Karen Daniel, told the court that Guevara was "disavowing his prior testimony" in the 2000 case and that he's essentially pleading the Fifth "under a different guise."
The state has called several other officers, prosecutors and medical personnel who were at the police station the night of the alleged beating. They testified that neither defendant complained of abuse. A paramedic called to the stand today testified he conducted medical evaluations of both defendants two days after Guevara allegedly beat them and didn't note signs of abuse.
The defendants' confessions, however, were inconsistent with each other and with the physical evidence on the scene. No physical evidence connects Solache and Reyes to the murders. A bloody towel tied to the scene contains the DNA of another, unidentified person.

In 2013, Chicago hired a law firm to conduct an independent investigation of allegations of misconduct by Guevara. Those investigators rejected Solache and Reyes's innocence claims but called the case against them "very thin."

They determined that the pair were likely beaten. In Illinois, if a confession is determined to have beaten out of a defendant, a new trial is automatically granted.