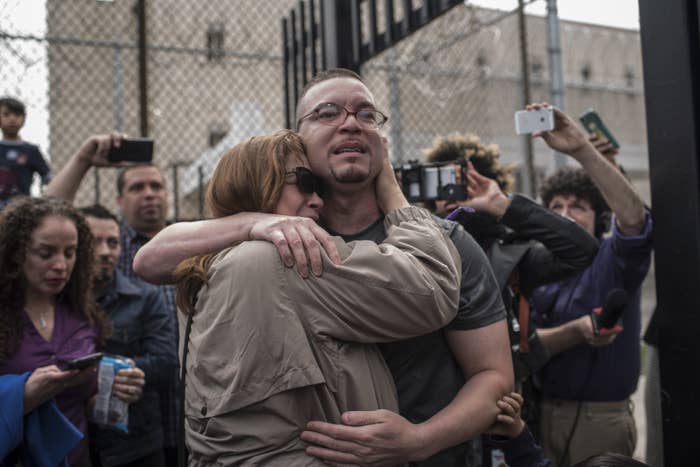 This is part of a BuzzFeed News Investigation. Other main stories in the series include:
Detective Guevara's Witnesses and related video
Justice Delayed
The Night Shift
It's Cold Outside


CHICAGO — A man who claims he was framed for a 1994 double murder by a retired Chicago detective had his conviction tossed Friday morning and walked free from prison for the first time in 23 years.
From the large crowd of loved ones and journalists who had assembled, his daughter, Jasmyn was the first to run to him, sprinting past the black iron gates of the Cook County Correctional Center.
"I love you, I missed you," she told him as he took her in his arms.
An adult now, she was six months old at the time of his arrest. In many of the cards, letters and drawings he had sent her since then, he had made a promise: "Someday," he wrote, "we will be together again."
Someday was Good Friday, when Judge James B. Linn formally dropped charges against Almodovar, 41, and his co-defendant, William Negron, after the Cook County State's Attorney's Office ended its dogged prosecution in what it called "the best interests of justice."
Almodovar's release comes 10 days after a BuzzFeed News investigation into his case and the detective who helped imprison him for more than two decades.
Almodovar has always maintained his innocence, as have five witnesses who say he was with them, not at the scene of the crime, at the time of the murder. The investigation found that at least 50 other people have accused the detective, Reynaldo Guevara, of framing them for murder and that Chicago authorities had ample warnings about the long series of allegations about his conduct.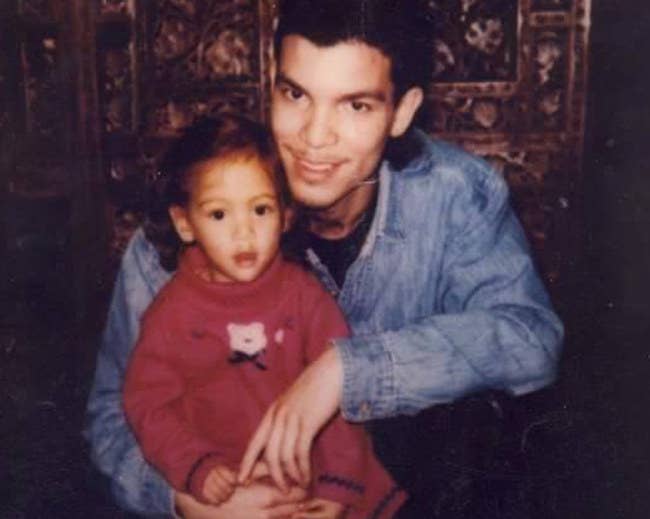 Linn told a packed courtroom on Friday, "This is one of the most contentious, hard-fought cases I've ever seen. Lawyers for the defendants and the state went eyeball-to-eyeball with every witness" for more than two years.
He said he was "stunned" that the state's attorney's office, which just a few days before had indicated its intention to keep Almodovar behind bars, informed him it was changing course.
The proceedings took a matter of minutes, with the official decision handed down at 10:30 a.m. CT.
Mary Almodovar Rodriguez, one of Roberto's aunts, said she had been awake all night, too excited to sleep.
At 3 a.m., she began packing the clothes she'd carefully picked out for him at Kohl's the day before. She was holding the full bag in the courtroom. She said she felt like she was going to have a heart attack on the way to court. "My heart just skips a beat," she said Friday. "I can't believe he's coming home."
He was briefly returned to jail for processing. When he came into view again at the gates, Jasmyn was the first to run to him. Many others followed. By the time he left prison grounds, he had been kissed and hugged so many times that his new Adidas shirt was well marked with red lipstick.
"He's finally free," one of his relatives sobbed. "He's finally free."
Asked if he ever thought this day would come, Almodovar said, "Yes, I did." He added later that he had "not a doubt."
He was just as clear on what would come next. "I'm going to spend some time with my daughter," he said, and go to his aunt's house to eat Puerto Rican pasteles. Beyond that, he said he hopes to go back to school, possibly to pick up a trade in construction.
Amidst the jubilation, he found his way to three men in the crowd — Juan Johnson, Nelson Gonzalez, and Armando Serrano — who, like Almodovar, say Det. Guevara framed them. Johnson and Serrano were both exonerated. They embraced. "There are still so many more in there," Almodovar said.
In addition to Almodovar and Negron, at least 27 other people in prison have alleged that Guevara framed them. Many of them have appeals pending.
Almodovar, who initially faced the death penalty, said Guevara's misdeeds shouldn't be lost in the emotion of his release. "This man," he said, "tried to murder me."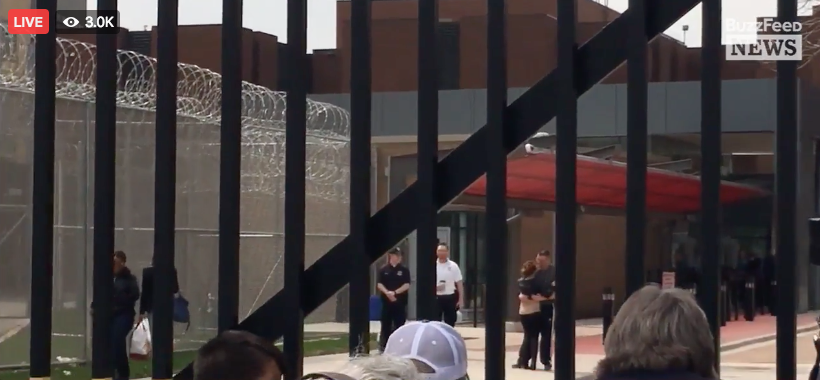 One of two surviving eyewitnesses of the shooting for which Almodovar was convicted claimed that Guevara showed him pictures of Almodovar and Negron before the police lineup and then lied about it — a clear violation of police protocols.
During Almodovar's quest for a new trial, Guevara asserted his Fifth Amendment rights against self-incrimination 159 times. His attorney at one point claimed the allegations against him were part of a gang conspiracy, telling the Chicago Tribune, "We strongly believe there is an orchestrated effort by gang members that witnesses were told to recant."
A prosecutor from the state's attorney's office made a similar argument in court just this week, before prosecutors did an about-face Wednesday and said they would no longer oppose Almodovar's and Negron's efforts to reverse their convictions.
Negron, is awaiting resentencing in another, unrelated murder and is not expected to be released immediately.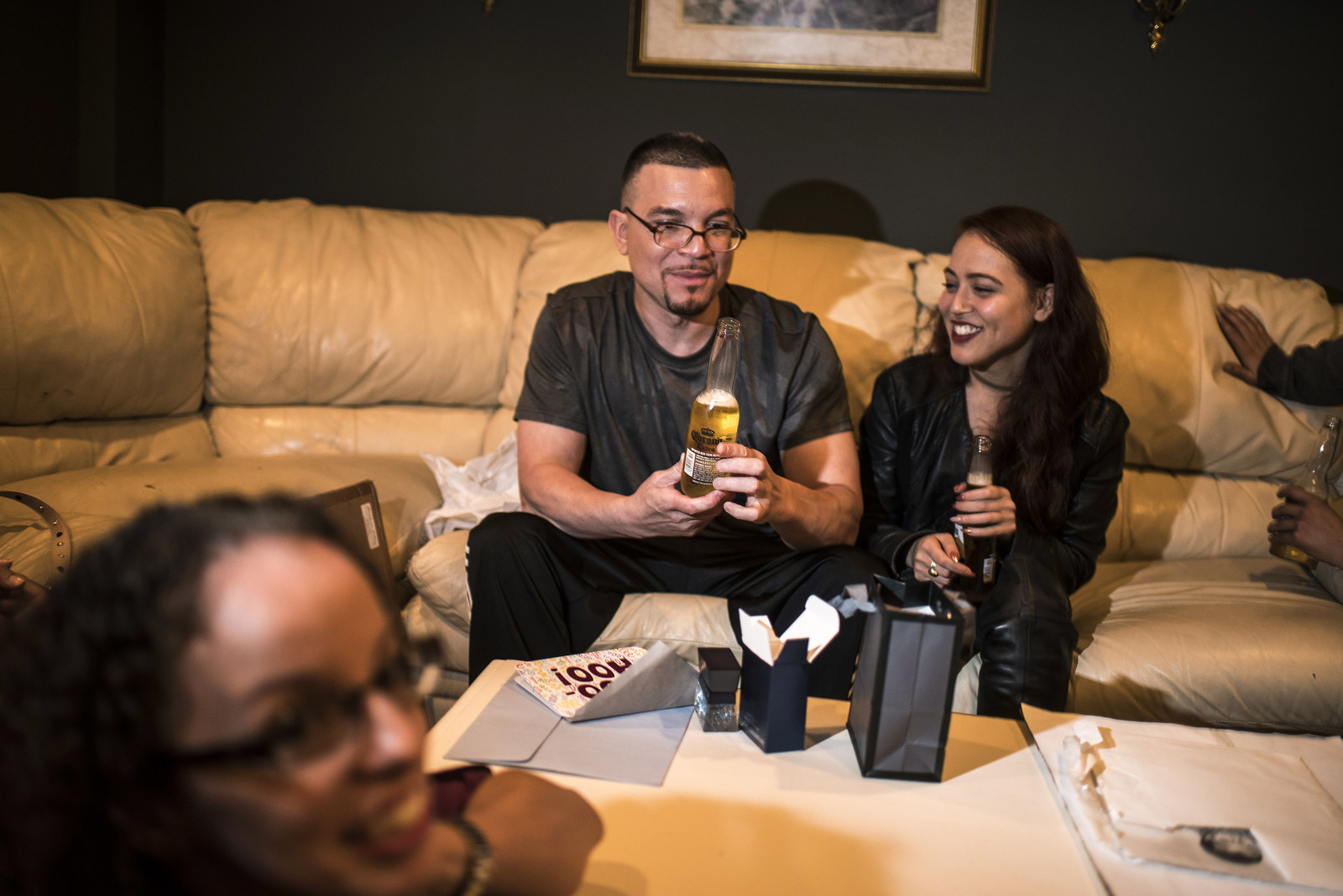 Almodovar's aunts, Mary, Gladys, and Iris, were key members of a support group that, over the past two decades, painstakingly pieced together what they claim is a clear pattern of Guevara's misconduct.
When at last Almodovar made it through the crowd of well-wishers and on-lookers at the prison gates, he headed straight to Mary's home. He and Jasmyn sat next to each other on a couch, taking selfies on her phone (a taste of how the world had changed while he was behind bars) and talking about what they could do together.
She wants to take him to Portillo's, a popular Chicago restaurant. She wants him to take her trick-or-treating. She wants to show him all the X-Men movies. She wants to take him to eat loaded cheese fries. But most of all, she wants to sit and talk with him, without being monitored by prison guards, limited by visiting hours.
"I still can't wrap my mind around it," she said. "It still doesn't feel real. I'll have him for Father's Day, his birthday. We're going to be a family again."
Here's the series of articles leading up to Almodovar's release:
And here's a recording of our live footage of his release and his family's reaction: