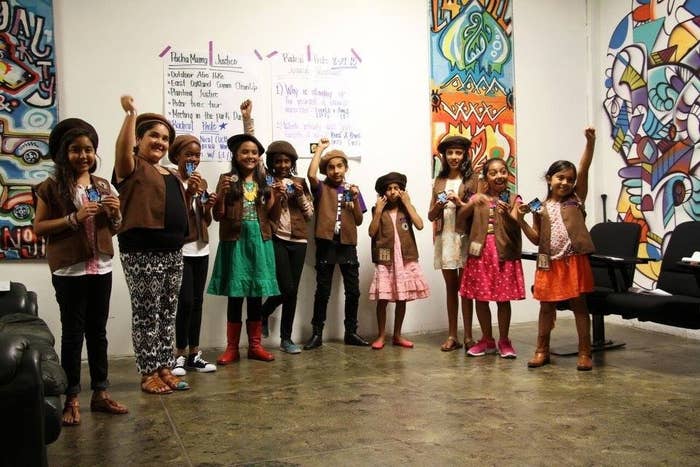 The Radical Monarchs meet every other weekend in Oakland, California. The group, which is loosely modeled on the Girl Scouts, is made up of twelve middle school-aged girls and two adult leaders, Marilyn Hollinquest and Anayvette Martinez. Like the Girl Scouts, they do activities together and earn badges. But, unlike their sisters in scouting, the troop focuses on the experiences of women of color and has a radical, feminist edge.
"We met some of the members of the Black Panthers," says troop member Lupita Martinez (Anayvette's daughter), "and that was really cool because they gave us our badges and we got to shake their hands."
Lupita, who is in the fifth grade, explains how the Monarchs are part of a broader group of allies. "If someone recognizes you for something, you can be proud of saying 'I'm a Radical Monarch,' and you can have confidence in saying it. And I think it's also important to be a Radical Monarch because communities that need support from people that do marches and do stuff with social justice, we're supposed to help them, and I really feel proud of that."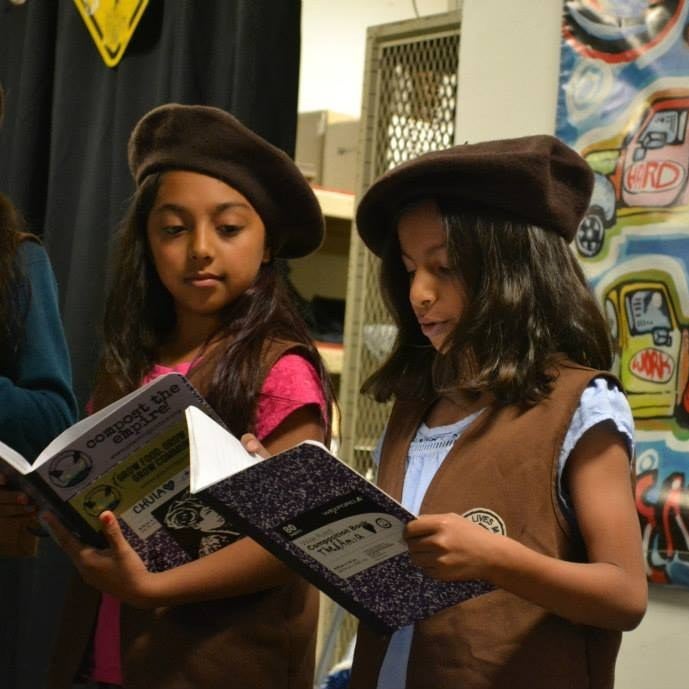 Left: Members of the Radical Monarchs read their reflections on the group's Radical Beauty unit. Right: At the end of each unit, troop members earn Girl Scout-style badges, like the Radical Pride and Pachamama Justice ones above.
The group's co-founders, Hollinquest and Martinez, have been friends since graduate school, when they met in the Ethnic Studies masters program at San Francisco State University. They are both active in Oakland's social justice community; during the summer, Hollinquest teaches an ethnic studies class at St. Ignatius College Perparatory, a catholic school in San Francisco, and Martinez is a community organizer who works with students and their families in the Oakland school district.
They founded the Radical Monarchs in December of 2014, when Lupita asked Martinez about joining a scouting troop. Martinez wanted her daughter to be part of a group that would put the focus on young girls of color—something she couldn't find, even in a progressive community like Oakland—so she decided to start her own troop, and asked Hollinquest to help her design a curriculum.
From the beginning, Martinez wanted the group to take a radical, feminist approach to social justice issues. "Radical Monarchs exists because of this need for inclusion and this need for centering radical women of color's narratives and stories," she says. "Who do we need to bring in? Whose voice do they not hear enough of and who do they hear about all the time?"
To that end, she and Hollinquest are giving their troop the kind of social justice education most women don't get until college, let alone in traditional youth scouting programs.
Each unit starts in the classroom, and focuses on topics like the Black Lives Matter movement and redefining what it means to be a beautiful girl. To earn their Radical Pride badge, the group carried signs in The San Francisco Trans March; they got their Radical Beauty badges after making their own lip balm and talking about unrealistic beauty standards in Disney movies (the girls' idea); for the Radical Roots badge, the Monarchs met with Betty Reid Soskin, a 94 year old National Park Ranger who has worked to recognize the contributions of African American women during WWII.
Hollinquest describes the troop's approach to these issues as "wise-hearted hopefulness." They're not naive, but they haven't developed the insecurities and hangups that come on strong in middle school. She says that "For me, what's so exciting is having a whole generation of girls who can skip that whole 'I feel super horrible about my body and people only care about what I look like and I can't reach that Elsa ideal' [phase]... Having that knowledge at 8, 9, 10, 11 and going into puberty with that? That's just like, you are already some fierce women and I'm so excited to witness it and be a part of it."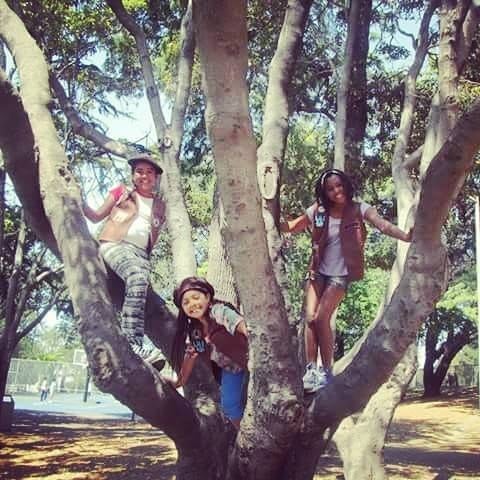 Hollinquest, who grew up in California's central valley and was bussed into a school that had more resources than the one in her neighborhood, says that she was well past girlhood when she started to make sense of her own experiences as a woman of color.
"My consciousness started to form towards high school and in college around all of that. Really college was my turning point," she says. "I wasn't able to understand what I was experiencing, being the only person of color in a science classroom or math classroom... I didn't understand what was happening in a societal way. I just knew that it sucked."
It doesn't cost much to join the Radical Monarchs—membership fees are based on a sliding scale, from $75 to $200 for the year—and there are scholarships available for girls who need them. Hollinquest and Martinez hope to keep costs low as they hire part time troop leaders to start a second Oakland chapter in 2016. For now, they plan to raise enough money through donations to launch a new troop every year.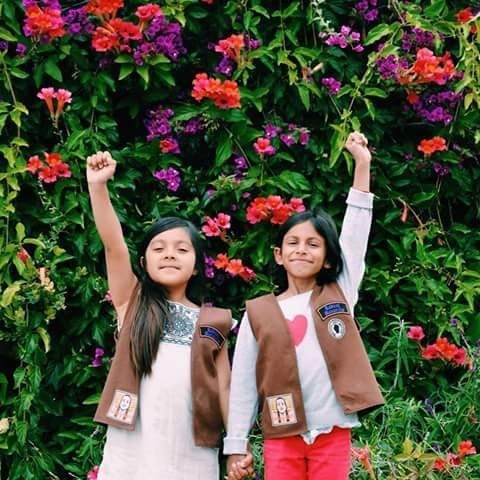 You can hear more from the Radical Monarchs in the final episode of BuzzFeed's Women Of The Hour podcast.