6 Untrue Things That Donald Trump Has Said
Make Statements That Are Right Again!
Donald Trump has a history of making claims that are false: exaggerations, conspiracy theories, and more.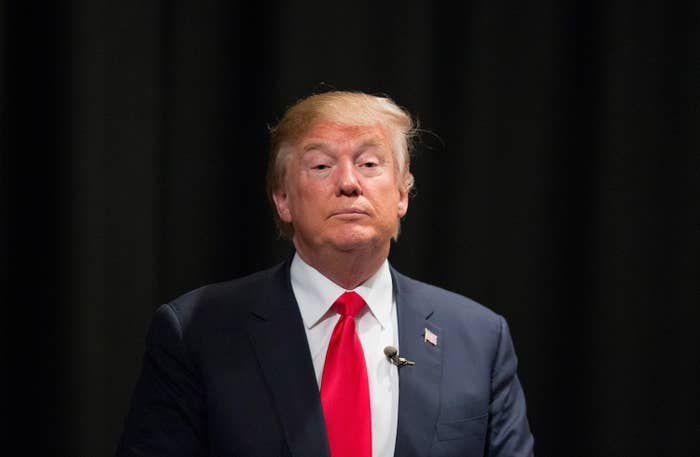 1.
On Saturday, Trump claimed he saw "thousands and thousands of people ... cheering" in Jersey City, New Jersey, when the twin towers fell.
On Sunday, he repeated the claim: Trump told viewers on This Week that people in New Jersey, a state that he claimed had a large Arab population, were "cheering as the World Trade Center went down."
Officials from the Anti-Defamation League, a Jewish group, and the Council on American-Islamic Relations told BuzzFeed News the claim is untrue. And although this rumor has circulated on anti-Islam blogs, no footage exists of this happening in the United States. (There is video of Palestinians celebrating the attack in East Jerusalem.)
According to the New York Times, local police dismissed rumors of a celebration in Paterson, New Jersey, at the time.
2.
Trump keeps claiming that he's self-funding his campaign.
"I'm self-funding my campaign. I'm putting up my own money," Trump said in this month's debate, a claim also offered by his campaign manager recently.
"Mr. Trump is funding his campaign on his own; he's not taking donor money," Trump's campaign manger said in a radio interview with Breitbart News.
This isn't true, as BuzzFeed News has pointed out in the past.
In October, the New York Times reported that most of the money that Trump "raised and spent this summer" came from donors:
"Mr. Trump revealed in a filing Thursday to the Federal Election Commission that the vast majority of the money he raised and spent this summer as he rose to the top of national polls came not from his own coffers, as it had in the spring, but from about $3.7 million in what he called 'unsolicited contributions.' Some 74,000 donors pitched in an average of about $50 to help his campaign, he reported."
"Mr. Trump himself contributed only about $100,000 in in-kind contributions, including rent space that he donated and payroll expenses that he covered. That represented a huge drop from the spring, when Mr. Trump donated about $1.9 million to his campaign, financing the bulk of it himself."
Additionally, Trump is accepting donations on his campaign's website, as of Nov. 22, 2015.
3.
Trump repeatedly stoked the birther conspiracy theory that President Obama was not born in the United States.
In June 2008, Obama released a copy of his short-form birth certificate to the public, an issue that was brought up on the campaign trail.
"I have some real doubts," Trump told Today in 2011 about whether Obama was born in the United States.
"His grandmother in Kenya said he was born in Kenya, and she was there and witnessed the birth. He doesn't have a birth certificate or he hasn't shown it," Trump said. "He has what's called a certificate of live birth. That is something that's easy to get. When you want a birth certificate, it's hard to get."
On April 27, 2011, the White House announced the release of Obama's long-form birth certificate.
In a YouTube video posted by Trump in 2012, Trump credited himself with the release of Obama's long-form birth certificate.
"President Obama is the least transparent president in the history of this country. There's never been anything like it. We know very little about our president," Trump said.
"I'm very honored to have gotten him to release his long-form birth certificate. Or whatever it may be. Now, many, many people have questions and very serious questions."
In 2015, Trump indicated that he was still not convinced if Obama was born in the United States. Trump told CNN, "I really don't know," when asked if he believed that Obama was born in the U.S., adding that he "didn't want to get into it."
4.
Trump has claimed that the Mexican government sends criminals into the United States.
During August's Fox News debate, Trump claimed that the Mexican government chooses to "send the bad ones," to the United States because "they don't want to pay for them; they don't want to take care of them." He's repeatedly made the claim in interviews this year.
According to a fact check by Politifact in July, there is no sufficient evidence that backs Trump's claim.
Among others whom Politifact spoke with, Mark Krikorian, the executive director of the Center for Immigration Studies — a group that favors lower immigration levels into the United States — told them: "No, the Mexican government doesn't force anyone to move here illegally, though it certainly doesn't object."
5.
Trump has talked about "200,000" Syrian refugees when discussing the refugees the United States plans to accept.
In an interview on Face the Nation, he said the following:
I would help them economically, even though we owe $19 trillion.What I won't do is take in 200,000 Syrians who could be ISIS. John, I have been watching this migration. And I see the people. I mean, they're men. They're mostly men, and they're strong men. These are physically young, strong men. They look like primetime soldiers.Now, it's probably not true, but where are the women? You see some women. You see some children. But for the most part, I'm looking at these strong men. So, you ask two things. Number one, why aren't they fighting for their country? And, number two, I don't want these people coming over here.And even on a humanitarian -- when I was first asked this question; you asked it to me a long time ago -- when they were talking about 3,000 people, I begrudgingly would say, oh, maybe, I don't know. Maybe. ...Then they said 10,000. I'm not thrilled, but maybe. Two hundred thousand people? This could be the greatest Trojan horse. This could make the Trojan horse look like peanuts if these people turned out to be a lot of ISIS.
The Obama administration has announced plans to accept 10,000 Syrian refugees; fewer than 2,000 have currently been accepted. In the current fiscal year, the U.S. government plans to accept 85,000 total refugees from around the world. In the previous year, the most refugees came from Burma, Iraq, and Bhutan.
6.
When arguing against accepting Syrian refugees, Trump has also said that they are "mostly men, and they're strong men."
While many of the migrants and refugees entering Europe from the Middle East are men, this is not the case for the refugees the United States has accepted, or plans to accept.
In November 2015, a State Department spokesperson told BuzzFeed News, "Military-aged males unattached to families comprise only approximately 2% of Syrian refugee admissions to date."
The U.N. refers prospective refugees from a registered pool of people to the United States for resettlement; about half of them are women: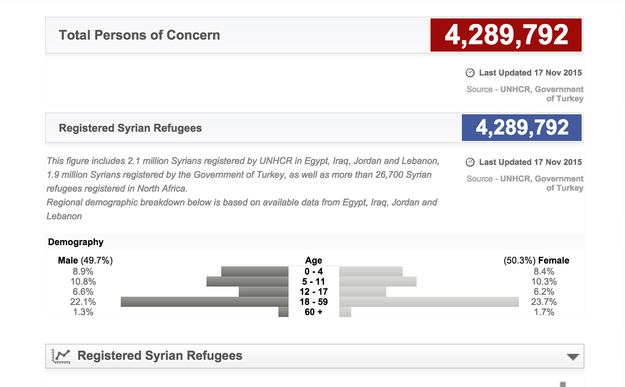 CORRECTION
The United States announced plans to accept 10,000 Syrian refugees and will accept 85,000 total refugees in fiscal year 2016. Prior to the Syrian refugee announcement, some in the administration had estimated the total would be 75,000. A previous version of this story used the old figure.