Will Mitt Romney Ever Say The Word "Immigration" Again?
The Republican avoided the issue in a speech to the Latino Coalition. He dubbed education "the civil-rights issue of our era."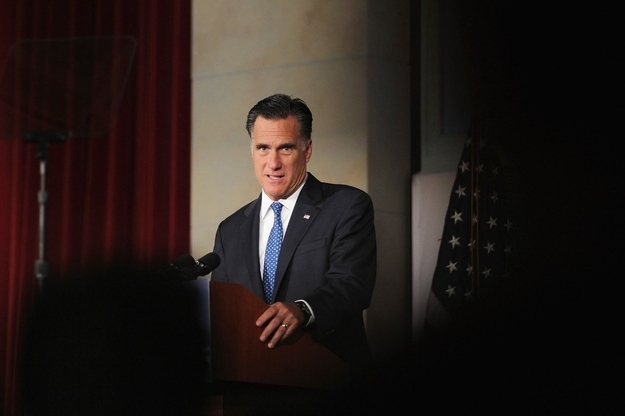 WASHINGTON, D.C. — Standing before members of the Latino Coalition in a ballroom at the U.S. Chamber of Commerce, Mitt Romney prepared to deliver what his campaign had billed as a major education address. But before he got to that, he had to run through a few of the other pressing issues of the day.
He flicked at job creation, supporting small businesses, fixing the mortgage crisis, lowering gas prices, and repealing Obamacare. He accused President Obama of attacking success, and even managed to work in a mention of his service at the Salt Lake Olympics.
One word that didn't come out of his mouth: Immigration.
The calculated avoidance of immigration policy — even speaking to a room full of Latino advocates — is in keeping with the campaign's broader strategy of courting Hispanics so far. The apparent game plan: Ignore the subject altogether, and turn every other issue into a "Latino issue." It's a move that's consistent with polling that shows Hispanic voters rarely rate immigration a top issue, but Democrats will try to use the issue to brand Romney — and his party — fundamentally suspect to Hispanic voters.
Indeed, since the end of the primaries — when Romney prided himself on possessing the hardest-line immigration stance of the Republican field — the candidate has kept largely silent on the issue, apparently recognizing the tremendous electoral power of Latino voters who find his rhetoric off-putting.
When Republican Hispanic outreach coordinators were asked about this weakness during a press conference call earlier this month, they bristled, claiming economic concerns would outweigh immigration questions, and asserting that Latinos aren't "one-issue voters." Generally, whenever Romney surrogates are badgered by reporters about the electoral consequences of their candidate's immigration position, they find a way to quickly name-check a high-profile Latino supporter — often Marco Rubio — before pivoting to how other issues affect Hispanics.
It was not by coincidence, then, that Romney selected the Latino Coalition luncheon to deliver his first major education speech, where the candidate repeatedly pointed out that "minority students" are the greatest victims of America's failing schools. The event's organizers appreciated the campaign's gesture.
"He came here directly to talk to our community and talk about our issues," said Hector Barreto, chairman of the Latino Coalition. "He took questions. That's what he's going to have to do, and I know he will."
In his speech, Romney dubbed the state of American schools an "education crisis."
"Here we are in the most prosperous nation, but millions of kids are getting a third-world education," said Romney. "And, America's minority children suffer the most. This is the civil-rights issue of our era. It's the great challenge of our time."
He went on to articulate a boilerplate conservative approach to education reform that included broadening the availability of school vouchers, compensating teachers based on skill, requiring schools to publish a "report card" documenting their success rates, and weakening teachers' unions. He did not, however, mention the DREAM Act — proposed legislation that would give green cards to young undocumented immigrants who attend college.
Speaking to reporters after the candidate's address, Barreto insisted Romney's message would carry weight among Hispanics.
"It's a critical issue in the Latino community, and mothers and fathers and brothers and sisters are very worried that we've gotta do something very dramatic to improve the opportunities for Latino students in the United States," he said. "We are losing too many bright students because we have schools that are failing them."
But when he was pressed on Romney's immigration position — and his failure to even pay lip service to proposals like the DREAM Act — Barreto tried to hedge.
"I think he said a lot of things about that, and I don't think he's been unilaterally against hearing ideas," he said.
Then, he said the magic words: "In fact, we're very excited because one of his biggest supporters is Senator Marco Rubio, and Senator Marco Rubio will be with us today. And I believe he's going to be talking about the DREAM Act."