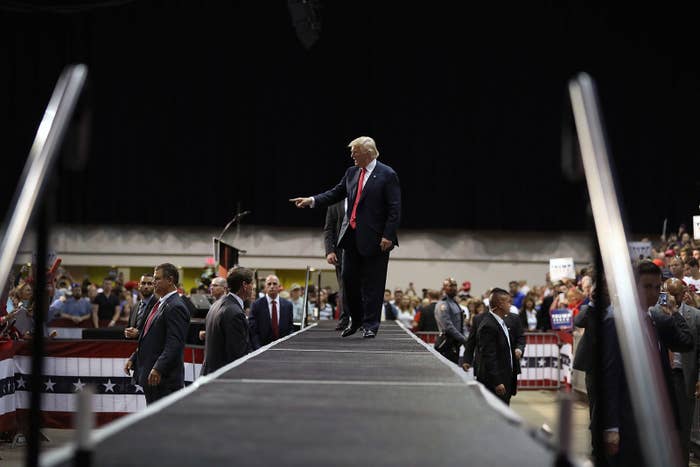 There will be no pivot. Interventions will fail. The ticket isn't changing. It won't get better.
That's the reality many Republicans are resigning themselves to this week while they watch, in helpless despair, as their newly minted presidential nominee Donald Trump blunders across the national stage criticizing the parents of a slain US soldier and picking pointless fights with members of his own party.
With Trump trailing badly in a new round of national polls, rumors and reports swirled Wednesday about panicked GOP officials frantically plotting damage control. NBC News reported party leaders were planning an "intervention" with Trump, while ABC News suggested some high-ranking Republicans were exploring ways to boot him from the ticket altogether. Politico, meanwhile, quoted a source claiming Republican National Chairman Reince Preibus had phoned Trump and "lit into him pretty good."
But in interviews with BuzzFeed News on Wednesday, a wide range of clear-eyed Republicans, from Trump boosters to #NeverTrump diehards, said there was little point in trying to change Trump's style, temperament, tactics, or level of discipline in the next 100 days.
"The idea that Reince Priebus thinks that he has any leverage over Donald is ridiculous," said one former Trump adviser who remains supportive of his candidacy. "He's served Donald's purposes. He got Donald the nomination. The transaction is complete ... You think [Trump] gives a shit what Reince Priebus says to him now?"

Trygve Olson, a veteran GOP consultant who has said he won't support Trump, similarly dismissed the notion that the candidate would pay heed to the counsel of Republican allies — even those who have bent over backwards to support him.
"If you look at the way he's treated people like Paul Ryan and Reince Priebus and Newt Gingrich, why would anyone think appeasing, accommodating, or attempting to help [Trump] in any way would end well?" said Olson.
Like many in the Republican foreign policy establishment, Robert O'Brien — a Los Angeles attorney who has advised Mitt Romney, Scott Walker, and Ted Cruz — lamented that Trump's explosive clashes with the Khan family have overshadowed recent news that could be undermining Clinton and the Democrats. He pointed specifically to controversial new details about the Obama administration's nuclear deal with Iran, and to a shaky interview Clinton gave to Fox News Sunday's Chris Wallace.
"Those sorts of things should be sinking her campaign right now, but they're not because of these distractions," O'Brien said. "Trump needs to focus on Hillary Clinton and Barack Obama. If he does, he could win. If he gets into arguments with low-level surrogates and cable news commentators, it's not going to happen."
Acknowledging that Trump is unlikely to radically alter his behavior — or substantially bone up on international affairs — before November, O'Brien proposed that his campaign release a list of respected foreign policy hands he would appoint to his administration if elected. "I think it would put to rest some of the concerns about who would be running American foreign policy," he said.
According to one senior Republican operative, Priebus and his fellow RNC officials are bearing the brunt of the party-wide anger at Trump's latest outbursts.
"Reince is getting beat up about the fact that they expended all this capital to make things copacetic for Trump," he said. "There's a whole new round of recriminations for people who tried to accommodate him."
Former White House press secretary Ari Flesicher dismissed rumors that Trump might drop out of the race, and expressed hope that this type of GOP "intervention" could get through to him.
"The pattern has been that he makes these mistakes, they last for days, he finally gets the message to stop — but then he moves onto a new one a couple weeks later," Fleischer said, adding, "He needs people he respects and he knows are on his side to be direct and blunt with him."
Asked whether he expected that pattern to change before November, Fleischer sighed. "No."
Fleischer spoke to BuzzFeed News late Wednesday night after putting in a long day of cable news punditry. He said analyzing the latest round of Trump campaign crises and intra-GOP combat had left him exhausted.
"Even on the worst days [in the Bush White House], I would leave that podium feeling good about what I'd said, because I believed. Now when I talk about politics on TV I feel like I have to brush my teeth afterward," he said. "I find this whole race so unsavory."