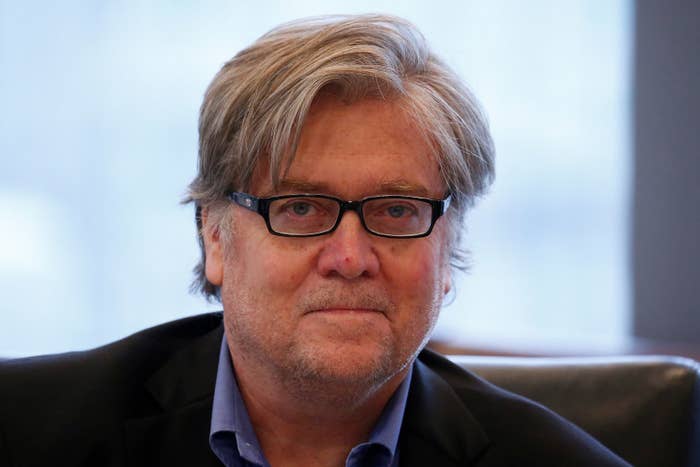 Trump campaign CEO Stephen Bannon once criticized Mitt Romney's five sons for making time to serve as Mormon missionaries without having served in the military.

Bannon made the remarks in an October 2012 interview on Conservative Republican Forum Radio, when he was still chairman of Breitbart News and promoting his documentary, The Hope and the Change.
"Mitt Romney goes to the Republican convention, gives his acceptance speech, people give him a standing ovation, and he doesn't have the common decency to say one thing about our troops fighting in Afghanistan?" Bannon said. "This is a guy who avoided military duty in Vietnam; who has five sons who look like movie stars who have not served their country one day. Oh, but by the way all of them did their two years of Mormon missionary service — every one of them."
Romney obtained four draft deferments during the Vietnam war, three for his academic studies and one for his service as a Mormon "minister of religion." Donald Trump also received four draft deferments, including one medical deferment that his campaign has attributed to bone spurs in his feet.

Trump, meanwhile, has struggled throughout 2016 to win over traditionally Republican Mormon voters, and he acknowledged in a speech earlier this month that he's having a "tremendous problem in Utah."
Spokespeople for Bannon and the Romney family did not respond to requests for comment.
UPDATE
Independent presidential candidate Evan McMullin, who is Mormon, said in a statement to BuzzFeed News that Bannon's 2012 comments are a reflection of religious bigotry.
"This is the kind of revolting intolerance Donald Trump embraces and encourages when he hires a thug like Steve Bannon, who profits from racism, anti-Semitism and religious bigotry against everyone from Mormons to Muslims. Religious, racial and other intolerance should have no place in American public life. Steve Bannon and Donald Trump obviously disagree."
CORRECTION
Bannon made the comments in October 2012 on CRF Radio. An earlier version of this article misstated the radio network he appeared on.