The viewers who tuned in to Donald Trump's victory speech this week on the night of the New York primary probably didn't pay much attention to the unassuming guy perched behind the billionaire's right shoulder. With his gray hair, dark suit, and muted perma-smirk, he blended into the human backdrop that had been arranged behind the candidate — nodding thoughtfully, clapping on cue, and dutifully shuffling out of the way when Trump turned around to high-five a black preacher.

To a national audience who didn't know his name, he was likely a forgettable fixture of the onscreen entourage — just as the campaign would have it. But as his fellow New Yorkers know all too well, Carl Paladino is no easily controlled henchman.
The Buffalo construction magnate surprised no one when he formally joined the Trump campaign last month as state co-chair. A notorious loudmouth in New York politics, his public persona was already well adorned with the trappings of Trumpism. He once ran for governor promising to "clean out Albany with a baseball bat." He has a long history of feuds and flame wars, and a documented penchant for racist internet memes. He routinely says things like "I'll take you out, buddy" without a trace of irony.
He believes, proudly, that he is cut from the same cloth as Trump.
"I have an affinity for the man and his nature. I feel like I'm the same kind of person," Paladino told me in an interview Tuesday. "We think alike. We don't fear. We are men who enter the arena."

In a way, both men are throwbacks to a certain political style that was dominant in the New York of the '70s and '80s — aggressive, authoritarian, and with an articulated ethnic view of politics that can seem jarringly out of place in 2016. On the campaign trail, Trump fires up big crowds with this retro alpha-male routine. But the schtick is ill-suited for the "arena" he's now entering, where the game is to wrangle delegates, and navigate complex party rules.
Trump has taken steps in recent weeks to adapt to this new stage of the race. He hired a speechwriter, and is learning to read from a teleprompter. He's elevating veteran political strategists to build out a professional operation, and sidelining the rough-and-tumble scrappers on his staff. This week, he even dispatched his new chief strategist to meet and make peace with the Republican National Committee — a rare diplomatic foray for the bomb-throwing candidate that suggests he is ready to start playing the inside game.
But the domestication of the Donald won't be that easy. For decades, he has surrounded himself with men like Paladino — a retinue of mini-Trumps who treat every task like a battle that can be won only with bravado and blunt force. Such theatrical thuggishness may have been effective in the era of backroom shakedowns and party bosses, but today's politics is suffused with irony and live-cast on Twitter — and tough-guy threats are more likely to get mocked than they are to make delegates and congressmen cower in fear.
"It doesn't matter to me what some lame idiot says about me. You can't hurt me."
Paladino crashed into this reality during the run-up to the New York primary. With a landslide all but assured, he embarked on a mission to browbeat the state's Republican officeholders into endorsing Trump — or else. He singled out politicians who tried to stay on the sidelines, and threatened grave consequences for their "cowardice." And in mid-March, he sent an ominous "open letter" giving an ultimatum to the nine House Republicans from New York.
"This is our last request that you join 'Trump for President' and try to preserve what's left of your pathetic careers in government," Paladino warned. "Whatever you do, staying neutral is not an option."
But only two of of New York's House Republicans ended up backing Trump. The rest paid Paladino no heed, largely ignoring or dismissing him in public while privately sniggering about his cartoonish mafioso tactics. He was ultimately forced to walk back his threats.
Sam Nunberg, a former Trump adviser who now supports Ted Cruz, said he doubts the billionaire will be inviting Paladino to join him on the campaign trail outside of New York, where his network of conservative activists in the state was valuable enough to keep him around. Some of Trump's advisers are deeply wary of Paladino's antics, Nunberg said, likening the dynamic that of "the very attractive girl in high school who will let a dork do her homework, but never appear with him in public."
"Do you think Donald Trump is going to have Carl Paladino as part of his administration?" Nunberg said. "Will Donald campaign with Carl during the general if he's the nominee? I don't think so."
Of course, whatever Trump might do tomorrow, we're nearly a year into his campaign. And, as for Paladino, he doesn't appear eager to ratchet down his rhetoric the way Trump's team might like — especially not to placate the media.
"I can appreciate the torture that [Trump] takes from a press that doesn't understand us," Paladino told me. "Most of them are young, irresponsible punks, and they haven't seen anything else in life, and they don't like us saying what we think."
He added, "And you're one of them."
It was a few hours before the primary polls closed in New York, and Paladino had called me from Manhattan, where he would be attending the campaign's victory party that evening at Trump Tower. Like his candidate, Paladino seems existentially incapable of resisting a reporter's interest — but he wanted to be clear that he didn't trust me anymore than he did the rest of the press.

"You've gotta get me right in your hit piece," he said at one point in our conversation.
When I asked how so, he insisted I make one thing clear for the record.
"It doesn't matter to me what some lame idiot says about me," Paladino said. "You can't hurt me."
Paladino, 69, spent most of his career as a hard-charging developer, building a real estate empire in western New York that eventually earned him a personal net worth of $150 million. After dabbling in politics for years as a hobbyist, he mounted a mad-as-hell tea party bid for the governorship in 2010, and stunned the New York GOP when he snatched the nomination away from an establishment stalwart.

His carnival-like campaign that year seemed to play out in an endless procession of outlandish, tabloid-tailored controversies. One day Paladino was beating back questions about a real estate transaction involving his ex-mistress; the next, he was taking fire for anti-gay comments he'd made to a gathering of Orthodox Jews. When someone leaked a trove of emails he had forwarded to his buddies over the years, they included pornographic videos, a graphic bestiality photo, and a handful of racist memes, like a video of an African tribal dance titled "Obama Inauguration Rehearsal." Paladino ultimately lost the race disastrously by 30 points — but not before cumulating his own grassroots following. With a vaunted email "boom list" of 50,000 conservatives, he quickly carved out a perch for himself as an outspoken anti-establishment gadfly.
The first time I ever heard from Paladino was on Valentine's Day 2014.
At the time, Trump was making noise about running for governor of New York — and Paladino, who'd met the billionaire just months earlier, had emerged as one of state's most vocal Trump-for-guv boosters. Some in conservative circles were skeptical of Trump's intentions given his long history as a political tease, but Paladino aggressively vouched for him in public and behind the scenes, insisting he was serious.
After I quoted Trump, in a BuzzFeed News profile, talking dismissively about the idea of a gubernatorial bid, Paladino emailed me to share his thoughts on the piece.
His note was admirably concise: "Big joke. Fuck you asshole."
I wrote back asking him to elaborate on his critique, but no response came.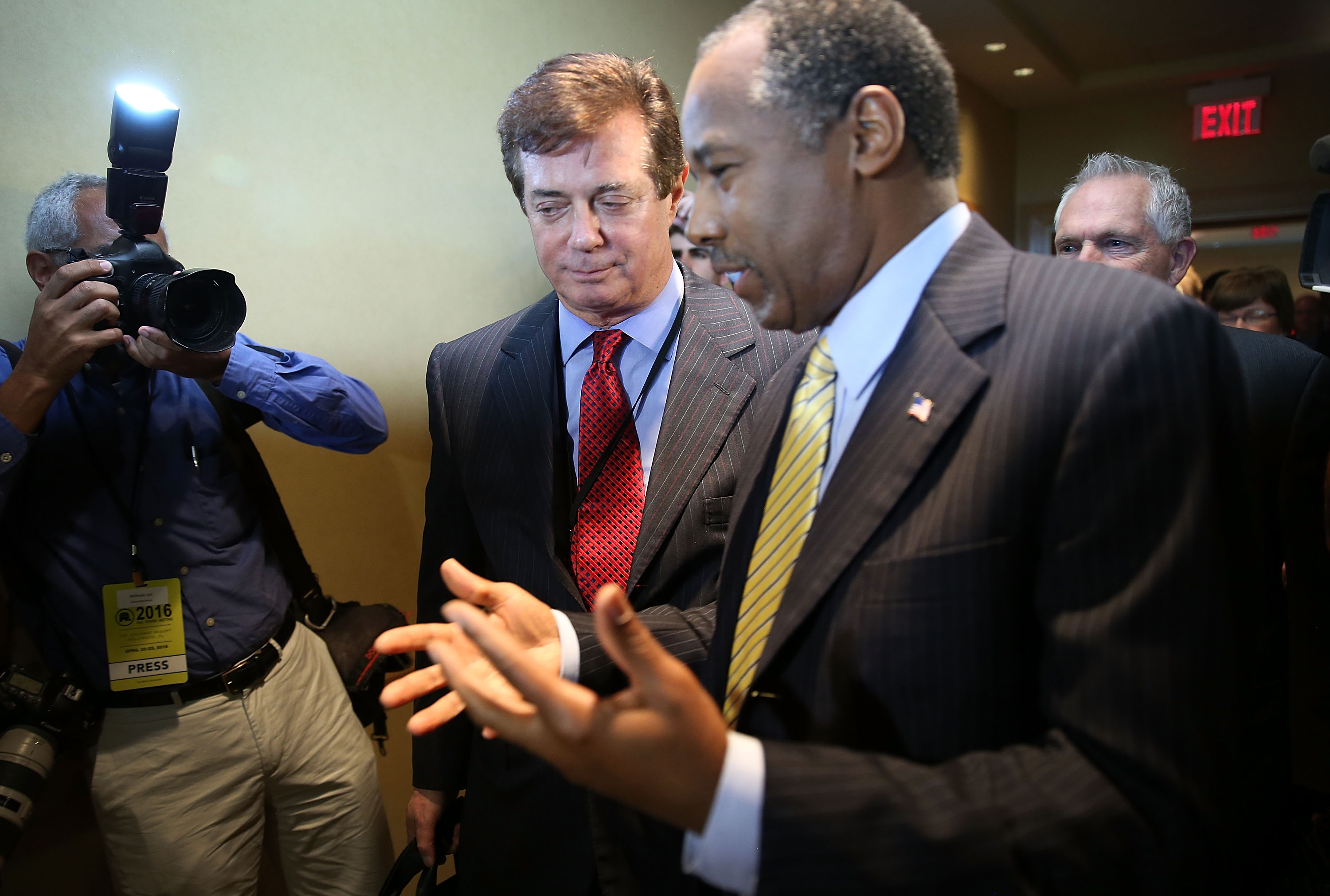 Speaking to about 100 members of the Republican National Committee this week in Florida, Trump's chief strategist Paul Manafort reportedly promised that his candidate was honing a more palatable persona for the general election. "The part he's been playing is evolving," Manafort said, assuring party officials that "the negatives are going to come down, the image is going to change."

There is reason to question whether Trump really can keep his reflexes in check, and rein in an act he's been performing for decades on the national stage. But even if he pulls it off, will the thoroughly Trumpian aides and allies in his orbit all follow suit?
Last month, after Trump's campaign manager was charged with battery for roughly grabbing a female reporter, I decided to check in with Paladino. It had been about two years since I'd last heard from him, and I wanted to get his reaction to the news.
I emailed the same two questions we were putting to all of Trump's top surrogates: Should the campaign manager be fired? And was this news causing him to reconsider his support for the candidate?
Paladino did not like this line of inquiry. He wrote back, "McCay [sic], your question reeks of suggestion. You are off the reservation" — and then provided a colorfully cranky quote in defense of the campaign.
Ten minutes later, he sent an odd follow-up: "McKay, I look forward to meeting personally."
I didn't respond right away, so he emailed me again: "What's your address and phone?"

Unsure of how exactly to interpret this request, I replied with the location of BuzzFeed's Manhattan offices, and offered to give him a tour next time he was in town. Later, when I asked him during our interview to explain the cryptic emails, he made clear he was trying to find out where I lived.
"I like to know people's addresses," he told me.
Why?
"So that when you come knocking on my door, I can come knocking on yours."
I laughed. He didn't.
What do you mean? I asked. Could you give me an example?
"I like to know people's addresses ... So that when you come knocking on my door, I can come knocking on yours."
He replied instantly: "Fred Dicker."
Dicker, a veteran New York Post reporter, famously confronted Paladino on the 2010 campaign trail about his claim that Democratic opponent Andrew Cuomo had cheated on his wife when he was married. Video of the contentious exchange, which went viral at the time, shows Paladino growing increasingly angry as the reporter aggressively demands to know whether he has evidence behind his accusation. The video ends with Paladino jabbing a finger at the reporter and growing, "I'll take you out, buddy."
Did Paladino ever make good on that threat?
"He and/or his henchmen certainly did," Dicker told me.
In the wake of the viral exchange, Dicker said, someone created an anonymous website accusing him of being a "child abuser." His inbox was flooded with death threats, and his personal address was published online.
"One day, I came home and there was a picket line in front of my goddamn house," Dicker recalled.
He said the harassment was bad enough that Albany police had to assign a special patrol to his neighborhood. Meanwhile, the Post hired 24-hour private security to travel with him until the threats died down.
"It was all very unpleasant," Dicker said.
When I relayed the reporter's account to Paladino, he called Dicker a "lying creep," and denied any involvement in what had happened to him. "One thing about me, you'll never see me lie," he said. "If I had anything to do with that, I would probably be proud of it."
Paladino still seethes over how the Post repeatedly sent photographers during the campaign to the home of his young daughter and her mother (a woman with whom he'd had an affair). The girl was 10 years old at the time, and the tabloid's intrusions frightened her. And though Dicker says he had nothing to do with these stakeouts, Paladino is convinced he's to blame.
Yet, curiously, when I asked Paladino what he had done to get back at Dicker, he demurred. "What does 'take him out' mean?" he mused. "It's a term that's generally [used] when you don't like somebody, and you're in the heat of the moment."
He went on hemming and hawing like this for a little while. Then, all at once, he snapped back into character.
"Will I get back at him? Yeah, I'll get back at him some day. I'll choose when, and how. But I'll do everything I can to make his life miserable."
Trump has gotten remarkable mileage out of the threats he's tossed around during this campaign. He threatens to run as a third-party candidate if the GOP doesn't treat him nicely. He threatens riots at the convention if he's robbed of the nomination. He has threatened enough lawsuits during this election cycle to spend the rest of his life in litigation.

To many in New York politics, Paladino's posturing is reminiscent of a guy who brags endlessly about how much he can bench press, but then fakes an injury when you offer to spot him. As one Republican put it, "He's all bluster and no teeth."
When Rep. Elise Stefanik, a 31-year-old Republican congresswoman from upstate New York, declined to make a primary endorsement, Paladino tried to make an example out of her. He lobbed personal attacks at her in the local press, and sent out an email blast seeking to recruit conservative primary challengers from her district.
"Clearly she's a fraud … 80% of her constituents want Trump and she gives me the bull that she is too focused on her district to consider endorsing in the presidential primary," Paladino wrote in the email. "She needs to learn what treachery means."
The point was to scare her and her colleagues into submission. Instead, the email was greeted with great amusement inside Stefanik's re-election campaign.
"It was a joke," said one Republican strategist with ties to New York. "Poorly written, no message, and it includes this huge photograph of Carl himself."
When the email first landed in their inboxes, a source said, Stefanik's advisers burst into laughter.
As they suspected, Paladino's email had no discernible impact. Two days after he began targeting Stefanik, all 12 Republican committees in her district announced they were officially endorsing her.
Paladino now claims he never said Stefanik and the others would necessarily face retribution from him. "If you read carefully," he told me, it's clear he was simply warning them of the blowback they could face from voters if they turned their backs on Trump. "It was for their own good," he insisted.
Paladino believes his crusade to pressure the state's Republican officeholders had been an overall success — and, sure enough, he did help bring on board Reps. Chris Collins and Tom Reed. (Collins, who gave Trump his first congressional endorsement, actually cited Paladino's threats and "formidable" email list in a text to colleagues, which was promptly leaked.) But he conceded that he couldn't guarantee the others would face the wrath they deserved.
"I don't have that kind of magic," Paladino lamented. "If I did there would be bodies all over the place. I'm just one guy." For a moment, he sounded almost wistful.
After about 40 minutes, the conversation wound down, and I thanked him for his time. Before hanging up, I asked if he still wanted my address.
"No," Paladino replied. "I don't give a fuck about your address."