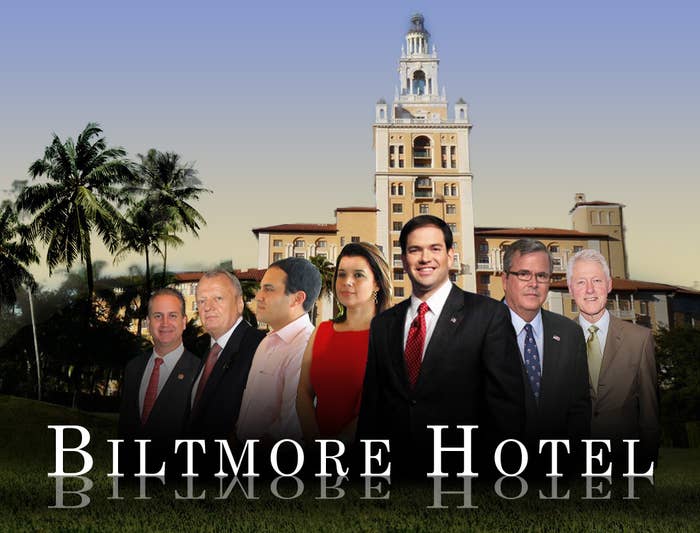 CORAL GABLES, Fla. — As a teenager in the late 1980s, Marco Rubio's favorite place to get drunk with his high school buddies was the golf course surrounding the Biltmore Hotel, a towering Mediterranean-style structure at the center of town. A decade later, the young lawyer and his wife Jeanette spent their wedding night in one of the Biltmore's suites. On election night in 2010, Rubio celebrated his unlikely election to the United States Senate in one of the Biltmore's ballrooms.
And sometime this year, the swirling circle of donors, activists, and politicos who spend their evenings gossiping at the Biltmore's bar will decide whether Rubio gets a chance to become president in 2016 — or whether that honor should be given to Miami Republicans' other favorite son, former Florida governor Jeb Bush.
In the months that have followed the 2012 election, the Biltmore, a 400-room luxury resort surrounded by banyan trees, has emerged as a national center of gravity for Republican politics: a must-stop for campaign fundraisers, and a favorite vacation spot for retired presidents. Bush runs his foundation out of an office at the hotel, and Rubio, who lives just a few miles away, has been spotted at the hotel gym's morning spin classes.
It has become a matter of social survival here to develop a playful non-answer when asked which candidate one would support if both men decided to run for president in 2016 — something Ana Navarro knows better than anyone. A high-profile Republican strategist, longtime girlfriend to the Biltmore's owner, and an avowed friend and ally to both Rubio and Bush, Navarro described a Rubio vs. Bush face-off as "the nightmare scenario for everyone here."
"I'd get into the fetal position and lock myself in a room for nine months," she said. "That just cannot happen… If we have to all lock ourselves in the Biltmore until white smoke comes out and we pick one, that's what we will do."
Rep. Mario Diaz-Balart, who represents Florida's 25th district and considers both Bush and Rubio friends, had his own quip ready when asked how he'd react.
"If they both run? I think it would be a great ticket!" he exclaimed. When his joke was met with a beat of silence, he insisted, "That's my quote, and that's as much as I'm gonna say."
But not everyone is so bashful about stating their loyalties.
On a sunny Sunday afternoon in December, Jeb Bush Jr. sat at a poolside table a few hundred yards from the office where his father plots his political future, and, between sips of Diet Coke, offered his view of the immigration landscape, eagerly name-checking high-profile Republicans he expected to work on the issue.
"You've got the old guard — Lindsey Graham, John McCain — but what will be really interesting to see is where [Texas Senator] Ted Cruz comes out on this issue," Bush said. "He's a Tea Party guy, but he's really nice. I mean, he's, you know, really bright, very intelligent, and also comes from Cuban descent."
Conspicuously missing from his list: another Cuban-American Tea Party star who happened to live a few miles away. Wouldn't Rubio be a leader on immigration?
"I hope so," Bush said. "He's got to actually execute and get something done rather than just talking."
In the political soap opera that is today's Republican Party, the younger Bush's not-so-veiled swipe at Rubio could be viewed as a juicy plot twist in the winding narrative arc that leads to the 2016 presidential primaries. (Rubio declined to comment on the jab.) But Bush was also giving voice to a sentiment that had been growing in his hometown ever since Rubio took office in 2010.
On the cover of Time magazine, Rubio is the "Republican Savior." On Capitol Hill, he is the lynchpin holding together a potentially historic effort to overhaul the nation's immigration system. And on Tuesday night, he will be his party's anointed standard-bearer when he goes on live TV and delivers the GOP's response to President Obama's State of the Union address in two languages.
But at the Biltmore, Rubio is just "Marco," a baby-faced freshman senator with lots of potential — and a maddening reluctance to live up to it.
And while the senator's top-notch handlers have worked overtime to cast his recent foray into immigration reform as a courageous move by a conservative visionary, the portrait painted by his more impatient constituents is that of an overly cautious politician acutely aware of his national profile, and desperate not to tarnish his impeccable brand.
No man is a prophet in his own land — especially when he hails from the Biltmore Hotel.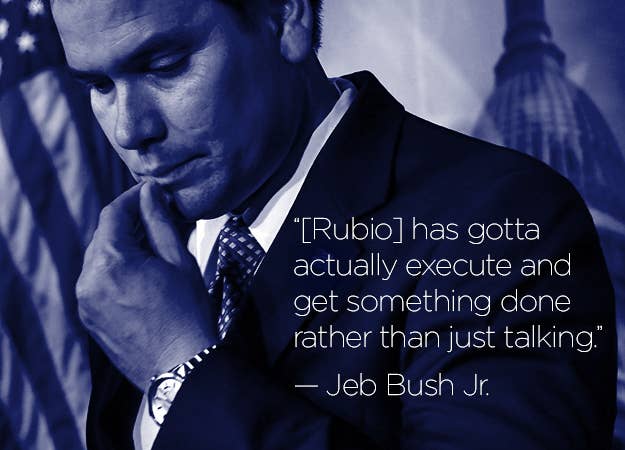 "DO YOU WANT TO SEE MY BUSH SHRINE?"
Navarro gestures toward the far end of her ornately decorated living room, where a shelf displays about half a dozen framed photos of her with various members of the Bush family.
Ana Navarro laughing on a tarmac with 41.
Ana Navarro posing in a group shot with Dubya.
Ana Navarro grinning alongside Jeb.
And one in the back, mostly covered by the rest, that stands out: Ana Navarro smiling at the camera next to Bill Clinton.
"We only bring that one out when Gene has Democrats over," she says.
"Gene" is Gene Prescott, the Biltmore's proprietor and the Democratic fundraiser who shares an expensive Spanish revival — along with a Mercedes and high-end golf cart parked out front — with Navarro in the palm-lined Miami suburb of Coral Gables. Prescott bought the shuttered Biltmore, which had once hosted the Duke and Duchess of Windsor, Bing Crosby, Judy Garland, and Al Capone, in 1992. Within four years, he had convinced Bill Clinton to hold a summit of Latin-American leaders at the hotel, and kept luring him back for vacations and fundraisers. Since then, he and Navarro have turned the place into a bipartisan hub of the political money circuit, and the collection of Beltway boldface names that have graced the hotel's guest list over the years is among the couple's proudest achievements. Navarro, who co-chaired Senator John McCain's Hispanic Advisory Council in 2008, takes obvious pleasure in showing it off.
"It's not uncommon to go down to the breakfast area and see Nancy Pelosi meeting with someone, or John McCain holding court in the lobby," she boasts. "One time, George W. Bush and Harry Reid were here on the same night for different events. I thought I was going to have a heart attack."
The hotel's political relevance is only likely to increase in coming months, as it stages one of the most crucial plots in the Republican resurrection story: the awkward 2016 tango performed by Rubio and Bush.
With their shared passion for immigration reform, overlapping donor networks, and long, healthy alliance, Rubio and Bush have put Miami's political class in the improbable position of having two favorite sons in the top tier of 2016 speculation — and sources say both men are actively mulling a run.
More than one Republican operative in the state said a Rubio vs. Bush face-off could engulf the south Florida GOP in a civil war that would take years to fully recover from. Both men know that, of course, and their many mutual friends expect them to negotiate an arrangement in some remote corner the Biltmore well before announcements are made.
What's less clear is which man will end up standing at a podium two years from now announcing his candidacy, and which man will be standing in the background, clapping politely.
To the national punditocracy, the question seems almost absurd. Of course Rubio, with his magazine covers, well-delivered hip-hop references, and youthful charisma, will beat out the old, fat, white guy who's been out of office for five years and shares a last name with one of the most unpopular presidents in modern history.
But the Biltmore crowd isn't so sure. Spend some time chatting with the local politicos here, and you get the sense that Rubio is still viewed as the kid straining to fill out an oversized suit, not quite ready for the grown-ups' table.
Late last December, the Tampa Bay Times polled a bipartisan group of the state's most "plugged-in political players," and, strikingly, most of them believed Bush would run and Rubio would sit 2016 out. What's more, an overwhelming majority — 82% — said Bush would be a stronger candidate.
"Rubio will make 2016 noises and preparations to increase his profile and lay the stage for himself in case Jeb doesn't run. But if Jeb does decide to run, he will step aside… Jeb Bush is heads and shoulders above Rubio, literally," one Republican wrote in the survey.
Similarly, a Democrat wrote of Rubio, "He's done the canned policy speeches at Heritage, done the roundtables at National Review. What is unclear is how he accumulates gravitas between now and 2014 when the GOP race will formalize. That is not a problem for Jeb."
Their predictions could be wrong of course, and any number of signs — including a report last week that Bush recently tried to buy the Miami Marlins — would seem to indicate that Rubio is taking this somewhat more seriously than Bush. But hometown perceptions matter in national politics, especially when you hope to raise enough money there to kick off a serious presidential campaign.
And even Navarro — while insisting "we're not going to have to pick between Jeb and Marco" — seemed to suggest that, if she did, she'd choose the former.
"It would be as painful as picking between two of your children," she said. "But time is a factor. Marco has plenty of time. Jeb doesn't. There's stopping Marco from being ready by 2016. Jeb is ready now. He's been ready for years, and we've been ready and waiting."
The prevailing complaint among Rubio's Republican critics here is that he has allowed an obsessive preoccupation with his public image to keep him from growing into the leader they want him to be.
One exasperated Republican recalled spending close to an hour listening to Rubio agonize over a National Journal article that criticized how his leadership PAC was spending its funds. The Republican tried to reason with the senator that "no one outside D.C. will care about this," but it was useless.
"He just lets these little things get to him, and he worries too much," the Republican said. "I'm just like, 'Marco, calm down.'"
Jeb Bush, on the other hand, has managed to adopt a certain cavalier, politics-be-damned attitude in the years since he left the governor's office that's endeared him to the insiders, vocally championing liberal immigration reform, lobbing bombs at his own party when he thinks they deserve it, and responding to media speculation about his presidential aspirations with a too-cool-for-school shrug.
"I think Jeb laid low on purpose when his brother was president because he understood that anything he said would ricochet back to his brother, or vice versa," said Navarro. "But in these last few years, we've had Jeb Bush unplugged, and it's so fun."
This contrast hasn't escaped Miami's Republicans, one of whom compared Rubio's meticulous care for his public image to Bush's apparent indifference by describing a pair of recent visits by New York Times reporters.
"When Jim Rutenberg came down here to do a profile, Jeb blew him off. When Mark Leibovich came down, Marco took him to a Dolphins game," the Republican said.
Bush's son, Jeb Jr., seemed to relish the distinction when asked about it in December.
"Marco's gotta be careful," he explained. "My dad can kind of say whatever he wants because he's not running for anything."
Not yet, anyway.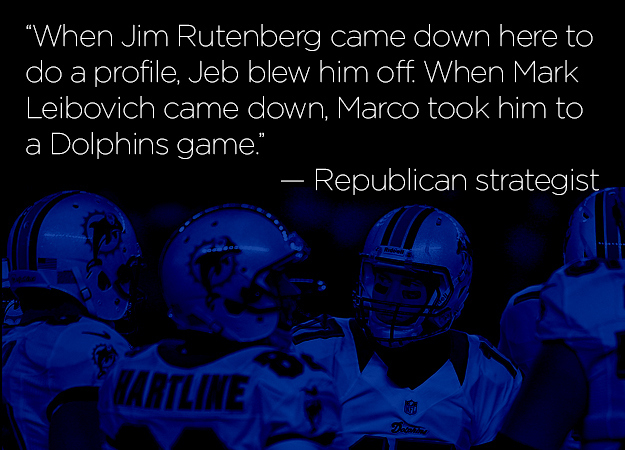 BUILT IN 1926, THE MIAMI BILTMORE BEGAN AS A REGULAR DESTINATION for celebrities and foreign leaders, hosting the Duke and Duchess of Windsor, Bing Crosby, Judy Garland, and a smattering of Vanderbilts. Just before the hotel's opening-night gala, 300 dignitaries from states north of the Mason-Dixon loaded into two deluxe trains marked for the occasion — "Miami Biltmore Specials" — that would make the trip from New York to Miami in a record-setting 36 hours and 23 minutes. And waiting at the end of the trek was a true world wonder: the 700,000-gallon "Grand Pool," the largest, most spectacular of its kind in the United States.
But with its upscale Prohibition-era speakeasy, the hotel also attracted a regular flow of mobsters, including Al Capone and bodyguard to New York City's gangster elite, Thomas "Fatty" Walsh, who ran an illegal casino on the hotel's 13th floor and was shot to death one night during a gambling dispute in the late '20s or early '30s. The exact date of Fats' death got lost along the way, but what is for sure, Biltmore-goers say, is that his spirit still haunts the Everglades Suite, a two-story, two-bedroom paradise — baby grand piano, Roman bathtub and all — once graced by the Duke and Duchess themselves.
For years the Biltmore has hosted a free "storytelling session" every Thursday night, and Fatty Walsh's sad tale is chief among the ghost stories that still get passed around the hotel lobby. (Fats, one story goes, once put a trance on the television set in the Everglades Suite, causing lousy reception during a very important football game that Bill Clinton, that night's guest, was itching to watch. The former president got so frustrated, he left the suite and went to a friend's house to watch.)
During World War II, the hotel was converted into a hospital for wounded soldiers. The Army sealed the windows with concrete and covered the floors with standard-issue linoleum. The grand Biltmore remained a Veteran's Administration hospital until 1968, and was eventually purchased by the city of Coral Gables, setting off a series of failed attempts to turn the hotel again into a successful business. By the early '80s, the hotel was empty, falling apart, and a frequent target of derision by community members who complained that it had become an eyesore.
When Prescott's company bought the hotel in 1992, setting in motion a $40 million renovation, his immediate goal was to raise its international profile by attracting powerful guests. Within four years, he had convinced Bill Clinton to hold a summit of Latin-American leaders at the hotel, and kept luring him back for vacations and fundraisers.
Clinton's patronage, already recorded in the Biltmore's apocryphal history with that football game ruined by Fatty Walsh, would put the hotel on the political map, so to speak — a fact that has not been forgotten by its proprietor. A framed photo of Bill and Hillary hangs prominently by the check-in desk in the lobby, a source of consternation for George W. Bush, who later became a frequent guest.
"Whenever he checks in, he sees the photo and says, 'What am I, chopped liver?'" Jeb Jr. said.
But Miami's political class is quick to credit Navarro's schmoozing and promotional Twitter feed with building and maintaining the hotel's relevance.
"1 of Senators I admire most & 1 of my fave ppl in world is staying w/us ‪@BiltmoreHotel 2night. Guess who? (Hint- he likes "Ay-talian" food" Navarro tweeted last weekend, prompting a flurry of guesses from political journalists. (The answer: Sen. Lindsey Graham.)
The next morning, she was back at it: "GOP family reunion this AM. ‪@jebbush Sr & Jr & ‪@grahamblog. What happens ‪@BiltmoreHotel, stays ‪@BiltmoreHotel"
"We like politics," Navarro says simply. "We understand that when you're doing fundraisers, sometimes they grow and shrink in the last 24 hours, and we're very flexible with that. That's part of the reason it's become part of the circuit."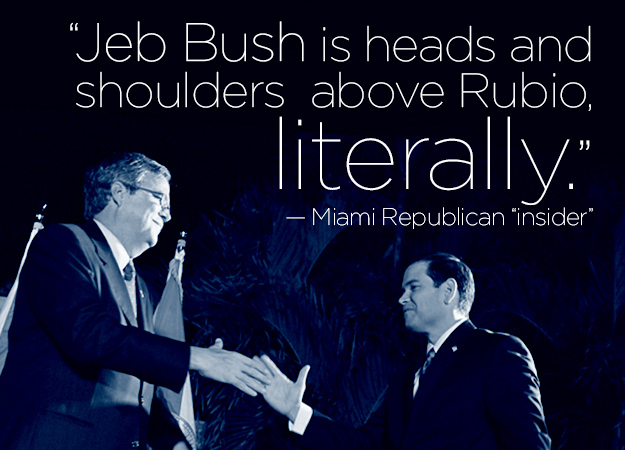 AS DUSK SETTLES ON CORAL GABLES ON A WARM DECEMBER EVENING, Navarro is driving — as she often is — to a nearby cable news hit. A pretty, zaftig brunette with expensive tastes and a style that's fairly bold for the political green room scene, she has selected for tonight's interview a bright red, formfitting cocktail dress and high heels, one of which she uses to pivot quickly between the gas pedal and the brake of her Mercedes as she maneuvers through the traffic-clogged Miami streets.
CNN uses two studios in the area, but she only ever goes to one of them; the other is too far out in the boonies for Navarro to even consider. "I don't leave Miami-Dade except on a plane," she says. As luck would have it, this particular interview will take place at a makeshift remote studio set up outside a legendary Cuban restaurant, Versailles, not far from the Biltmore.
When her 2012 horse of choice, Jon Huntsman, dropped out of the presidential race early last year, Navarro parlayed her dissenting voice and disdain for Mitt Romney into a contributor's gig at CNN. Turn on the TV on any given evening, and you're likely to see her holding court as the token iconoclastic Republican, urging her party to shape up and get with the times.
Her moderate Republican schtick — pro-immigration reform, and pro-gay rights — belongs to a certain genre of talking heads whose stock has gone up since the GOP's made-for-cable implosion in 2012. What gives Navarro more credibility than the average TV bloviator is the proximity the Biltmore has afforded her to Rubio and Bush.
She's not shy about pointing out her connections. As she negotiates her way though the traffic, she talks about sitting next to "Marco" on a recent flight back from Washington and recounts her visit earlier that day to Jeb's office, where she stopped by to inquire about "the old man" (President George H.W. Bush).
"I don't think he's doing as well as they're letting on," she confides.
Navarro's critics in Florida question how close she actually is to Rubio and Bush. "I don't think she's an advisor. Actually I know she's not an advisor," said one Republican strategist close to Rubio. "I know she's friendly with both men, but part of that is just her connection to the Biltmore. She says she's a political consultant. Well who does she consult for?"
But Navarro says she sees no need to defend her relationships with the two men.
"You all like to use the word 'advisor,' but these men, and particularly Jeb, are hard to advise. I'm good friends with both of them," says Navarro.
She suddenly swerves to miss a pile of what looks to be white bed sheets and towels littered across the street.
"Those look like our linens," she says, arching her neck to get a closer look as she passes them. "I'm serious, I think they're ours."
Navarro wasn't always peering through Mercedes windows and worrying about the local luxury resort owned by her boyfriend. Born in Nicaragua to a politically active father who fought against the leftist Sandanistas, Navarro came to Miami at age 8 to escape the violence in her country. At the time, Ronald Reagan's fierce anti-Communism had placed the Republican Party firmly on the side of Nicaragua's "freedom fighters," and Navarro says she remembers becoming a Republican as a young girl when she heard the president declare, "They are the moral equal to our Founding Fathers."
As she grew up, she became increasingly active in Miami politics, first as an activist working with Republicans to secure citizenship for Nicaraguan immigrants, and then as an outspoken voice against human rights violations in Cuba. She said it was always clear to her that Republicans were the ones who understood the immigrant's plight and wanted to assimilate them into American society.
"But somehow, somewhere, it turned into this. The inmates have taken over the asylum," she told BuzzFeed (and every cable news host she talks to), describing the modern GOP.
That hostility was on full display last year, once it became clear that Mitt Romney would get the party's nomination. Navarro never liked Romney, having met him in 2007 when she was working on John McCain's campaign, and she grew increasingly antagonistic toward the nominee over the course of the election, despite early efforts by the campaign to win her over — or at least shut her up.
Last spring, when Romney was prepping a major speech at the Latino Chamber of Commerce, campaign spokeswoman Andrea Saul sent the text of the address to Navarro in hopes of winning her approval, and a few positive reviews.
Navarro returned the speech with a list of suggestions, all of which the campaign ignored. So she trashed the speech on TV and Twitter.
"He did nothing to build bridges to the Hispanic community," she says now, expressing no regrets for failing to be a good Republican soldier. "I can't tell you the number of high-level Hispanic surrogates who have come to after the campaign and told me how uncomfortable they were defending him. We cannot keep lending our names to defense of the indefensible!"
The contempt, apparently, flowed both ways.
At the end of a Florida campaign swing one night in September, as the Romney motorcade rolled up to the Biltmore where they were staying, a reporter mentioned that Navarro's boyfriend owned the hotel.
"They own the Biltmore? Talk about being in touch with the common man," a campaign aide grumbled sarcastically.
When veepstakes speculation began to heat up, with Rubio's name being bandied about as a potential running mate, Navarro strongly advised him not to accept if it was offered.
"I was in the camp that didn't want him to do that," she says. "I kept telling him, the only thing worse than being Mitt Romney's running mate would be for the guy to actually win and be stuck being his vice president for eight years."
She added: "And also, I thought Mitt Romney had dug such a hole for himself with Hispanics that not even Jesus Christ resurrected could have saved him. If Marco had been on the ticket, he would have had to carry the burden of low Hispanic numbers. I thought Mitt Romney was basically irreparable."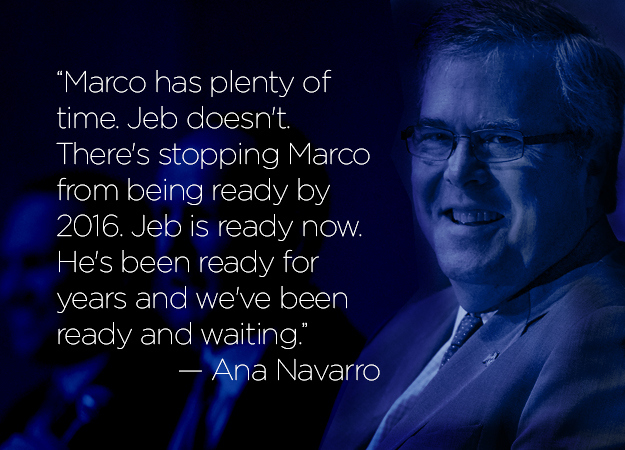 IF JEB JR. SEEMED FRUSTRATED WITH RUBIO LAST DECEMBER — A political ally for whom he insists he has nothing but admiration — he wasn't the only one.
South Florida, with its conservative Cuban population and rapidly growing Latino communities, is perhaps the only cluster of zip codes in the country where immigration reform has long been a top Republican priority. When Rubio was elected, many here expected — perhaps unrealistically — that he would leverage his status as a Latino Tea Party hero to force Washington's hand on the issue. Instead, he spent his first year in office ignoring it entirely, and his second year spewing vague sound bites as he stumped for a presidential candidate whose central immigration tenet was "self-deportation."
By the end of 2012, many of his most ardent supporters had begun to worry that a gutless Rubio would spend his third year in office sitting on the sidelines and keeping his uniform clean while the two parties charged at each other for another bloody legislative fight over immigration.
In Miami, the murmurs reached a fever pitch, with donors and activists regularly cornering Rubio at the Biltmore and insisting he take up the gauntlet of immigration reform.
"Marco's very smart and very astute, and he has a deliberative process that he goes through, but he has a strong internal compass that tells him where north is," said Navarro, who acts as a sort of ambassador between the senator and the hotel lobby lobbyists.
Still, Navarro herself was not above putting some pressure on her friend.
"I would always tell him, 'What's the point of having political capital if you're never going to use it?'"
Jeb Jr., meanwhile, had spent considerable time on Capitol Hill last month as part of his Sun PAC trying to convince Republicans to take immigration reform seriously, leading a parade of law enforcement officials and Bible-wielding Christian leaders to make his case. By December, he was exhausted and slightly demoralized.
"If I had to guess, no, I don't think we'll get anything passed [in 2013]," he confessed, citing Democrats' incentive to keep immigration as a wedge issue and the reluctance of Republicans like Rubio to risk upsetting the party's base by forcing the conversation.
But last month, Rubio finally did get off the sidelines. After a seamless media rollout (naturally) — which included a preemptive op-ed outlining the need for "conservative immigration reform" and an interview with the Wall Street Journal — Rubio joined a bipartisan gang of senators to introduce a framework for a comprehensive immigration reform bill. He has spent virtually every waking minute since then selling the plan, which includes a path to citizenship for 13 million undocumented immigrants, among other things, to suspicious conservative media. (Cruz, the conservative wing's new champion, came out against the immigration legislation.)
The move seemed to at least temporarily appease Rubio's Biltmore fan club, including Jeb Jr., who greeted the news with guarded enthusiasm. In a follow-up interview last week, he praised Rubio for joining the fight.
"It's exciting. I hope it passes," he said. "I think Marco will be a leader on this issue."
But he was also quick to add that his father would remain central to the conversation.
"He's coming out with his book on immigration with Clint Bollick, and they're going to be traveling around talking about it," Jeb Jr. said. "He's an important voice, and people in both parties listen to him."