The Endless Vetting Of Marco Rubio
American Bridge's tome. "I don't think there's been a knockout blow," says his biographer.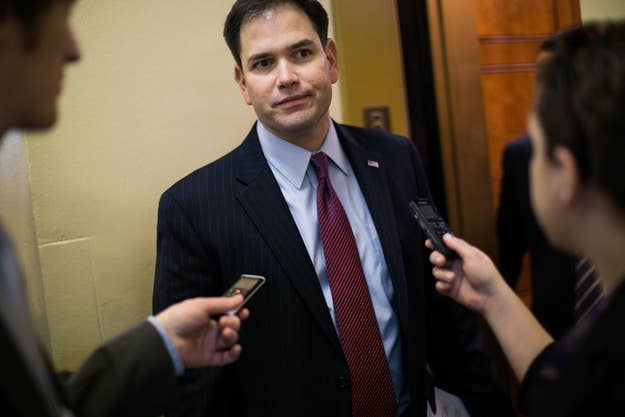 Senator Marco Rubio's straight line to the Republican presidential nomination seemed more certain than ever Sunday, as the Florida senator cemented his role as the face of immigration reform — and the future of the Republican Party — with a marathon round of Sunday talk show appearances that felt like a victory lap.
But even as the hype surrounding his ascent reaches new heights, one nagging line of inquiry quietly being pursued by pundits, politicos, and journalists from Washington to Miami serves as a persistent, if unspoken, drag on Marcomentum.
The question: What element of his time in Florida politics will come back to haunt him?
The enduring notion that the "Republican savior" may have feet of clay has followed him since his arrival on the national stage three years ago. It's been a subject of gossip among the chattering Miami politicos at The Biltmore, a talking point pushed by bloodthirsty Democrats eager to stop his ascent, and a constant source of frustration in the Senator's orbit.
Rubio is just 41, but he has already served as speaker of the Florida House of Representatives. And his quick rise to national stardom, along with his long, varied career in state politics, well-known financial troubles, and ties to an embattled former congressman have combined to prompt many in the political class — including some of his most enthusiastic boosters — to speculate that the senator's pristine political brand will collapse under the weight of national scrutiny.
"He's positioned himself as this energetic, youthful, charismatic reformer, but when you really look at his record and his background, that doesn't hold up," said Rodell Mollineau, president of the Democratic opposition research firm American Bridge, whose lengthy file on Rubio has become a symbol of the politician's potential dirty laundry.
Weighing in at 555 pages, the American Bridge book on Rubio is much longer than the other files the group published last summer on Mitt Romney's potential running mates, and its overarching characterization is that of a corrupt politician, cynically darting from one loosely held policy position to another, reckless with his own money as well as his party's, and ambitious to a fault.
The contents of the file rely largely on partisan summaries of his decade-long voting record in the Florida House of Representatives, as well as an exhaustive detailing of Rubio's ethics scandals — including, most famously, his use of the Florida Republican Party's credit card to buy groceries, pay for repairs to the family minivan, and purchase airline tickets for his wife. (Rubio, whose office declined to comment for this story, has denied any wrongdoing and said he personally paid for all charges that weren't related to party business.)
While the book certainly contains plenty of ammunition for Rubio's opponents, it lacks the sort of smoking gun that could end a politician's career, and much of its contents aired in Rubio's hard-fought Senate race. And yet, the "American Bridge book" has become a kind of talisman in political circles: a common retort to the conventional wisdom that Rubio is the inevitable Republican nominee.
To Rubio's supporters in the party, the vague, undying notion that he could be hiding a career-ending secret is absurd.
"He's easily the most vetted of all the potential 2016ers," said one Republican strategist who requested anonymity to engage the sensitive question. The strategist rattled off a series of opponents and allies alike who have delved into the senator's background and emerged without a bombshell: "The Crist campaign, [Democratic Senatorial Campaign Committee], Washington Post biographer, widely read and fact-checked autobiography, media vetting during VP stuff, Romney campaign vetting. Plus, he's been in public office for about two decades now in serious media markets."
In a way, the unshakable speculation about Rubio's private life and professional past mirrors that of another young, minority politician with a modest upbringing whose fast rise deviated from more familiar paths to power: Barack Obama. Even four years after Obama fended off attacks on his personal relationships with Rev. Jeremiah Wright and terrorist Bill Ayers — as well as a bevy of unfounded rumors — conservatives continued to search for a showstopping revelation that would sink Obama once and for all. The Daily Caller thought they had it when they posted video of a 2007 speech in which Obama suggested racism slowed response to Hurricane Katrina. Other conservatives continued to hold out hope that an apocryphal recording of Michelle Obama using the term "whitey" would emerge in the waning days of the 2012 election.
In Rubio's case, the drip-drip of juicy new details about his life over the past couple of years has only served to reinforce the theory that there's a game-changer still waiting to be discovered. In 2011, for example, Rubio's oft-repeated claim that his parents were Cuban exiles from Fidel Castro's regime came under attack after it was reported that they actually emigrated to the U.S. well before the revolution and made repeated trips back to the Communist country afterward. (Rubio admitted to getting the dates wrong, but he denied deliberately embellishing the story.) And last year, BuzzFeed revealed that Rubio had been baptized Mormon as a child, adding another layer of complexity to his already intricate religious life.
"The more he gets attention, the more the skeletons will come out, and the narrative that's been built around his brand will be questioned," said Florida Democratic consultant Christian Ulvert.
But Democrats waiting for the other shoe to drop on Rubio's record may be indulging some wishful thinking, said Manuel Roig-Franzia, a Washington Post reporter who wrote the 2012 biography, The Rise of Marco Rubio. While writing his book, the author spent significant time snooping around the senator's home state, and while he heard plenty of tantalizing rumors about Rubio, none of them could be confirmed.
"I think it's a bit of a meme that he hasn't been vetted. There's been a lot of stories written about the guy," said Roig-Franzia. "The question is whether there's anything in there that sticks and makes him look really bad. To date, I don't think there's been a knockout blow, either by the Florida press, which covered him aggressively and well, or the national press."
Still, Roig-Franzia said, Rubio's record contains plenty of fodder for his opponents to use, even if there isn't another major revelation lurking in his past. He pointed specifically to Rubio's friendship with Rep. David Rivera, a Florida Republican reportedly under investigation by the Justice Department, IRS, and state law enforcement for his lobbying practices and potential money laundering. Rivera and Rubio bought a house together in 2005, and Rubio has publicly expressed support for his friend throughout the investigation.
"You never know, there could be an indictment in that case, which could affect Rubio," he said. "Nobody knows the extent to which their business is entangled, but they certainly have had co-mingling of business interests since they own a rental property together. Of course, all of this is in the land of the hypothetical."
For now, Democrats seem content to perpetuate the talking point that Rubio is un-vetted, even as they continue their own aggressive "vetting" process in the lead-up to 2016.
BuzzFeed, like other news outlets, has had its inboxes flooded with opposition research aimed at Rubio. And while the deluge was heaviest last summer shortly before Romney picked his running mate — a period during which this reporter received "tips" on the Florida senator from liberal groups and Democratic operatives on a near daily basis — it never fully stopped.
"We feel like there's a lot about Rubio that is not known," said Brannon Jordan, a spokesperson for the Florida Democratic Party. "He rose to this national stage pretty quickly. The more that he tries to angle for the camera, the more heat he's going to face."
CORRECTION: Brannon Jordan is a spokesman for the Florida Democratic Party. An earlier version of this story misstated her affiliation. (3/15/13)