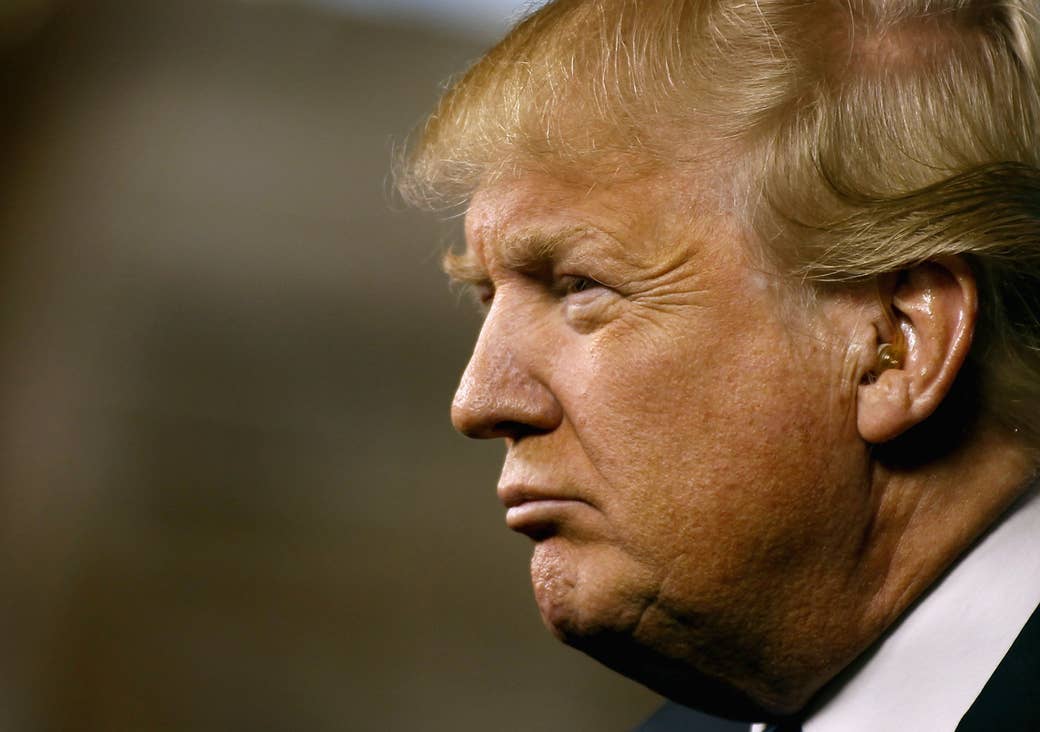 Donald Trump was supposed to be negotiating a new Celebrity Apprentice contract by now.

For seven months, it has been an article of faith among anti-Trump Republicans that the billionaire's calamitous campaign would eventually melt down on its own before things got too serious — and if it didn't, they assured themselves, a cash-flush coalition of conservative groups, super PACs, and presidential campaigns would chase him out of the race. Attack ads would blanket the airwaves in Iowa. An army of activists would descend on New Hampshire. Trump would be exposed for the charlatan that he is, and he'd drop out before a single vote was ever cast.
But the cavalry never came.
Now, 18 days out from the Iowa caucuses, Trump is leading every national poll by 10 points or more — and while single-digit candidates and their backers spend millions to bludgeon each other on TV and radio, they've barely lifted a finger to take on the frontrunner.
It isn't for a lack of antipathy that Trump's opponents on the right are giving him a free ride. The Republican establishment continues to believe his nomination would spell political apocalypse for their party, while small-government purists remain deeply opposed to many of his less-than-conservative economic proposals.
Yet, for a variety of reasons, major Republican donors and well-funded political groups have failed to fund a robust anti-Trump campaign, despite increasingly desperate pleas from some quarters of the GOP.
"I've been much more blunt in the past couple of weeks when I talk to these guys," said Rick Wilson, an outspoken Trump critic and political strategist who advises several major Republican donors. "I've said, Look, you guys pay me money to tell you what's going on, and you have to start taking [Trump] seriously. When President Hillary Clinton names her second or third Supreme Court justice, I'm going to call and tell you, 'I told you so.' When Senate Majority Leader Chuck Schumer fucks over your industry, I'm going to call and say, 'I told you so.'"
Liz Mair, another Republican strategist who doubles as a Trump-hostile talking head on cable news, expressed frustration that the GOP donor class isn't urgently mobilizing against The Donald.
"The Republican Party's strategy with regard to dealing with Trump is basically prayer — and that's it," said Mair, who launched a "guerilla" political group in November aimed at "destroying" the candidate. "I think there's a lot of people in the party who go to bed every night and pray that our long partisan nightmare will be over. But they don't do anything to change the equation."
"It's disconcerting, to be honest," Mair added.
One reason is that Trump's dominance in the polls has been such a conspicuous fixture of the Republican landscape for so long now that his primary opponents have largely accepted it as an all-but-unalterable part of the 2016 topography. Instead of taking strategic strides to diminish the frontrunner's standing or poach his voters, most are simply looking for ways to turn his presence in the race to their advantage.
Jeb Bush and John Kasich are the only two candidates in the GOP field who routinely go out of their way to publicly bash Trump. But their attacks often seem less geared toward doing actual damage to the billionaire's candidacy, and more about appealing to the moderate voters and establishment elites who comprise the core of their support. When Bush calls Trump a "chaos candidate," or when Kasich laments the harsh treatment of protesters at Trump rallies, they are using him as a foil — a reasonable strategy for their own campaigns, perhaps, but one that's unlikely to have much of an effect on their target.
What's more, when their super PACs produce choir-preaching ads against Trump, they rarely put any money behind them: Rather than airing in primetime TV where large numbers of primary voters can be reached, the commercials are uploaded to YouTube and embedded in email press releases, where they ping-pong around the political class for a while and then quickly get forgotten.
Right to Rise, the super PAC supporting Bush, has been a special subject of scorn among anti-Trump Republicans. Many grumble that Mike Murphy, the veteran operative who runs the lavishly funded organization, has squandered millions of dollars churning out vicious (or, occasionally, silly) attack ads against Marco Rubio — who's competing for a similar swath of the electorate as Jeb — while devoting only a meager portion of their budget to ineffectual swipes at Trump.
When, for example, Murphy took to Twitter last week to show off their new digital billboard ads in Iowa, he was met with mockery from many conservatives.

"Does anybody think they're going to convince someone not to caucus for Donald Trump by putting up a fucking billboard that says 'Donald Trump is unhinged —Jeb Bush'? Is that going to pick off a single Trump voter?" said one GOP strategist, who went on to speculate that if anything the message would further motivate Trump's base.
Bush's spokesperson, Tim Miller, rejected the notion that the candidate and his backers were taking on Trump solely out of strategic self-interest.
"Jeb has attacked Trump more than anyone," Miller said. "I am mystified as to why other campaigns have not done so." He added that Rubio and Chris Christie have mostly held their fire when it comes to Trump because "they are afraid to be attacked."
Asked to respond, Rubio campaign spokesperson Alex Conant fired back, "I do appreciate the irony of Jeb's camp now offering strategy advice to us... Last time I checked, they've spent millions against every candidate not named Cruz in this race."
Meanwhile, Ted Cruz — who is tied with Trump for first place in Iowa and seems best-positioned to beat him elsewhere — has steadfastly avoided criticizing even Trump's most outlandish stump stunts and policy proposals. Journalists have attributed the Cruz campaign's approach to a "kill him with kindness" strategy, but the senator himself frequently argues that the always-on-camera billionaire is a godsend for his candidacy, having framed the race as a competition to prove antiestablishment bona fides — a contest Cruz thinks he'll ultimately win.
Whatever the rationale, the result is that the candidate with arguably the most credibility to question Trump's commitment to conservatism has spent the entire race keeping his mouth shut. (On Tuesday, after weeks of getting pummeled by Trump, Cruz did take a swipe at his opponent, saying he was a product of "New York values.")
In traditional GOP money circles, the most common argument against launching an anti-Trump assault is that it could backfire and make the candidate stronger — reinforcing his message that corrupt political elites and their corporate cronies are out to get him (and, by extension, his supporters).
What frustrates many anti-Trump Republicans is that there's some evidence that an aggressive, well-targeted ad blitz against the candidate can work. Last September, the conservative group Club for Growth spent a million dollars airing commercials in Iowa that attacked Trump for his long history of liberal positions, including one that specifically took aim at his support for eminent domain laws.

According to the polling average at RealClearPolitics, Trump peaked in Iowa right around the time the omnipresent commercials began airing. By the time the three-week ad campaign was over, Trump had dropped nearly six points and fallen from first place in the state. Some question whether the ads were directly responsible for the candidate's decline, particularly since they were on at the same time Ben Carson was rocketing up polls across the country. But, unlike in other states, Trump has been unable to reclaim a consistent grip on first place in Iowa.
In October, just as the first round of Iowa ads went off the air in Iowa, the Washington Examiner reported that Club for Growth would join a constellation of conservative groups that was preparing to mobilize against Trump. Sources told the paper at the time that if the candidate was still leading in November, and if he began running his own ads, the onslaught would finally begin.
But November came and went, and so did December, and toward the end of 2015, Trump grandly announced that his campaign would soon hit the airwaves. The onslaught never materialized.
Doug Sachtleben, a spokesperson for Club for Growth, said the threat of Trump's wrath ultimately kept many conservative groups on the sidelines.
"There seems to be a general fear of being attacked by Trump and getting crosswise with his most ardent followers, who may be among their donors," Sachtleben said. Conservatives are especially worried, he said, about being "falsely labeled as pro-amnesty," given Trump's focus on immigration.
Sachtleben argued that Club for Growth's experience demonstrates that Trump's bark is worse than his bite. "There's nothing to fear. He threatened a lawsuit, the ads kept running, and he did nothing."
There continues to be talk of new anti-Trump efforts in the works, but the projects seem unlikely to have the force or focus required to make a dent in his campaign. As BuzzFeed News reported this week, the nonpartisan League of United Latin American Citizens is spending $300,000 to turn out Latino caucusgoers in Iowa against Trump. And a brand-new policy and advocacy group called Americans for the Real Deal has been developing potential ads that take on what founder Jasper Schaible calls Trump's "economic isolationism."
In the meantime, anti-Trump Republicans like Wilson continue to plod along, imploring the party's high-dollar donors to get in the game — and hoping it's not too late.
The strategist recalled a recent conversation with a "hedge-fund billionaire" he consults for. No matter how hard he tried, Wilson said, he couldn't convince his client, a Bush supporter, that Trump was a genuine threat to win the nomination.
"The Bush guys have a cultural disconnect with Trump and his supporters. They think he's a vulgar animal," Wilson said. He then adopted the voice of a prim and proper Downton Abbey aristocrat. "Oh, I can't believe anyone would speak this way!"
"There's a bit of prissiness there," Wilson concluded.