Ted Cruz Headlining Fundraiser For Oklahoma GOP Amid Internal Controversy
The Oklahoma Republican Party's chairman has refused to fire an official who pleaded guilty to domestic violence, despite demands within the party for him to do so. Cruz is scheduled to speak at the party's fundraiser on Friday.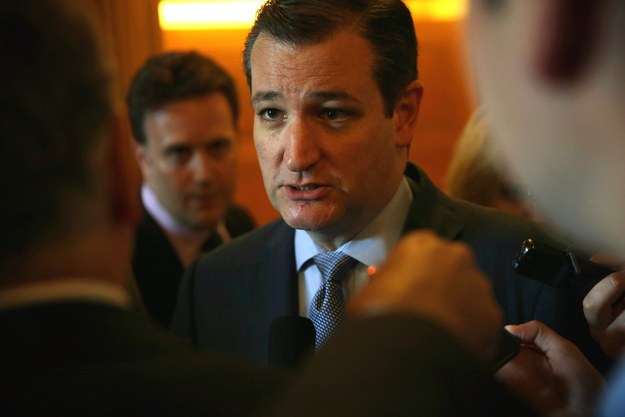 When presidential candidate Ted Cruz walks into the Oklahoma Republican Party fundraiser he is scheduled to headline Friday night, he will find himself in the middle of a charged intra-party battle over a staffer who was recently revealed to have a history of domestic violence.
The Cruz campaign did not respond to requests for comment from BuzzFeed News Wednesday night, but the Oklahoma party's website and Facebook page continue to list the Texas senator as the star attraction for the $100-per-plate fundraising gala. The event will take place during the three-day Southern Republican Leadership Conference in Oklahoma City, where a host of presidential prospects are expected to speak.
But Cruz is the only candidate directly raising money for the state party — and his appearance will come at a time when Republican officials across Oklahoma are pledging to withhold funds from the cash-strapped organization until its newly elected chairman Randy Brogdon agrees to fire a key lieutenant.
The infighting began earlier this month after Brogdon named Thomas Clint Ryan executive director of the Oklahoma Republican Party. The next day, a local political blog called The McCarville Report reported that Ryan had pleaded guilty in 2012 to domestic assault and battery in the presence of a minor, and interference with an emergency telephone call — both of which are misdemeanors. Republicans across the state were soon clamoring for his ouster.
Brogdon resisted, calling Ryan an "example of how God's grace and redeeming power can change lives." As pressure mounted, he sought to appease his critics by demoting the man he called his "good friend" to political director.
But the move has done little to quiet the growing chorus of Republicans in Oklahoma who say it's unconscionable for their party to employ a man with a recent record of domestic abuse at any level. Multiple GOP lawmakers — including the three Republican women in the state senate — have continued to call for Ryan's removal.
"That's not the face of my party and that's now how I want it represented," state Rep. Lisa Billy told The Oklahoman newspaper, echoing several of her colleagues.
Several Republican officials have also said they will not give a dime to the state party — which is reportedly in debt — as long as Ryan remains in its leadership ranks.
"I cannot imagine how any elected official or business leader could possibly donate to the Oklahoma state Republican party knowing that the money might fund the employment of somebody who recently pleaded guilty to domestic violence," said Republican state Sen. David Holt. "I certainly will not be doing that until the situation changes."
Though Cruz's appearance at the fundraiser was booked before this recent dispute, the timing could prove awkward for him. Already, some Republicans in Oklahoma are questioning why the candidate would show up and raise money for the state party given the developments.
"You have people saying, 'OK, so Ted Cruz is running for president — and he's gonna be helping pay the salary of this guy convicted of domestic abuse?" said one Oklahoma Republican consultant who is not affiliated with any presidential campaign.
Brogdon has so far dug in his heels, insisting that "the Republican Party is the party of hope and second chances." What's more, some of the chairman's tea party allies in the state are claiming the controversy has been fueled by the GOP establishment, which is unhappy that Brogdon unseated his more pragmatic predecessor last month.
But Holt dismissed that idea. "To me, this issue is about domestic violence," he said. "It really shouldn't be controversial in 2015 that you don't think the Republican Party should be accepting of domestic violence abusers. We should have a zero tolerance policy."
Asked whether he believed Cruz should still speak at the fundraising dinner, Holt replied, "That's a question for Sen. Cruz. I won't be there."