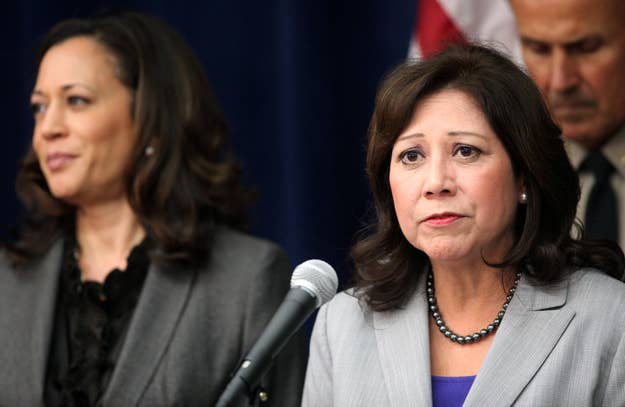 Secretary of Labor Hilda Solis resigned Wednesday afternoon, three sources told BuzzFeed.
Her departure means one fewer woman in a cabinet that is already facing criticism for including too many men. As recently as Wednesday, White House Press Secretary was defending the gender diversity of the administration.
"Women are well represented in the senior staff here," Carney told reporters, striking a defensive tone barely an hour before news of Solis's resignation broke.
Solis was one of the least-visible members of President Barack Obama's cabinet, rarely appearing on national television or with the president.
"She was involved a lot in labor specific stuff but you didn't see her out there a lot on, or being listened to, giving the side of what working families would think about taxes, health care, etc," said one Labor official.
Obama praised Solis in a statement announcing her resignation.
Over her long career in public service – as an advocate for environmental justice in California, state legislator, member of Congress and Secretary of Labor - Hilda Solis has been a tireless champion for working families. Over the last four years, Secretary Solis has been a critical member of my economic team as we have worked to recover from the worst economic downturn since the Great Depression and strengthen the economy for the middle class. Her efforts have helped train workers for the jobs of the future, protect workers' health and safety and put millions of Americans back to work. I am grateful to Secretary Solis for her steadfast commitment and service not only to the Administration, but on behalf of the American people. I wish her all the best in her future endeavors.
A White House official confirmed to BuzzFeed that Secretary of Health and Human Services Kathleen Sebelius, Secretary of Veterans Affairs Eric Shinseki and Attorney General Eric Holder will remain in their current posts into Obama's second term.
In a letter to department employees Solis explained her decision to leave, saying it came from a period of reflection over the holidays.
"Over the Christmas and New Year holidays with my family in California, I enjoyed my first opportunity in years to reflect on the past and my future, with an open mind and an open heart," she said. "After much discussion with family and close friends, I have decided to begin a new future, and return to the people and places I love and that have inspired and shaped my life."
A White House official confirmed that her resignation did not come as a surprise to President Obama.
One labor official said Solicitor of Labor Patricia Smith is under consideration to replace Solis. Previously she was the New York State Commissioner of Labor.
Solis, a former member of Congress from California, has served as Secretary of Labor since 2009. A spokesman for the Department of Labor said Solis' final day in office is "to be determined."