Silence From Romney, Santorum On Trayvon Martin [UPDATED]
The President spoke today. Romney ignored a question on the subject Tuesday, while Santorum and Paul haven't commented. Gingrich praised the local authorities' investigation of "tragedy," called for justice. UPDATE: Romney and Santorum have commented.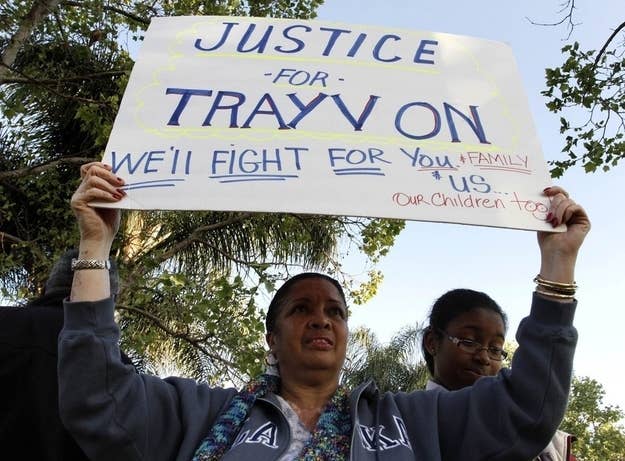 As national outrage grows over Trayvon Martin, the unarmed black teenager gunned down by a neighborhood watch volunteer, Republican presidential candidates have stayed mum about the case.
BuzzFeed has requested comment from the campaigns of Mitt Romney, Rick Santorum, and Ron Paul — but none have responded, nor have the commented on the case to other media outlets. Romney ignored a reporter who asked Tuesday, "Would your Justice Department get involved in the Trayvon Martin case?"
Newt Gingrich told Piers Morgan last night that the case was a tragedy and merits investigation, but he defended the Florida gun laws the case has spotlighted.
"The local district attorney is doing exactly the right thing. He's taking it to the grand jury," he said. "I think that I have faith that the American system of justice will in fact work and that this is why you have a balance between the police and the district attorney."
"I think that Americans can recognize that while this is a tragedy, and it is a tragedy, that we are going to relentlessly seek justice and I think that's the right thing to do," Gingrich said. "That's not a stand your own ground, that's a chase the other person into their ground. And I think you're going to find that the law as interpreted normally doesn't apply to this case."
President Obama expressed sympathy for the Martin family Friday, striking a personal note: "My main message is to the parents: If I had a son he'd look like Trayvon. I think they are right to expect that all of us as Americans are going to take this with the seriousness it deserves."
Republicans' reluctance to wade in to the controversy — which has surrounded the fact that Martin's killer, who claimed self-defense, has yet to be arrested — could reflect a nervousness to engage in a politically combustible situation marked by racial tension. The man who shot Martin, George Zimmerman, is half Latino, half white.
The issue has also raised questions about Florida's "stand-your-ground" law, which broadened the circumstances under which civilians can use deadly force. The law has strong support from the gun rights lobby, a crucial Republican constituency.