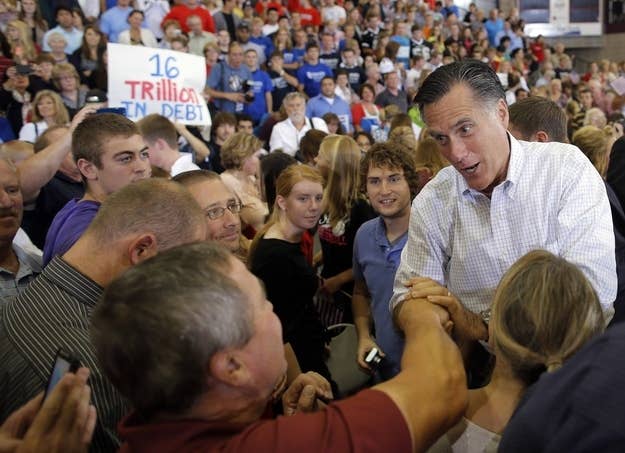 ORANGE CITY, Iowa — At a rally in the most conservative county in Iowa, Mitt Romney enthusiastically endorsed conservative lightning rod Rep. Steve King — prompting the Obama campaign to renew its claim that the Republican supports an extreme social agenda.
"I'm looking here at Steve King," Romney declared about halfway through his speech. "He needs to be your Congressman again. I want him as my partner in Washington!"
The crowd in the Northwestern College gymnasium roared with approval, but on Twitter liberals seized on the comments. Within an hour, Obama campaign spokeswoman Lis Smith issued a statement decrying the endorsement.
"And, if his speech today praising Rep. Steve King — who has questioned whether women get pregnant from rape and incest and said hateful things about immigrants — is any indication, we know he wouldn't stand up to the most strident voices in his party," Smith wrote. "Bringing back the failed policies that crashed the economy and pandering to the most extreme voices in his party isn't a recipe for strength and it won't move us forward."
In an interview last month, in the wake of Todd Akin controversially questioning whether women can get pregnant from being raped, King appeared to offer Aiken some support.
"Well, I just haven't heard of that being a circumstance that's been brought to me in any personal way, and I'd be open to discussion about that subject matter," King told KMEG-TV.
King also drew criticism in May for comparing immigrants to dogs, saying the country should avoid importing lazy immigrants: "You get the pick of the litter and you got yourself a pretty good bird dog. Well, we've got the pick of every donor civilization on the planet."
Romney's endorsement came after King reassured the crowd of social conservatives that the Republican nominee could be trusted.
"Don't doubt this man's faith," King said. "Don't doubt his conviction. Do not doubt his patriotism or his faith, and his love for Jesus Christ, our Savior."
King is currently facing a potentially tough race in a new district against Christie Vilsack, whose husband Tom, used to be Governor of Iowa.
The Romney campaign didn't respond to inquiries about the endorsement.