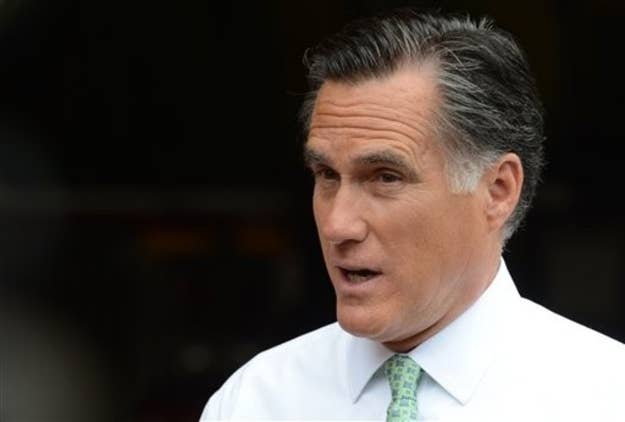 With the departure of his openly gay foreign policy spokesman, Mitt Romney has suddenly found himself fending off charges that his campaign is anti-gay — an unexpected and precarious position for the Republican, and a moment that seems to mark a turning point in the politics of gay rights.
The central question: Can the Romney campaign be blamed for keeping silent in the face of anti-gay attacks on the aide?
At issue is the resignation of Richard Grenell, an ally of former U.N. Ambassador John Bolton, who joined the Romney campaign just two weeks ago. In his statement of resignation, which came the same day he was scheduled to start work, he cited as reason for leaving "the hyper-partisan discussion of personal issues."
The translation, according to his allies, like the Washington Post's Jennifer Rubin: "Richard Grenell hounded from Romney campaign by anti-gay conservatives."
Rubin wasn't the only one who attributed Grenell's departure to pressure from social conservatives — and she wasn't without evidence. Almost immediately after his hire was announced, Grenell became the target of right-wing culture warriors like Bryan Fischer, who called his appointment, a "deliberate poke in the eye to the pro-family community."
The Romney campaign stayed largely mum throughout the conservative uproar, and when Grenell resigned, gay rights groups pounced, accusing the campaign of bowing to pressure from the right wing.
"It seems that Bryan Fischer, Tony Perkins and their crowd are more interested in making sure that gay people can't work in this country than having the best people work to keep our country safe... For these people, not even national security trumps their anti-gay agenda," said Chris Barron, Co-Founder of conservative gay group GOProud.
He added: "Would a public statement of support from the campaign for Ric have made a difference? I don't know, but it certainly would have been the right thing to do."
But in an unprecedented move for Republican presidential politics, the Romney campaign has spent much of the day furiously combatting the notion that the campaign pushed Grenell out because of his sexuality.
Aides told BuzzFeed that as soon as they heard last week that Grenell was thinking of quitting, the campaign aggressively tried to convince him to stay, with six separate senior staffers — including Eric Fehrnstrom — placing calls to him. Grenell had yet to relocate to Boston from his California home, and when he told aides he was planning to leave, he cited not only the controversy surrounding his sexuality, but also criticism of his combative Twitter feed.
Indeed, Grenell had spent the Republican primary insulting Newt Gingrich and his wife on Twitter — a fact for which he apologized (after scrubbing his feed) once he joined the Romney campaign, and sparring intensely with a range of reporers. If the campaign was slow to come to Grenell's public defense over his sexuality, his embarrassing Tweets may have had something to do with it.
But the campaign's silence — and their apparent unwillingness to let Grenell speak for Romney on foreign policy this week — would ultimately come back to bite them. Grenell made little effort to tamp down speculation that his departure was linked to attacks on his sexuality, and gay rights advocates on both sides of the aisle spent Tuesday blasting Romney for not standing up to anti-gay bigotry on the right.
"Some extremists still can't abide openly gay people in positions of power, no matter how solid their professional and political credentials," said Denis Dison, vice president of communications at the Gay & Lesbian Victory Fund. "That's wrong, and responsible political leaders should say so."
Michael Keegan, president of People for the American Way, said in a statement that Romney was "once again trying to have it both ways: claiming that he personally tolerates gays and lesbians while at the same time pandering to the anti-gay right-wing base whose intolerance is legendary. Obviously, it's not working."
Clarke Cooper, executive director of the Log Cabin Republicans, gave Romney the benefit of the doubt — saying he doesn't detect an anti-gay bias in the campaign — but he conceded that "it probably would have been helpful" for the candidate to publicly defend Grenell from the right's attacks.
In keeping mum, the campaign may have calculated that Grenell, with his Twitter baggage, wasn't worth the public stand. But as the Romney camp furiously spins his departure, it seems clear that, politically, silence in response to anti-gay rhetoric may no longer be an option for either party.