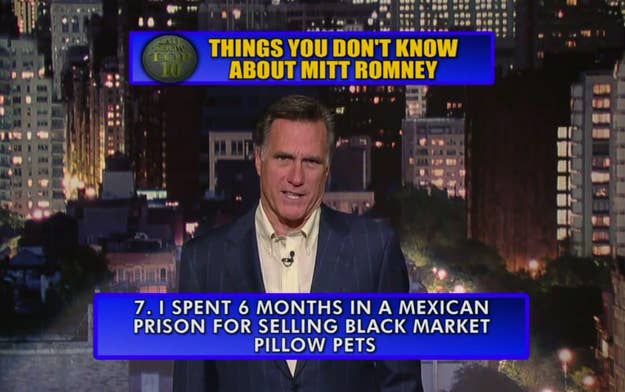 WASHINGTON, D.C. — Mitt Romney likes a good late-night laugh as much as the next presidential candidate — but he draws the line at slow-jamming the news.
That's what the candidate's senior advisors said at a live forum Saturday hosted by the Washington Post. Eric Fehrnstrom and Peter Flaherty, both top strategists in the Romney campaign, joined the chorus of Republicans who have dinged President Obama this week for his appearance on Jimmy Fallon's show — where he delivered a short stump speech on student loans while The Roots provided a groovy R&B soundtrack.
"I do think there was something a little bit off key about the president slow jamming, or appearing to make light of" the student loan crisis, said Fehrnstrom, "I don't think that's something to slow jam about."
In fact, he said, if Romney had received the same offer from Fallon, he would have declined.
"I think late night is a great place to reach people who aren't usually tuned into politics," Fehrnstrom said, adding, "We'll probably do it again, but you won't see the governor slow-jamming the news.
Part of the reason may be because Romney could never pull off such a performance. Indeed, lurking just beneath the campaign's boilerplate political criticism is a more fundamental question of how the two candidates' personas play outside the political arena.
Nowhere is the contrast more glaring than on the late-night shows.
In Obama's case, the Fallon appearance was illustrative. The president's talk show hits tend to be marked by a hip sense of irony, mild sarcasm, and just a bit of swagger.
Romney, on the other hand, doesn't try to match Obama's smoothness. Rather, he has opted for the time-honored defense mechanism employed by the insecure: making fun of himself.
Fehrnstrom pointed to a February appearance on David Letterman as an example of Romney's late-night persona.
"He poked fun at himself... it was very self-deprecating," he said.
Among the "Top 10 Things You Don't Know About Mitt Romney," were winks at his own too-groomed appearance — "I'm the guy in the photo that comes with your picture frame" — as well as his squeaky clean personal history: "I spent six months in a Mexican prison for selling black market pillow pets."
While Obama clearly comes off cooler on camera, the Romney campaign isn't so sure that will translate to likability this time around. Privately, the Republican's aides admit the president is more hip than their candidate — but one also noted that most voters are "more clunky than cool."
Indeed, the majority of the American electorate never sat at the cool kids table in the cafeteria. And unlike 2008 — when many were hypnotized by the hipness of Obama — Romney advisors say voters are less impressed now by Fallon-esque stunts. They're betting, or at least hoping, that Romney's occasional on-air awkwardness will come off as endearing, and even relatable.
Of course, they're not confident enough in that bet to hang their chances on it.
"This election is not going to be about who's cooler," said Flaherty. "The question is going to be about who do you trust to run the economy."
If it does come down to coolness, though, the campaign appears to be hoping for a revenge of the nerds.