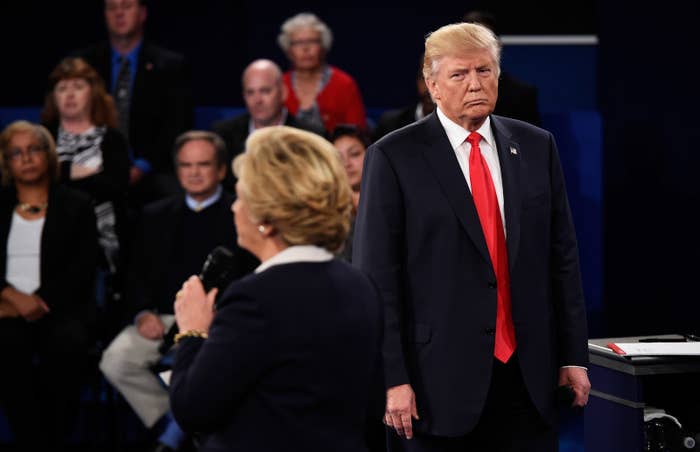 ST. LOUIS — Donald Trump started Sunday's debate looking like he might die: sniffling, reeling, lurking, obviously rattled by Hillary Clinton's early poise.

But when the night ended, Trump was still standing — and Republican strategists across the party grudgingly acknowledged that, for better or worse, it would be his name on the ballot come November.

The debate came at a moment when Trump's candidacy was spiraling into crisis after the release of an 11-year-old video in which he is heard boasting about his habit of forcibly groping women. In the 48 hours since the video was published, dozens of high-profile Republicans have defected, with many calling on Trump to drop out of the race. Frenzied news reports suggested the Republican National Committee might pull its funding, that Trump's campaign manager might quit, that his running mate might bolt.
For a fleeting period this weekend, it looked as if the GOP's presidential nominee could possibly be forced out of the race a month before Election Day.
While Trump's discursive, belligerent debate performance was far from the miraculous comeback his allies were praying for, Republicans said Sunday night it was non-catastrophic enough to stabilize the party and save him from outright exile — at least for now.
"Trump stopped the bleeding with a strong second half of the debate, but he lost too many pints of it over the weekend," said Sarah Isgur-Flores, who served as Carly Fiorina's deputy campaign manager. "He needed to change the map tonight and he didn't."

"The GOP exodus won't decide this race, whether it continues or slows down," said Ari Fleischer, a former White House press secretary who supports Trump. "Endorsements, or the reversal of them, is not what this race is about. If Trump can make this race about policy and the direction of the country, he could win. If it's about his character, he probably won't."
A senior Democratic strategist noted that Trump's performance was good enough that "he's not going away."

Republican strategist Tim Miller, one of the most outspoken gadflies in the #NeverTrump movement, spent the debate savaging the nominee's performance on Twitter — but concluded in the end that it would likely "keep GOPers from jumping ship."
Pence, meanwhile, quieted speculation that he might remove himself from the ticket with a tweet sent shortly after the debate ended.
With a vast archive of unaired Trump footage sitting somewhere in a sealed NBC vault, it remains possible that more leaks are coming, though. And in the meantime, Democrats will likely be rooting for Trump to fend off his Republican adversaries and retain his spot atop the ticket.
Indeed, Clinton's biggest victory of the night may have been keeping her badly damaged opponent in the race.