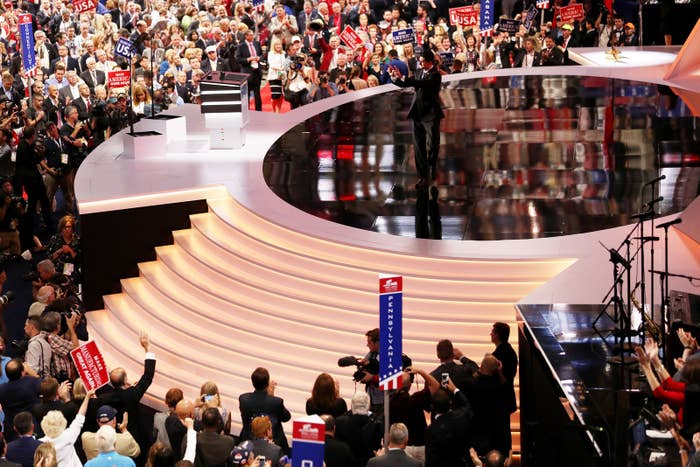 CLEVELAND, Ohio — Addressing a fractured Republican Party Tuesday night, Speaker Paul Ryan brought the convention floor to its feet with an anxious call for party unity.

"Next time there's a State of the Union address, I don't know where Joe Biden and Barack Obama will be," Ryan said. "But you'll find me right there on the rostrum with Vice President Mike Pence and President Donald Trump."
Ryan used broad strokes to describe the GOP's agenda, taking care not to highlight the wide array of policy disagreements between him and the Republican nominee. He spoke of "building a 21st-century military," reforming the health care system so that it "operates by free choice and not by force," and of finding "a better way of dealing with persistent poverty."
At its core, Ryan's argument to Republicans wary of Trump was was a classically partisan one: the only way to advance conservative goals was to first defeat the Democrats.
"We offer a better way for America, with ideas that actually work…. And you know what? None of this will happen under Hillary Clinton. Only with Donald Trump and Mike Pence do we have a chance at a better way," Ryan said.
"We can do this, we can earn that mandate, if we don't hold anything back, if we never lose sight of the stakes," he said at the end of his speech, drawing loud applause. "Our candidates will be giving their all, their utmost, and every one of us has got to do the same. So what do you say we unite this party, at this crucial moment when unity is everything?"
But Ryan's calls to unify haven't been universally well-received. Making the rounds speaking to various Republican crowds, Ryan has seemed at times like a beleaguered dad pleading with his kids to stop fighting.
During a breakfast for Texas delegates Tuesday morning, Ryan tried out a college football metaphor in his efforts to convert the state's Ted Cruz backers into enthusiastic supporters of the GOP ticket.
Pointing to the in-state rivalries between teams like the Texas Longhorns, Texas A&M Aggies, and TCU Horned Frogs, Ryan said, "You guys are at each other's throats ... [But] when one team advances to a big bowl game or a national championship, don't you root for the Aggies? ... Don't you root for the Longhorns?"
The ballroom full of Texans erupted in laughter, boos, and shouts of, "No!"
Ryan chuckled, taken aback, and said, "Start thinking that way, OK?"
And then, "Holy moly, this explains everything right now."
A few hours before Ryan delivered his speech, he presided over the official vote to nominate Trump as the Republican nominee. On the convention floor, Dan Senor — a veteran Republican strategist and former top aide to Ryan — hovered at the edge of where the New York delegation. As one of the party's most adamant anti-Trump voices, Senor said he had only come to the floor so he could walk out once Trump was nominated.

"It's surreal," Senor said. "The GOP is about to nominate someone with the wrong temperament, the wrong character, and the wrong worldview to be president. It's pathetic to watch so many leaders of the Republican Party pretend to be excited about it."
Including Ryan?
"No comment," Senor said.