When the Obama campaign released its much-anticipated Dashboard platform last May, it was touted as a potentially revolutionary organizing tool that would connect supporters, and merge online activism with real-life grassroots campaigning.
It can also be used as a platform to launch whispering campaigns, as one user proved this week.
On Monday, a "team member" named Laurence De Palma, who lists his location as East Nashville, presented volunteers with some talking points to convince Southern Christian voters they shouldn't vote for a Mormon. The message was available under "Resources" and tagged "persuasion."
"I'm thinking that even though we don't LIKE campaigns to get nasty, we in the south (TN) come to EXPECT it," De Palma began. "What we also know is that we have a very 'rigid' view of Christianity, and apparently, Mormonism isn't anywhere in our views. This could easily win TN/SC/AL/GA, etc."
The post goes on to include brief, oversimplified summaries of Mormon doctrines, framed to clash with evangelical Christianity.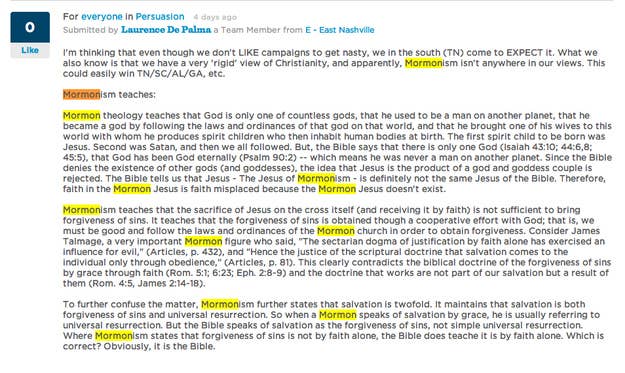 An Obama campaign aide, speaking on background, said the site is governed by a moderation policy that allows users to flag posts that are offensive or inappropriate, after which campaign moderators delete them. De Palma's Mormon post had been up for four days, and had not been flagged. When BuzzFeed asked the campaign for a response, the post was immediately removed.
President Obama's advisers have consistently pledged not to make Romney's religion part of the campaign, directly or through veiled innuendo.
But Chicago has little control over what messages its grassroots volunteers decide to spread — something the Romney campaign has learned for itself.
UPDATE: Romney campaign spokeswoman Andrea Saul condemned the posting in an emailed statement: "The news concerning the Obama Campaign's dashboard containing language based on sowing religious division is deeply disturbing. There is no place in politics for this, and it must be addressed and put to an end."