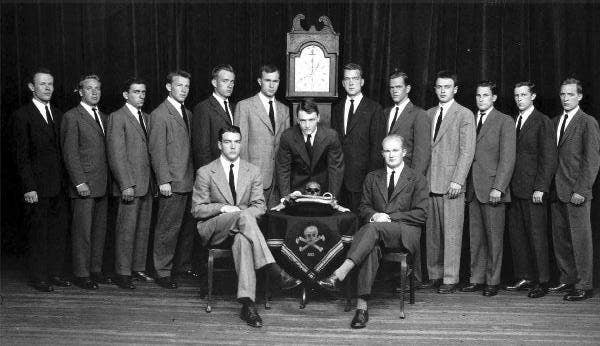 Late one afternoon on March 4, 2011, eight college students arrived at the White House to meet with President Obama's top economic adviser, Austan Goolsbee. The meeting was never publicized, and the agenda items being discussed remain unknown.
But there was one thread that connected everyone present that day: they were all members of Yale's storied, elite secret society, Skull and Bones.
The secret society doesn't release the names of its members, referred to as "Bonesmen," but the Ivy League gossip blog IvyGate regularly has the roster leaked to them. Cross-checking their list with the White House visitor log on March 4 reveals that at least eight members of the 2010-2011 class were present at the Goolsbee meeting.
According the White House records, the students met with Goolsbee in room 234 of the Eisenhower Executive Office Building at around 4:00 p.m., proceeded to a tour of the White House, and then returned their I.D. badges by 5:00 p.m.
E-mails to the students went unreturned, but it would hardly have been the first time a Bonesman (or woman) has stepped foot in the White House. Founded in 1832, the secret society has propelled its alumni into some of the world's most powerful positions--from well-appointed boardrooms to the Oval Office itself.
In fact, in 2004, both of the major parties' presidential nominees--George W. Bush and John Kerry--were former Bonesmen. Neither man has been very forthcoming about his membership. In his 1999 autobiography, Bush wrote, "[In my] senior year, I joined Skull and Bones, a secret society; so secret, I can't say anything more." Kerry echoed the sentiment on the campaign trail five years later; when he was asked what the shared association meant, he responded flatly, "Not much, because it's a secret."
The secrecy has fueled rumors and conspiracy theories about the group, with pieces of its various rituals leaking into public view over the course of its near two-century history. In 2001, for example, journalist Ron Rosenbaum spied on the group's initiation ceremony, and published his findings in the New York Observer:
Using high-tech night-vision video equipment able to peer through the gloom into the inner courtyard of the Skull and Bones "Tomb" in New Haven, The Observer team witnessed:

· The George W. effect: intoxicated by renewed proximity to Presidential power, a robed Bonesman posing as George W. harangued initiates in an eerily accurate Texas drawl: "I'm gonna ream you like I reamed Al Gore" and "I'm gonna kill you like I killed Al Gore."

· Privileged Skull and Bones members mocked the assault on Abner Louima by crying out repeatedly, "Take that plunger out of my ass!"

· Skull and Bones members hurled obscene sexual insults ("lick my bumhole") at initiates as they were forced to kneel and kiss a skull at the feet of the initiators.

· Other members acted out the tableau of a throat-cutting ritual murder.
According to the Yale Daily News, Goolsbee himself was part of an important chapter in Bones history. His 1991 class was the first to tap women initiates. Today, Skull and Bones is a co-ed group, as evidenced by the list of names in attendance at the March 4 White House meeting:
Lily Blair
Nicole de Paz
Mallory Baysek
Sara Beth Weintraub
Jonathan Eng
Kunal Lunawat
Paul Needham
Jesse Reising
So what was the meeting all about? BuzzFeed e-mailed Goolsbee, who left the White House last June and returned to the University of Chicago, to find out.
He responded with this parenthetical reference to the society's tradition of requiring that its members walk away from any conversation in which it's invoked.
"(sound of people leaving the room)," Goolsbee emailed.