Mitt Romney's Favorite Newspaper Endorsement
And a farewell to Iowa.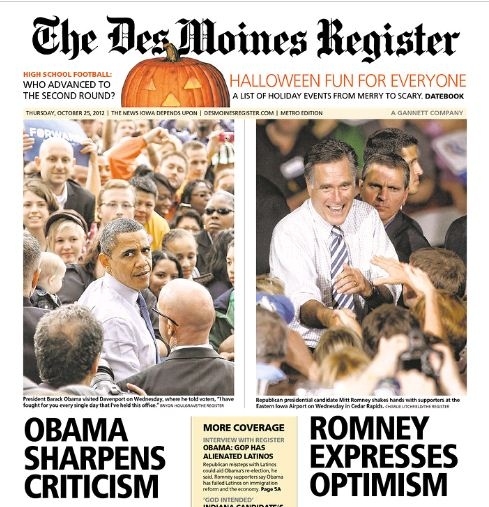 DES MOINES, Iowa — In his last Iowa stop of the campaign, Mitt Romney had some thanks to give: to the 4,000 supporters who packed an airport hangar on Sunday morning, to the Republicans who introduced him — and to the state's largest newspaper.
"A special shout-out to the Des Moines Register," Romney exclaimed from the podium. "Thank you for your endorsement!"
The crowd went wild.
At a time when then the relevance of newspaper endorsements has dwindled to near obscurity, the Des Moines Register's decision to back Romney has stood out for its symbolic value — and its ability to give hope to local Republicans.
Not only did the paper endorse Barack Obama in 2008, a year after his political career was launched with a surprise Iowa caucus victory; it has endorsed a Democrat in every presidential election since 1972.
These are facts not lost on Romney supporters across the state, many of whom have long viewed the Register as a left-leaning paper that has a made a quadrennial ritual of endorsing the candidate they oppose. Now, the sudden shift in the paper's partisan loyalty has become the talk of the Romney rallies.
At a campaign event last week near Davenport, Romney supporters' eyes lit up when they were asked about the paper backing their candidate.
"That's huge! Huge! Huge!" exclaimed Lori Kieffer-Garrison, a public defender who splits her time between Iowa and Illinois. "For the Register to come out and say that, and for 40 years they've only endorsed a Democrat, that says a lot. They're willing to say we need a change. Enough is enough."
"That is amazing!" said Grover Hartsuch, a retiree. "[Romney's] party hasn't been endorsed for years by the Register. I heard it just like everybody else... they're all talking about it."
Another supporer, Tim Anderson, said he could feel momentum in the state shifting toward Romney, and he cited the Register's endorsement as his best evidence.
"The last Republican they endorsed was, what, Richard Nixon? That means something here," Anderson said. "And I believe a lot of their readers will understand that's what they need to do, vote for Romney."
It's unclear whether the endorsement has actually moved the polls in the state, where Obama clings to a slim lead. But in a race where election-day turnout could make the difference, giving the Republican base a moral victory is no small thing. The Romney campaign has appeared to recognize this, featuring the endorsement in an ad airing in the state.
The Obama campaign, meanwhile, appeared rattled by the paper's endorsement, with Stephanie Cutter asserting that the editorial wasn't "based at all in reality."
But if Obama wins the state — and especially if he wins comfortably — it could represent the last, dying breath of relevance for newspaper endorsements. It's something that even the most ink-stained, old-guard pundits are beginning to realize.
When news of the endorsement first broke, Huffington Post editorial director Howard Fineman tweeted that it was the first convincing sign that Romney could win the election. A week later, he took it back.
"I thought that the Register, one of the few truly statewide newspapers left in the business in one of the nation's most well-read states, was still an exception," Fineman wrote in a HuffPo column about newspapers' declining relevance. "That was romanticism on my part."